Syracuse Basketball: SU Blows Lead, Loses To UConn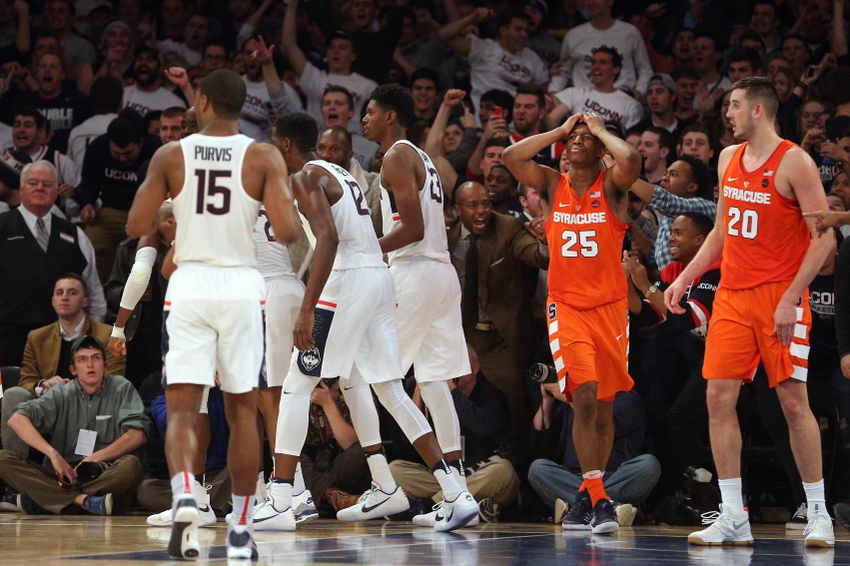 The Syracuse basketball team seems to be falling apart at the seams. What does this loss to UConn mean for the Orange? Neil Adler tells all.
The Syracuse basketball team appeared in the driver's seat against former Big East foe UConn, then the Orange collapsed in the second part of the second half, falling to the Huskies in a nail-biter, 52-50.
The contest's conclusion, in my opinion, had a bit of controversy. After graduate transfer Andrew White III knocked down a 3-pointer to tie to the game at 50, Connecticut came down and attempted its own 3-point shot.
It barely grazed the rim, and a UConn player grabbed the rebound, went up for a layup, and freshman Tyus Battle got whistled for the foul with about two seconds to go.
Battle's defense looked like all-ball to me. Even Syracuse.com's reporters said it looked like a bogus call. Nonetheless, the Huskies drained two free-throws, and Syracuse couldn't do anything on its last possession.
Game over.
What a depressing, stunning and unfathomable loss. Following a tight-knit first half, in which SU
More from Inside the Loud House
led by two points at the break, the Orange (5-3) busted the affair open after the intermission.
With about 13 minutes to play, 'Cuse had an 11-point edge, 37-26. From there, Connecticut (4-4) outscored Syracuse 26-13. The Orange only had four field goals in the last minutes.
Syracuse went about six minutes without even scoring as the second half winded down. SU guards just did not do an effective job of driving and getting paint touches for senior Dajuan Coleman, who had a strong performance with 10 points and 15 rebounds, as well as sophomore Tyler Lydon.
The Orange settled for too many 3-pointers, many of which amounted to not-so-great looks. The offense still lacks consistent flow, evidenced by only nine total assists.
SU's field-goal percentage checked in at 26. And 22 percent from 3-point land, with only six makes. 'Cuse also left eight points at the free-throw line. That is not going to get it done against quality competition.
Head coach Jim Boeheim had this to say in his post-game press conference, per Syracuse.com:

"Our offense is not good enough. It's not good enough to win. We're just not scoring points. … We've got to get better on offense or we're going to struggle every game. … Our offense has not been good enough to win any games. Literally, any games."
Boeheim noted that Lydon, even though he shot 1-of-8 from the field, passed up way too many opportunities. "I don't think he's ready for whatever reason," Boeheim said.
In all fairness, the Syracuse guards need to do a better job of finding him inside, as Lydon had a huge size advantage on offense on many, many occasions.
Battle, White, sophomore Frank Howard and graduate transfer John Gillon all mightily struggled. Senior Tyler Roberson, who has lost his starting role, led the Orange in scoring in the first half, with six points. But both he and freshman Taurean Thompson didn't play much in the second half.
The Syracuse defense, meanwhile, mostly held its own, but it did allow several "dagger" 3-pointers toward the end that allowed UConn to claw its way back. Rebounding, a weakness of late, came out fairly even between the two teams.
Look, giving up 52 points is not too shabby. Only scoring 50 points, however, to a somewhat average Connecticut squad, is a cause for real concern.
I had a lot of high hopes for Syracuse coming into this season. Even with a lot of new faces learning a new system, I figured that the Orange would take some time to gel.
But UConn only has eight scholarship players, after losing several guys to injuries, and the Huskies had suffered some really bad losses so far.
For SU to get blown out by South Carolina and Wisconsin, barely beat North Florida at home, and then give away this game against Connecticut at Madison Square Garden, the Orange's home away from home, it's frustrating, and it's alarming.
Syracuse.com's Brent Axe put it succinctly, when he said via Twitter: "It is stunning to see how inept this team is on offense. Just stunning with all the talent on this team. Long way to go, but they shouldn't be this bad. A real wow moment here."
Indeed, Brent. Indeed.
This represented a dreadful performance by SU. Unranked in the latest polls that came out on Monday afternoon, Syracuse has a lot of work to do, particularly on the offensive end.
The Orange will try to right the ship, at least in the short term, when it hosts Boston University on Saturday, Dec. 10.
On a more light-hearted note, I loved that a tribute got played to former Syracuse and New York City legend Pearl Washington, who passed away earlier this year. During the game, his fiancé, Deborah, presented a $5,000 check to the Jimmy V Foundation.
This, I believe, is way more important than what actually happened on the court on Monday night.
This article originally appeared on