Syracuse Basketball Puts The Squeeze On Monmouth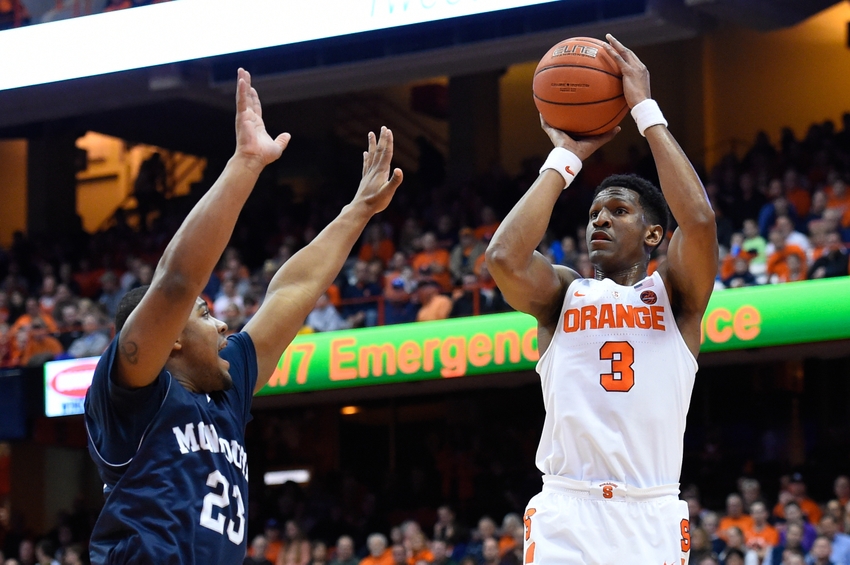 The Syracuse basketball team got their third straight win to open the season against Monmouth Friday night. How'd the Orange look doing it? We discuss.
The Syracuse basketball squad didn't necessarily play its best ball on Friday night, but the Orange still managed to handle Monmouth, 71-50, at the Carrier Dome.
Graduate transfer Andrew White III scored all 18 of his points in the first half to lead the way for SU. Freshman Taurean Thompson chipped in 12 points, on 5-of-6 shooting.
Thompson had a bit of a scare with about two minutes to go, when he appeared to roll his left ankle and headed to the locker room.
We'll keep you posted on his progress.
Senior Justin Robinson paced the Hawks with 11 points, the only Monmouth player in double-figures.
SU, ranked 18th in the country, improves to 3-0, and this is a solid non-conference victory.
The Hawks captured the 2016 Metro Atlantic Athletic Conference regular-season title and last
More from Inside the Loud House
year beat several Power 5 schools in its non-conference slate, including Notre Dame, UCLA and USC.
Many felt the 28-win team got snubbed when it didn't get in to the NCAA Tournament this past March.
Syracuse, meanwhile, somewhat snuck into the Big Dance, and eventually went on to the Final Four.
I thought the Orange would prevail in this game, but by a much smaller margin. Syracuse shot 42 percent from the field, and 35 percent from the 3-point line.
Monmouth, known in part for its highly publicized bench mob, had a poor shooting performance: 31 percent overall, and 4-of-29 from downtown. That proved a telling statistic, as the Hawks are a pretty good 3-point shooting team.
'Cuse outrebounded Monmouth by 10, and the Orange also had 10 blocks to go along with 10 steals.
Freshman Tyus Battle had nine points, on 3-of-4 from 3-point land. Sophomore Frank Howard picked it up in the second half, finishing with eight points and six assists.
Senior DaJuan Coleman tallied seven points and eight boards. Sophomore Tyler Lydon didn't shoot well (2-of-9 from the field, and six points), but he did contribute seven rebounds, three assists, two steals and four blocks.
The Syracuse big men got things going at the onset. Jumpers by senior Tyler Roberson, Coleman, Thompson, Lydon, then Thompson again, made it 17-11.
Monmouth went on a 7-0 run to tie the contest at 20. Back-to-back 3-pointers by White, however, pushed SU back in front, 26-20. The Orange offense looked a little hurried early on. Chucking up shots. Not a lot of flow.
'Cuse found itself leading by eight, 37-29, at the break. White had 18 points on 6-of-10 from the field. He really carried the team. White went scoreless after intermission, but other players stepped up, such as Thompson and Howard.
Syracuse had an 18-10 rebounding edge in the first half, although it relied too much on jump shots. Monmouth, a vastly smaller team, outscored SU 18-4 in the paint. Both teams shot about 50 percent.
A 6-0 spurt by the Orange to start the second half made it 43-29, forcing Monmouth to call a timeout.
Howard later scored six straight, then Battle hit two 3-pointers, and it became 65-41.
With a minute left, and the lead 71-48, head coach Jim Boeheim put in the walk-ons.
More than 22,000 fans, including former SU stars Lawrence Moten and John Wallace, attended the game, part of the Brooklyn Hoops Holiday Invitational.
Syracuse continues its home stretch this Tuesday, Nov. 22, when it hosts South Carolina State.
ICYMI we have our brand new podcast out, "The Orange Crush" that you can check out every week on Sports War Radio. We spoke with SU big man, Dajuan Coleman, right after the game and got his thoughts.
This article originally appeared on