Syracuse Basketball: Previewing the Orange Forwards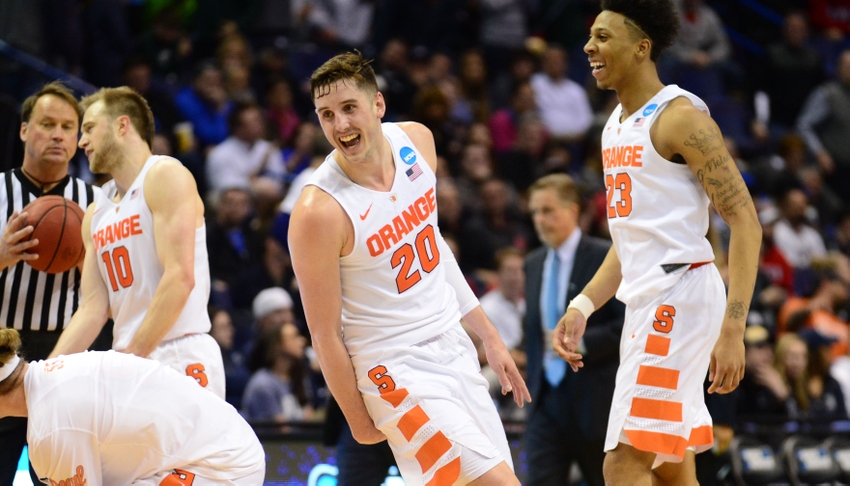 We continue our Syracuse basketball preview coverage by evaluating the Orange forwards on the roster. Our very own Andrew Carey has the story.
Unlike the guards, which we previewed earlier in the week, the Syracuse basketball team is much more stable at the forwards. There's a ton of experienced guys that will be called on to have big seasons. Tyler Lydon, Tyler Roberson, and Andrew White are all guys that have seen significant minutes in college basketball. They will be joined by two promising young freshmen in Matthew Moyer and Taurean Thompson. Boeheim will have a ton of lineup possibilities with this versatile group. We break each player down here:
Andrew White: As we mentioned, White will see some time at shooting guard. However, I expect him to primarily to be at small forward. White has good size at 6-foot-7, and last season he averaged just under 6 rebounds per game. Those rebounding numbers will be a big help for Syracuse, as Malachi Richardson held his own last season, but just wasn't a natural forward.
White adds tremendous 3-point shooting, last year he shot the ball at 41% clip. White's real contribution to the team is going to be on the offensive side of the ball. He should do fine in Jim Boeheim's system, due to his lengthy frame, but he will be a go to guy on offense. White will be an upgrade on defense and rebounding over Malachi Richardson. White should also be a slight upgrade on offense, he is going to be a fun player to watch this year.
Tyler Lydon: We are all very familiar with Tyler Lydon. He quickly became a fan favorite when he was a surprise contributor on Syracuse's run to win the Battle for Atlantis. He decided to forgo the NBA and return for his Sophomore season. Lydon and White will undoubtedly be the go to guys on the offensive side of the ball. Last year, Lydon was a 41% 3-point shooter, averaging 10 points per game.
The 6-foot-9 forward played minutes out of position last year when he was called on to play center. He was undersized, but used his length to make up for it, blocking and disrupting shots. Lydon's defense was never in question though. Expect to see a much more polished offensive player this year. He was a knock down, spot up shooter. This year, Lydon will get out in transition and run with Frank Howard and John Gillon. It would be nice to see Lydon put the ball on the floor and drive to the basket. That would complete his offensive game.  However, Lydon has reportedly gained some weight to improve his inside game:
Syracuse sophomore Tyler Lydon has gained 26 pounds since last season, per Jim Boeheim.

— Jon Rothstein (@JonRothstein) October 4, 2016
Lydon is so versatile and will be called upon to rebound, score, and defend for the Orange. I see him starting at power forward for Syracuse.
Palpable buzz at Syracuse regarding Tyler Lydon. Affects the game in so many ways. Shot blocker, rebounder, initiator, and bucket getter.

— Jon Rothstein (@JonRothstein) October 4, 2016

Tyler Roberson: The veteran of the unit, Roberson will be a senior this year. Last season, Boeheim and assistant coach Mike Hopkins often referred to him as the Orange's "X" factor. Roberson is incredibly valuable due to his motor on the the glass. He has games where he will not be denied, it seems as though every rebound is his. Against Duke last year, Roberson had 14 points and 20 rebounds. Against Dayton in the first round of the NCAA tournament, Roberson scored 10 points and grabbed 18 boards.
If Roberson can just rebound for Syracuse this season, they will be a very dangerous team. I think the current Syracuse roster suits his game better than last years. Frank Howard and John Gillon are two players that are going to run in transition, something Roberson is good at. He should also be the beneficiary of Frank Howard's drive-and-dish style of point guard play. If Roberson can just rebound, defend, and give Syracuse 6-10 points this year, he will do just fine. I expect him to be one of the first guys off of the bench. Syracuse's depth is just that good, there is no room for him in the starting lineup.
Matthew Moyer: Moyer had been waiting to put on a Syracuse uniform for quite some time. The freshman brings a hard-nosed style of play to Syracuse. He was named Mr. Basketball in the state of Connecticut, where he attended the South Kent school. Moyer is a bit of a hybrid forward, meaning he can play both small and power forward. Moyer needs to develop his ball handling and jump shot more if he wants to see minutes at the small forward.
His game is definitely much more interior oriented. He likes to dunk with authority, and has some post moves. Moyer is listed at 6-foot-8 making him another lengthy forward in the 2-3 zone. He received offers from the likes of Florida, Wisconsin, and Ohio State. Moyer had a bad case of turf toe during the early fall, but he is now back to practicing. I don't expect Moyer to see much action this year.
Taurean Thompson: Ahhh, it is nice to see this guy on campus. After nearly a ten month recruiting circus, Thompson eventually committed to Syracuse. His commitment gives the Orange another big  6-foot-10 frame in the zone. Thompson attended Brewster Academy, the same school that produced the likes of C.J Fair and Chris McCullough. The New Jersey native is a stretch power forward. Thompson has a good jump shot and decent inside game. He will need to put on some muscle as he is a light 225 pounds.
Thompson is a bit of a project, but has all the talent in the world. He will be a scare for opposing teams in Boeheim's zone due to his height and long arms. Like Moyer, I don't expect him to see much Thompson. However, in the long term success of the program he is a great guy to have in the fold. Thompson has one of the highest ceilings out of any player that has come to Syracuse in a long time.
Overall, this a great group for Syracuse. Having Tyler Roberson, a senior and starter last year, is extremely rare and a great sign for Boeheim's group.
More from Inside the Loud House
This article originally appeared on