Syracuse Basketball Notches Easy Win In Regular-Season Debut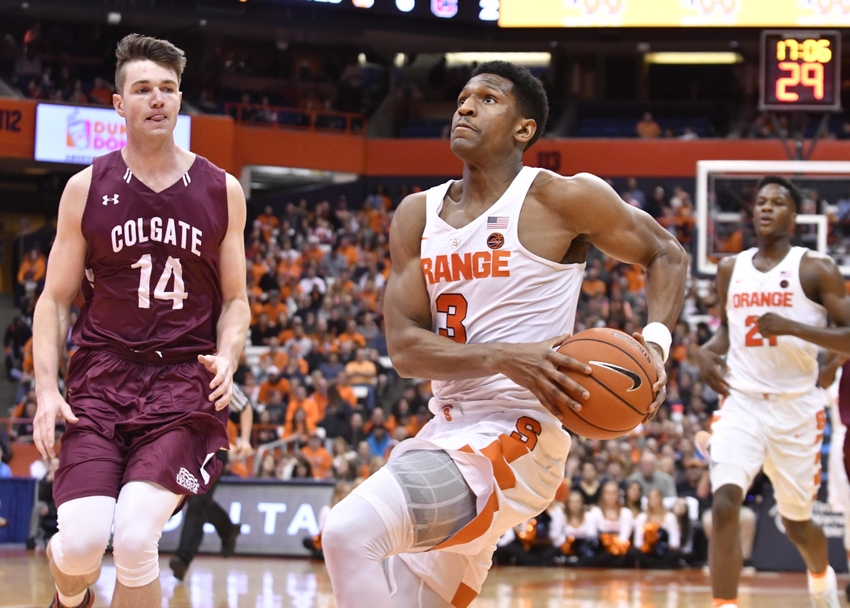 The Syracuse Basketball season officially got under way last night and it started off with a win. Here's how it all played out.
The Syracuse basketball squad rode a strong first-half wave to dispatch Central New York rival Colgate, 83-55, at the Carrier Dome in the regular-season opener for both teams.
Syracuse, ranked No. 19 in the initial Associated Press poll, handled its business in solid fashion, with some positives, and some negatives.
Points guards Frank Howard, a sophomore, and John Gillon, a graduate transfer, played exceptional, according to head coach Jim Boeheim.
Howard, who spent considerable time in the offseason working on his shot, did not miss from the
More from Inside the Loud House
field. He hit three 3-pointers, finishing with 11 points, nine assists, four rebounds and four steals.
Gillon, meanwhile, totaled 13 points, six dimes, two boards and one steal.
Senior Tyler Roberson and graduate transfer Andrew White III led 'Cuse in scoring, with 18 points and 17 points, respectively. Roberson had 16 in the first half alone.
For the game, the Orange managed 55 percent from the field (excellent), 35 percent from 3-point range (so-so), and 42 percent from the charity stripe (awful). Sophomore Paschal Chukwu missed all six of his free-throw attempts.
Colgate, in a credit to 'Cuse's defense, shot horrendously from the field, the 3-point line, and the free-throw line. The Raiders only had one player in double-figures, sophomore Malcolm Regisford, who registered 10 points. The Orange nabbed 10 steals while forcing 14 turnovers.
Most concerning for Syracuse (if you can have legitimate concerns after one game): sophomore Tyler Lydon, arguably the team's best player and just named to the preseason Naismith watch list, hit one field goal and missed all three of his 3-point attempts. He had two points.
And Tyus Battle, the Orange's most heralded freshman, who led the squad in scoring during its two exhibition victories, connected on one of seven field-goal attempts.
Boeheim described the Syracuse press as, frankly, not good at all. He never sugarcoats things. Also, despite having a huge size advantage, the Orange only outrebounded the Raiders by six.
Up next for Syracuse is Holy Cross. They face off this Tuesday, Nov. 15, beginning at 7 pm from the Carrier Dome. The contest is part of the Brooklyn Hoops Holiday Invitational, a preseason tournament that wraps up at the Barclays Center in Brooklyn, N.Y., over the Thanksgiving weekend.
This article originally appeared on