Syracuse Basketball: New Change In Lineup Could Be Key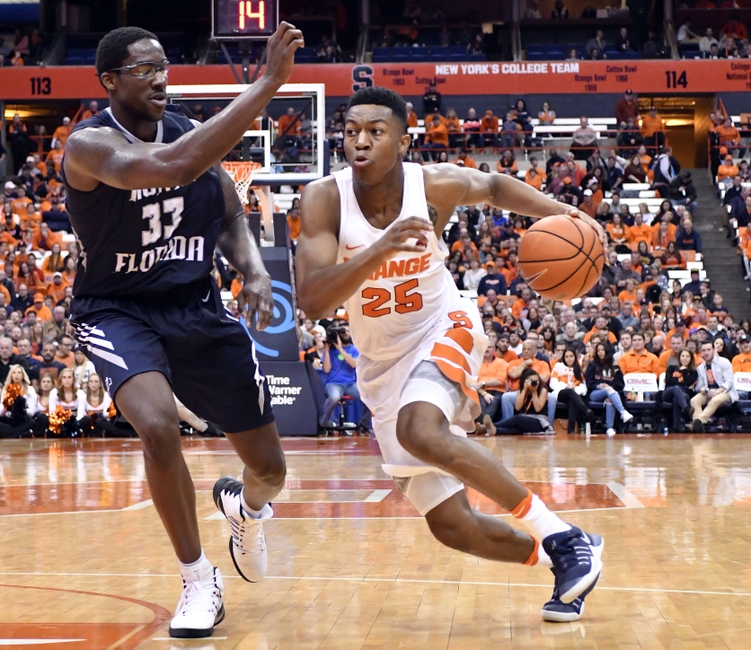 Syracuse basketball head coach Jim Boeheim made a critical lineup change that could pay huge dividends down the line for the Orange.
This next stretch for the Syracuse basketball team is critical for more than just wins. It's critical because Jim Boeheim has five boxes of jigsaw puzzles in front of him with an endless amount of combinations.
While many pieces can fit the holes in the puzzle, the right pattern is key for a deep tournament run. Well it seems that one of Boeheim's educated guesses worked even more than he thought it would.
So Tyler Roberson gets sent to the bench and Tyus Battle gets the nod. How does it work out?
In his first career start, Battle goes off for 19 points and shot an insane 75% from downtown. This starting five gives SU their best offensive potential. Andrew White is a natural three and causes mismatch nightmares for opposing teams.
Despite coach Boeheim saying that Tyler Lydon was his best center on the team, he's stuck with
More from Inside the Loud House
Dajuan Coleman. Hence in back-to-back games Coleman has been fantastic, coincidence? I think not.
Coleman is taking advantage of his additional playing time by efficiently hitting his 10-15 foot jumper and scoring effectively in the paint. DC is realizing some of that potential he came in with as a former McDonald's All-American.
After the game, Boeheim said the reason for the switch from Roberson to Battle was simple: "We need to score." The Orange can't win ball games when they're scoring 50-60 points offensively. He also commented on how well Battle performed.
"Sometimes when things aren't working you have to make changes. I didn't think it was going to work out this well. I didn't think Tyus was ready to have this kind of game, but I'm glad he did. He still has a lot of work to do, but he gets in the right areas and he's an excellent scorer. He has been since he's got here from the very first practice. The next thing is getting him comfortable so he can start driving and getting to the basket."
So we can officially put Tyler Roberson in the Boeheim dog house but there's a path to get out of it and it's simple.
"It's not the jump shot. It's the rebounding, you have to be able to rebound and get down the court. That's what we need from Tyler, if he can do those things he'll play. I think he thinks he has to make jump shots and that's not the case. We already have a lot of guys that can shoot. He's got to stop missing layups and shots around the basket."
Roberson is a Senior he has no excuse for these inconsistencies. I'm not ready to give-up on him by any means but if he doesn't start playing better he could get buried on the depth chart by the time conference play rolls around.  Lets get to one more comment from coach Boeheim on this lineup.
This lineup is the best lineup that SU can put out there offensively. As Boeheim notes there is pros and cons to every decision. They will realize their full potential when Tyler Lydon starts to play like the lottery pick he is destined to become. It hasn't happened yet but like Boeheim I believe it will. Maybe it'll happen as soon as tonight when they play the UConn Huskies at Madison Square Garden.
This article originally appeared on