Syracuse Basketball Nearly Doubles Up Holy Cross In Rout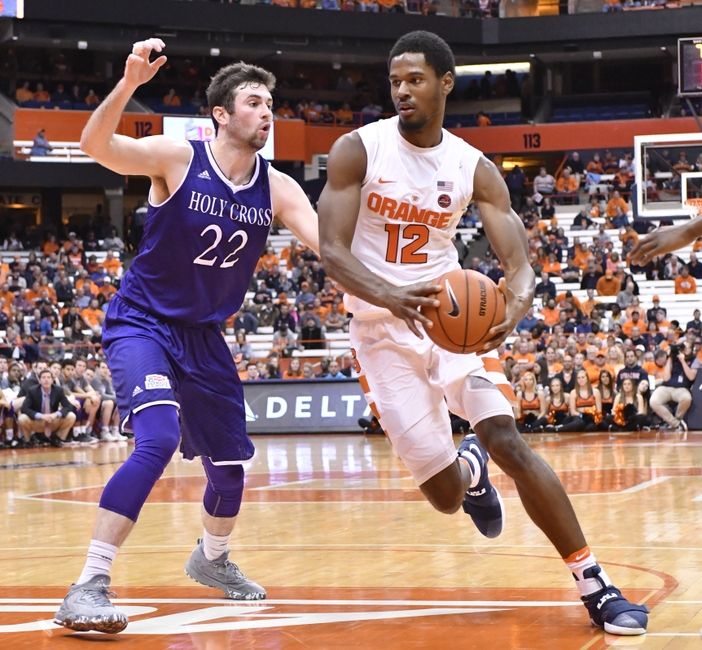 The Syracuse Basketball team got its second straight regular season victory on Tuesday night against Holy Cross. Our Neil Adler has the story.
The Syracuse basketball team relied on stellar shooting and solid defense to absolutely dismantle Holy Cross, 90-46, on Tuesday night at the Carrier Dome.
The Orange, the No. 18 team in the country, saw five players reach double-figures, led by graduate transfer Andrew White III, who notched 19 points, including five 3-pointers.
The Crusaders, meanwhile, only had one guy eclipse 10 points, senior Anthony Thompson, who scored a dozen.
This game, before more than 21,000 fans, never proved close. 'Cuse had a 26-point halftime lead and continued to pour it on after the intermission.
White hit four from downtown and collected 16 total first-half points. Sophomore Tyler Lydon broke out of his offensive slump, getting 10 points before the intermission.
SU shot 60 percent from the field in the initial half, compared with 38 percent for Holy Cross. Both teams shot well from 3-point range. SU had a 19-7 rebounding edge, and twice as many assists.
Perhaps most importantly, 'Cuse took care of the ball, committing only five turnovers, while Syracuse tallied 21 points off eight Holy Cross turnovers.
One of the few negatives: sophomore Frank Howard, the Orange starting point guard, found himself in head coach Jim Boeheim's proverbial doghouse. When he turned the ball over, failed to grab a rebound, or played poor defense, Boeheim quickly took him out of the game.
About two minutes in to the second half, Lydon drained his first 3-pointer of the season, stretching the lead to 54-26. His second from long range pushed the margin to 61-29.
It's good to see Lydon find his shooting stroke, an imperative if Syracuse is going to significantly succeed this year.
Earlier Tuesday, he became one of 50 players named to the first watch list for the John R. Wooden Award, given to the nation's best college basketball star.
Interesting to note, the Orange played some man-to-man defense against the Crusaders, the 2016 Patriot League conference champions. Boeheim had hinted prior to the season getting underway that his squad might try out a little man defense, straying away from his trademark 2-3 zone.
Holy Cross did not challenge Syracuse in the second half. With about two minutes to play, and the Orange up 90-42, Boeheim sent in the walk-ons.
'Cuse shot 58 percent from the field, 52 percent from 3-point range (including 13 made from downtown), and 85 percent from the free-throw line.
That last statistic is encouraging, as SU was dreadful from the charity stripe in its win last Friday night against Colgate.
The Syracuse defense clamped down as well. Holy Cross registered only 31 percent from the field, 28 percent from 3-point range, and 38 percent from the free-throw line.
The Orange had 12 more rebounds, a critical number because Syracuse did not hit the boards particularly well versus Colgate. 'Cuse also had more than twice as many assists as Holy Cross.
Other statistical categories where Syracuse shined: 34-8 in bench points, 31-11 in points off
More from Inside the Loud House
turnovers, and 32-16 in paint points.
In addition to White's 19, Lydon chipped in 17 points and six rebounds. Senior Tyler Roberson had 12 points and six rebounds.
Graduate transfer John Gillon had 15 points on 6-of-8 shooting, along with nine assists and just one turnover. I really like his game. He is so quick out in transition, and an explosive weapon off the bench.
Speaking of the Syracuse bench, sixth-man stud Tyus Battle, a freshman, had nine points, four assists and three steals. Finally, another freshman, Taurean Thompson, nabbed 10 points on 5-of-7 shooting.
All in all, a strong performance. Syracuse improved to 2-0, with its next game on Friday, Nov. 18, against the Monmouth Hawks. That contest, like the Holy Cross game, is part of the Brooklyn Hoops Holiday Invitational.
Monmouth is an intriguing opponent. The Hawks, some felt, got snubbed by not getting a bid to this past year's NCAA Tournament. On the flip side, Syracuse, some believed, should not have gotten in to the Big Dance. The Orange, however, made the most of its inclusion, going on a magnificent run to the Final Four.
I know it's early, but Syracuse has some serious potential. Lots of athleticism and length, extremely deep, scorers all over the map, and tremendous talent across the board.
If SU's nine primarily players continue to gel together as a team, look out. I sense an exciting and fun season on the horizon.
This article originally appeared on