Syracuse Basketball: Le Moyne Gets Crushed In Final Exhibition Game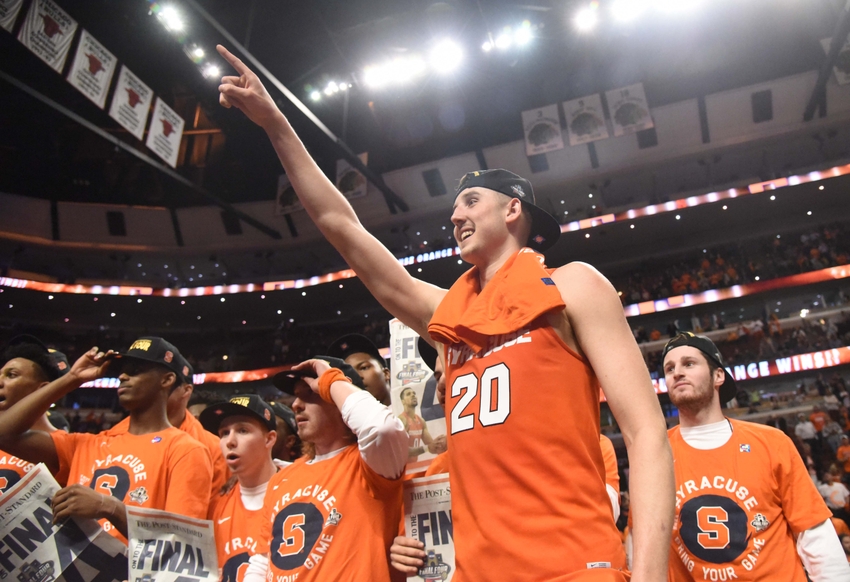 The Syracuse Basketball team exerted their dominance in their final exhibition game of the season. Who impressed? What are the biggest takeaways?
The Syracuse basketball team used a dominating second half to cruise past Le Moyne, 97-64, in the Orange's second exhibition contest.
In contrast to its victory a week ago over Indiana (Pa.), Syracuse started out fast against the crosstown Le Moyne Dolphins, a Division II program. The Orange built an early 11-3 lead, and it would jump to 31-15 further along in the first half.
Unlike seven years ago, when Le Moyne stunned Syracuse in an exhibition tilt in which the Orange played man-to-man defense the entire game, head coach Jim Boeheim had his squad in its trademark 2-3 zone this time around.
Syracuse players, much bigger, faster, longer and taller than their counterparts, hit the glass pretty well. They pressed a bit, forced a few turnovers, and got out in transition.
A blowout seemed on the horizon.
More from Inside the Loud House
But Le Moyne's Tanner Hyland, a reserve guard, caught fire. He connected on 5-of-7 from 3-point range and scored 15 points before intermission (18 in total for the game), and the Dolphins hung around, trailing the Orange by only nine points at halftime, 45-36.
Le Moyne made eight 3-pointers in the first half, shooting 40 percent from behind the arc, while its bench outscored 'Cuse by seven points, 19 to 12.
Andrew White III, a 6-7 wing who transferred from Nebraska to Syracuse, erased a poor shooting performance against Indiana (Pa.) by collecting 19 first-half points, while freshman guard Tyus Battle added eight points.
Despite slashing its first-half deficit, Le Moyne proved no match for Syracuse in the second installment, getting outscored by 24.
Led by sophomore forward Tyler Lydon, senior forward Tyler Roberson and senior center DaJuan Coleman, 'Cuse clamped down on defense.
They shut down passing lanes. They made it hard for Hyland and his teammates to find open shots. They continued to hit the boards and forced some turnovers.
Le Moyne, for example, shot a paltry 6-of-19 from 3-point range in the second half.
From the get-go after intermission, Syracuse methodically built up its lead. Graduate transfer John Gillon, a point guard who previously played at Colorado State, scored nine straight, including several nifty drives. At that point, Syracuse led 76-51.
Gillon, at least for now, backs up sophomore Frank Howard at point guard, which really illustrates the Orange's depth. So quick out in transition, Gillon could end up as Syracuse's X-factor this season.
Against Indiana (Pa.), he tallied nine assists. Against Le Moyne, he totaled 14 points in 14 minutes, along with two assists and two steals.
Howard, meanwhile, finished with 11 points, seven assists and just one turnover. His sweet passes to Lydon and Battle expanded the lead to about 40 with around four minutes to play.
Then Boeheim emptied his bench, and the Carrier Dome crowd erupted when sophomore walk-on Ky Feldman hit a corner 3-pointer.
It's worth noting that Boeheim, given the well-publicized depth on this year's team, did experiment with his line-ups a bit. For instance, he put both Lydon and freshman Taurean Thompson at center for periods of time.
All in all, Syracuse had a solid effort against Le Moyne, leading from wire to wire. The offense exploded; the defense was a bit more pedestrian.
White finished with a game-high 24 points, in only 26 minutes, leading four Syracuse players in double-figures. He excels at creating his own shot. Battle, showing off his smooth stroke, had 17. Both shot better than 50 percent from the field.
While he didn't make a 3-pointer in either exhibition game, Lydon did collect eight points and 10 rebounds. Roberson had nine points and six boards, including four offensive rebounds. I am confident that Roberson is going to be a beast on the boards this season.
SU shot a strong 56 percent, compared to 39 percent for Le Moyne. From 3-point range, things were fairly even, 40 percent for Syracuse, and 36 percent for Le Moyne. The Orange outrebounded the Dolphins by 15, and 'Cuse had five fewer turnovers, as well as five more steals.
Perhaps most telling, Syracuse ultimately had way more bench points, points off turnovers, second-chance points, and points in the paint. Those proved the difference makers.
The main negatives: 'Cuse shot a poor 60 percent from the charity stripe (although that often happens), and it had five fewer assists than Le Moyne. Also, as Boeheim noted after the game, the defense has to improve.
Okay, now it's on to the real thing. Syracuse opens the regular season versus Colgate on Friday, Nov. 11, at the Carrier Dome.
Two quick additional notes: Syracuse freshman forward Matthew Moyer is going to redshirt this season, the result of time that he has missed because of a foot injury, Boeheim said in a statement issued by the university.
And Shai Alexander, a four-star guard in the 2017 class, will announce his school of choice on Monday, Nov. 14, according to ESPN.com and Scout.com reports. His finalists are Kentucky, Syracuse, Texas and UNLV, per ESPN.com.
As we documented earlier this week, the Orange is still looking for the first commitment in its 2017 class:
This article originally appeared on