Syracuse Basketball: Is Green The New Blue?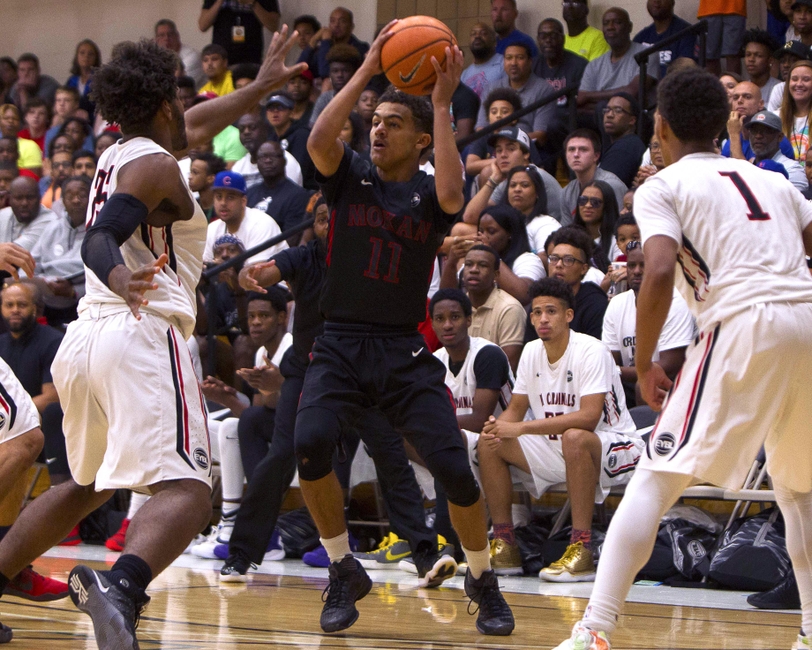 The recruiting trail isn't an exact science, no one knows this better than the Syracuse basketball program. But is Green The New Blue?
That's a question Syracuse basketball fans are dreading.
Come Saturday night, we'll all know for better or for worse where five-star point guard Quade Green will head next season.
While the top-25 prospect in the 2017 class will officially decide between five schools, his high school coach said earlier this week that Green is really down to two: Kentucky and Syracuse.
The Orange, for two years, has aggressively recruited Green, who attends Neumann-Goretti High School in Philadelphia, which also produced former Syracuse stand-outs Scoop Jardine and Rick Jackson.
SU offered the 6-1 Green a scholarship in June of 2015, before his recruiting rankings shot up the charts. Head coach Jim Boeheim and his staff clearly made him their number-one priority for their 2017 class.
As Green gained more national attention, however, other programs began to take notice. Duke,
More from Inside the Loud House
Kentucky, Syracuse, Temple and Villanova are his final five.
For months, recruiting experts anointed 'Cuse the heavy favorite to land Green's services. In fact, just yesterday, the 247Sports Crystal Ball put Syracuse at 95 percent.
When Green caught the Orange's season-opening win over Colgate last Friday, sitting near another SU target, Bourama Sidibe, Syracuse fans felt confident that the Orange would land Green.
But, boy, how things have shifted.
This past Tuesday, Green took in the Kentucky-Michigan State contest at Madison Square Garden in New York City. Since that occurred, the chat-board chatter has blown up, with Kentucky fans prognosticating that Green will join their Wildcats for the 2017-18 season.
At the same time, Syracuse fans are displaying their nervousness on message boards, and they are fearing the worst. And while I don't pretend to have any inside information on where Green is going, things are not looking great for our beloved Orange.
His coach, Carl Arrigale, said in various interviews this week that Green was clearly torn between the two schools, going back and forth, but that he has made his decision.
Media reports on Friday indicated that Green has signed his national letter of intent.
Should Syracuse fans start to panic?
I say, let's wait and see. Yes, the momentum appears to have drastically moved in Kentucky's favor.
The 247Sports Crystal Ball on Friday afternoon put Kentucky in the lead, at 48 percent, with Syracuse not far behind, at 43 percent.
A dozen or so recruiting experts on the 247Sports Web site have listed Kentucky as the predicted winner.
That is not a strong sign for SU, but keep this in mind: the same 247Sports Crystal Ball had Arizona as the heavy favorite for Lonnie Walker, another Syracuse target.
Walker, two days ago, ended up committing to Miami.
Some reasons for optimism: Syracuse has shown its love for Green for a long time, with others, like Kentucky, only offering scholarships to him after his stock started to soar. Hopefully, that means something to Green.
He has visited the 'Cuse campus several times. We lose point guard John Gillon, a graduate transfer, after this season. That leaves only sophomore Frank Howard on the roster. Green would see a lot of minutes, and perhaps even start, as a freshman.
What's more, another Syracuse target, four-star combo guard Shai Alexander, announced on Nov. 14 that he will become a member of head coach John Calipari's squad. Big Blue Nation also continues to recruit five-star point guard Trae Young, who has said he won't sign until the spring.
So, if I'm a betting man, where do I think Green will go? Well, my heart says Syracuse, but my head says Kentucky.
I'm praying that he selects loyalty, and the chance to be the man for a powerhouse program in the best basketball conference, the ACC, while regularly playing in front of 30,000-plus screaming fans.
Now, you can't blame Green if he heads to Kentucky. Calipari is a recruiting machine, and he churns out one-and-done NBA talent year after year.
Then again, Boeheim's had a pretty good run himself, in terms of Syracuse guards getting drafted in recent years.
It's an anxious time for the 'Cuse community. Anyone that says it's not a huge blow if Green commits to Kentucky needs somewhat of a reality check.
Sure, Syracuse still has offers out there to other four- and five-star talents, but they aren't pure point guards. And the Orange has spent so much time on Green, it would prove a real shame if that kind of courtship doesn't count for something.
Pins and needles until tonight. We'll of course provide an update once Green reveals his future color. I'm crossing my fingers that it's Orange.
This article originally appeared on