Syracuse Basketball Gets Preseason Underway On Tuesday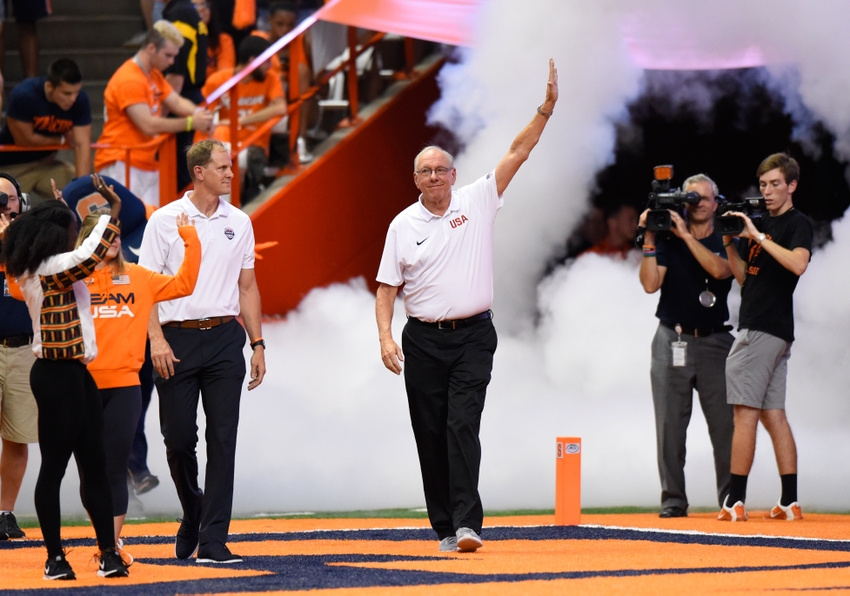 The Syracuse basketball team finally got their first action of the season. There were a lot of takeaways from the game and our Ty Butler breaks it down.
After months of anticipation, the Syracuse basketball team tipped off the preseason with an 83-65 win over Indiana University of Pennsylvania. This was the official beginning of a new era on the hill with the Orange having to replace their top three scorers from last year's final four team.
"Indiana is a good well-coached team," head coach Jim Boeheim told reporters following the game. "They did some good things. We were fortunate to get some opportunities off our press."
During last season's March run, Syracuse employed a press out of desperation. And it worked wonders, helping shave double-digit deficits in back to back games. A sluggish start against IUP incited Boeheim to go right back to that press — same result.
After falling behind early by 11, the Orange used an 18-2 run (fueled by a bevy of forced turnovers) to take control of the game. This allowed for transition them to get out in transition. And with the athleticism on the wings and length at the rim, those opportunities should present themselves frequently during the season.
Andrew White certainly adds a different dimension to the lineup because of his ability to consistently hit three pointers. Last year at Nebraska, he shot 41 percent from beyond the arc. That would've been the best mark on a Syracuse team that shot 36 percent as a team a year ago. Obviously the level of competition needs to be acknowledged, as the ACC will offer more of a challenge. But if he can hover around that number for a second consecutive season, that's a huge win for Boeheim.
"It'll take him a while," Boeheim said. "He's learning a new system. Matchup zones are hard to play against, it's a freak defense."
The expectations are astronomically high this season for various reasons. Any time you come into a success fresh off any degree of success, naturally the bar raises. Couple that with all the depth on this roster: there's something special brewing.
This leads to a conversation about what lineups we'll see on the floor for the Orange. The starting five featured four returners in Frank Howard, Tyler Lydon, Tyler Roberson and DaJuan Coleman along with White. And if this game served as the foreshadowing of things to come, this could turn out to be one of the worst lineups this season.
It would be silly to overreact to a meaningless preseason game, but here are the facts. Playing Lydon at the three takes away from his strengths. Having bulked up during the offseason, he figures to be a force in the paint on both ends of the floor. The offense could realistically run through him due to his ability to post and his talent as a creator for himself near the basket. And once he gets his game going with easy looks that could open things up for him on the perimeter, where he shot 40 percent from last year to lead the team.
Unfortunately because of the likes of Roberson and Coleman, the lane was clogged, which meant Lydon had to hang around the three-point line when all three were in the game together. And thought he finished with 12 points and 10 rebounds in 31 minutes, he never really got into a rhythm offensively (went 0-4 from downtown).
He'd thrive playing the playing the four or the five. Then on defense, the length and physicality puts him in prime position to bang down low with opposing bigs. He'll also exude a level of intimidation that could alter shots and deter penetration.
It'll probably never happen, but Coleman should come off the bench. And this isn't a knock on him, but that would put him in the best position to succeed with Roberson and Lydon manning the middle in the starting lineup. Because of Lydon and White's talent, they should be heavily involved in the offense as the No. 1 and 2 options. A Howard/Tyus Battle/White/Lydon/Roberson grouping would give you speed, quickness, athleticism, spacing and ball handling.
With Coleman coming off the bench, he could be featured more with the offense running through him posting up. This probably means Syracuse plays a slower tempo when the bench comes in, which is totally fine. That allows for Coleman to get involved offensively with no pressure of having to acquiesce to BOTH Lydon and White, who will probably be the team's leading scorers.
We'll have to wait and see who Boeheim chooses to play, particularly in crunch time. And he also hinted they could play some man-to-man defense, which they did against IUP. That would also dictate the lineups because you'd want a rim protector in the game at all times. It would have to be one with some lateral quickness of course.
But for one night, all is well in Central New York if you're a Syracuse basketball fan. We're inching ever so closer to the start of the regular season set to take place Friday November 11.
More from Inside the Loud House
This article originally appeared on