Syracuse Basketball Destroys South Carolina State, 101-59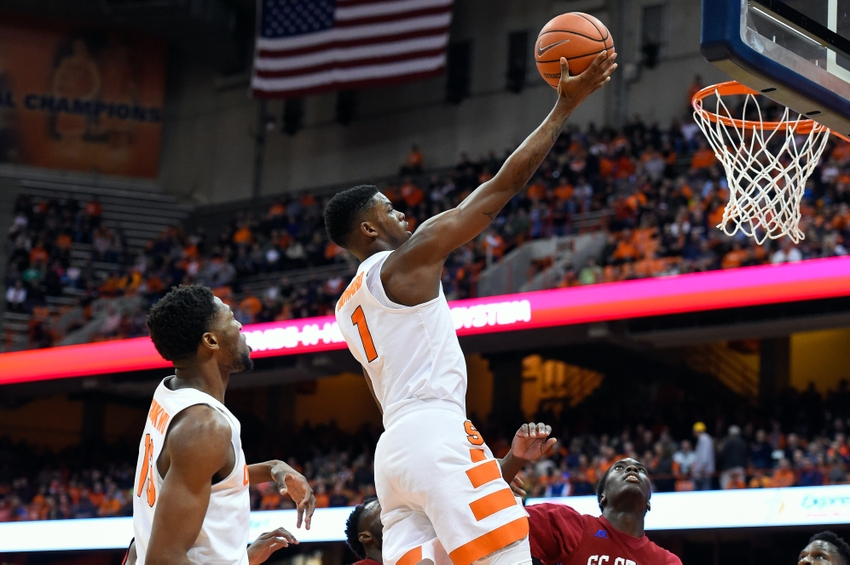 The Syracuse basketball squad moved to 4-0 after trouncing the Bulldogs at home. Here are the top takeaways.
The Syracuse basketball team rode the strength of balanced scoring and terrific shooting to crush South Carolina State, 101-59, on Tuesday night at the Carrier Dome.
Despite a somewhat lethargic first half, No. 18 Syracuse (4-0) cruised pretty much the entire game. The Orange exploded after the intermission, outscoring the Bulldogs 55-28 to take control in the first-ever meeting between the two schools.
Six 'Cuse players scored in double-figures, led by graduate transfer Andrew White III, who had 15 points on 5-of-10 shooting. Sophomores Frank Howard and Tyler Lydon, along with senior Tyler Roberson, all collected double-doubles.
Howard had 10 points and 11 assists, with just one turnover. Lydon chipped in 14 points and 10 rebounds. Roberson totaled 13 points and 12 boards.
Graduate transfer John Gillon scored 14 points and dished out four dimes, while freshman Taurean Thompson had 12 points, four rebounds and four blocks.
All in all, a tremendous offensive effort. The Orange shot 54 percent from the field and 3-point land. SU had a 54-32 rebounding advantage and 13 more assists.
Syracuse committed 10 turnovers for the game, but only two in the second half. It also had 11 blocks, 16 more points in the paint, and 11 more second-chance points.
South Carolina State (1-3), out of the Mid-Eastern Athletic Conference, had a rough offensive night. It shot 27 percent from the field, and only 19 percent from 3-point range. Freshman Ozante Fields had 11 points, the lone Bulldogs player in double-figures.
Lydon nailed a 3-pointer to get the scoring going for SU, and the Orange used its full-court press virtually from the onset. That carried on throughout the entire first half.
However, the Bulldogs consistently broke the press with ease. No doubt Syracuse head coach Jim Boeheim will provide some commentary on that in the near future.
Howard's 3-point shot propelled SU to a 15-3 lead.
With about five minutes gone in the first half, Thompson entered the contest. That's a good sign, as he injured his left foot last time out against Monmouth (although x-rays came back negative).
The Orange didn't take care of the ball well, committing seven early turnovers, and eight in total before intermission.
Gillon's 3-pointer pushed 'Cuse up 28-14.
Then, a Thompson dunk made it 33-16. It became 41-26 after Thompson backed his smaller man down, and finished with a sweet dunk. Two Thompson free throws expanded the lead to 43-26.
After one period of play, the Orange held a 46-31 lead. Gillon led the way with 10 points. All nine SU players who got in the game scored. Thompson had eight points, while four guys – freshman Tyus Battle, senior DaJuan Coleman, Howard and Lydon – had five points each.
While SU is a much bigger and more talented team, Syracuse didn't overly impress in the first half. Points in the paint were fairly even. That shouldn't happen. The press, as previously noted, proved ineffective.
The Orange got ahead by 15 on the strength of its shooting, 50 percent from both the field and 3-point range. On the flip side, the Bulldogs shot horrendously. About 28 percent from the field, and 1-of-11 from 3-point land.
All in all, SU's trademark 2-3 zone prevented its opponent from getting good looks from downtown.
South Carolina State, on one positive note, did go 10-of-12 from the charity stripe.
SU had a 26-18 rebounding edge, and five more assists. It also tallied six blocks.
After the break, it was all Syracuse.
White started out the second half with a 3-pointer, then a Coleman baseline jumper put Syracuse up 53-33.
Lydon's make from downtown got it to 61-40.
With about seven minutes gone, Syracuse had four players in double-figures – Gillon, Lydon, Thompson and White. This team has so much depth and so many options. When they shoot it well, it's going to prove difficult to stop the Orange.
A deep 2-pointer from Howard, then a Lydon 3-point shot, and SU extended its lead to 71-43. This squad is really unselfish, always making the extra pass to find the open man.
At that juncture, Lydon had found his groove, as he was 4-of-5 from 3-point range. That's encouraging, because he was 2-of-8 in 'Cuse's first three games.
Roberson blocked a shot and hustled down the court for a dunk in transition, and it was 75-43.
Then, a Gillon dunk, a Roberson tip-in, and a layup by sophomore Paschal Chukwu, and it was 83-46. Five players in double-figures.
White and Howard hit back-to-back 3-pointers, and it ballooned to 89-46 with about four minutes left.
Now six players in double-figures. Howard, Lydon and Roberson all with double-doubles.
More from Inside the Loud House
Roberson's old-fashioned 3-point play got it to 94-47. Boeheim sent in the walk-ons with three minutes to go. The crowd chanted, "Let's go Orange."
And then the fun really kicked off.
Sophomore Adrian Autry Jr. banked in a jump shot, making it 96-47.
Then, a nice assist from junior Mike Sutton resulted in a dunk by senior Doyin Akintobi-Adeyeye. The crowd went absolutely nuts, and the SU bench erupted.
Finally, freshman Ray Featherston knocked down a three, giving the Orange a 101-58 lead. A Bulldogs free throw near the end concluded the scoring.
By reaching the century mark, SU eclipsed 100 points for the first time since defeating Monmouth in December of 2012.
You can't help but feel great about this kind of win. Seventeen – yes, 17! – Syracuse players got into the game.
The Orange continues on in the Brooklyn Hoops Holiday Invitational, next facing the University of South Carolina Gamecocks on Saturday, Nov. 26, at the Barclays Center in Brooklyn, N.Y.
Expect a much more competitive match-up.
Then again, if 'Cuse plays like it did in the second half of this contest, look out.
This article originally appeared on