16 things you need to know about the Sweet 16
1. For all the chaos of the last 96 hours, the Sweet 16 is remarkably normal.
There aren't any Cinderellas and shouldn't be any teams merely happy to have made it this far. All 16 teams have a good chance of winning their next game and getting one step away from the Final Four.
There are no sure things: Kansas should handle Maryland, but what if Diamond Stone is too much inside for a team whose third-leading rebounder is a 5-11 point guard? What if Melo Trimble plays well for a full 35 minutes (it's too much to ask him to play good ball for 40)? Gonzaga vs. Syracuse means a double-digit seed will be one game from Houston. It's nuts: If you look down the list of the eight regional semifinals, you can pick a favorite in most, but there'll be no stunning upset unless a Notre Dame game is decided doesn't go down to the final six seconds. This is the most wide-open Sweet 16 I can remember, a fitting end to one of the most wide-open seasons in recent history.
2. ACC! ACC! ACC!
Six of the conference's seven BCAA teams will be playing on the second weekend of the tournament. The lineup: UNC, Virginia, Miami, Duke, Notre and Pitt. (Though, to go back to the glory days of actual, regional conferences, the "ACC" has four teams: UNC, UVA, Duke and Maryland.) With Pittsburgh's opening-round loss, the ACC is 12-1 thus far in the 2016 tournament and has four legitimate title contenders.
3. The Sweet 16 conference breakdown:
ACC – 6 /// Big Ten – 4 /// Big 12 – 3 /// Big East – 1 /// SEC – 1 /// WCC – 1
If you remove the Big Ten for a second, the ACC has as many Sweet 16 teams as every other conference, combined.
4. Northern Iowa's first-round miracle is completely negated by its second-round collapse.
The best coaches say the losses hurt much more than the wins. But in the case of the NCAA tournament, this isn't applicable to the little guy. Nobody cares or remembered what happened to Bryce Drew's Valpo team after his buzzer beater all those years ago. How did Florida Gulf Coast do after beating Georgetown? Was George Mason competitive in its Final Four game? It doesn't matter! These teams weren't winning the tournament so their best memory is the indelible moment they left in March. Middle Tennessee players and fans will always be able to tell their grandchildren about the time they beat mighty Michigan State for decades. How they did in the second-round result is besides the point.
Not for UNI. The memory of that collapse will be far greater than the memory of the Paul Jesperson's buzzer beater. Oh, we'll see Jesperson's clip from here until eternity, but no UNI player is going to look back at the 2016 tournament with fondness, the way that the other famous Panthers team (the one that beat Kansas on a buzzer-beater) can do.
5. Carolina is the king of the Sweet 16
This is UNC's 27th appearance in the round of 16, better than Duke, which made its 25th. Kansas is in Sweet 16 No. 21. Two teams had long streaks snapped this year: Louisville (ineligible) and Michigan State (losers).
6. No team is making its Sweet 16 debut.
More impressive than that is the fact that every remaining team has made a Sweet 16 this century. Which team has the longest drought? Oddly, it's one of the five Sweet 16 teams to have won a title over the same span. Maryland's last appearance was in 2003, one year afters its first ever title.
7. Which three Sweet 16 teams played the best this weekend?
Throw out the rest of the season. If you started watching college basketball on Thursday afternoon, which team would you say was the best in the country?
a. Kansas – No trouble in 16/1 game and then rolled over a Big East opponent without so much as breaking a sweat.
b. Indiana – The three other No. 5 seeds had a 1-2 record with a point differential of negative one in the first round. The Hoosiers won by 25 points. Then, Indiana played a dominant 40 minutes against a Kentucky team that was playing so well people started thinking John Calipari might be able to make another Final Four run.
c. Gonzaga — Say what you will about the Pac 12, but Gonzaga absolutely worked one of the conference's best teams in Utah.
Bonus: Texas A&M – Never count out those who possess magic and sorcery.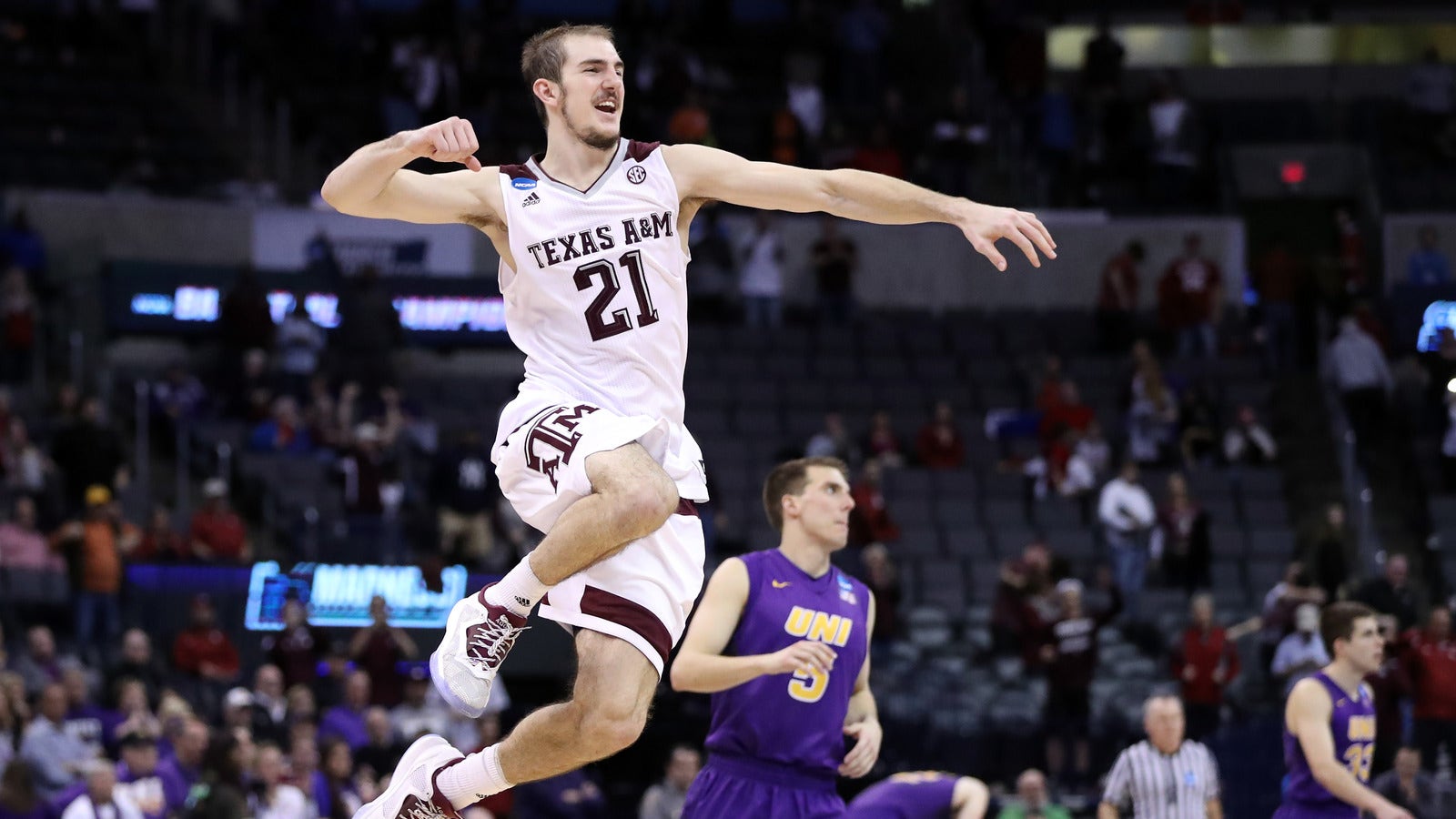 8. Which three Sweet 16 teams played not so great?
You can't say any team that won two games played poorly but some of the 16 certainly didn't bring their A games
a. Notre Dame – When you play with fire your unsightly old-man stubble and turtlenecks are going to get burned.
b. North Carolina – This is no insult to UNC. To be honest, I think it's better (most of the time) to be on this list than the other one. Carolina hasn't played its best ball yet, which is what you want after two games of a six-game tournament.
c. Virginia – Butler was a great matchup for the Hoos, but the Bulldogs still had a chance to cut the lead to two in the final minute. Again, no one is accusing UVA of playing badly, but they didn't bring that indefinable "it" to the first weekend which, as said directly above, means nothing now that they're out of the first round.
9. What were the best games of the first two rounds?
The final seconds of games obviously play a huge role in the list but so does overall flow and the 39 minutes, 25 seconds of play the preceded it. That being said, we're still choosing a game that was just "meh" for 39 minutes, 25 seconds:
a. Texas A&M, 92 over Northern Iowa, 88, 2OT (2R) – The greatest comeback ever? It goes without saying it's No. 1 on our list.
b. Middle Tennessee State, 90 over Michigan State, 81 (1R) – The big upsets are always the most memorable.
c. Notre Dame, 76 over Stephen F. Austin, 75 (2R) – Was like a heavyweight fight back in the days when heavyweight fights were watchable, with each team slugging it out until the final tip-in that gave the Irish a win nobody outside South Bend wanted to see.
d. Northern Iowa 75, Texas 72 (1R) – Jesperson's buzzer beater will be in highlight reels for years, capping a game was back-and-forth all second half.
10. What were the worst games?
This doesn't include the obvious blowout games (1/16 or 2/15), but games that were hotly anticipated that quickly turned into hot messes.
a. Wichita State, 65 over Arizona 55 (1R) – The closest this game was in the second half was just about that final score. Arizona didn't come to play in what was the first-round game everyone wanted to see.
c. Gonzaga 82, Utah 59 (2R) – I'm starting to think the Pac 12 might not have been that great.
11. After the dust settled, which regions ended up the easiest and hardest for next weekend?
All four No. 1 seeds made the Sweet 16 for the first time since 2012, ensuring some good basketball on Thursday and Friday. But what about the rest of the teams? Here's the average seed per remaining team:
West 2.5 – That's the lowest possible number as the West saw straight chalk with Oregon (1), Oklahoma (2), Texas A&M (3) and Duke (4) advancing.
Midwest 6.5 – If you think this higher number is good news for Virginia, yeah, you're completely right. Iowa State will be a tough opponent but the Cyclones strength (good shooting from all over the floor) will be neutralized by UVA's pack line defense. Whoever wins that game gets the winner of a 10 vs. 11 special. Neither are a traditional Cinderella as one has one of the longest streaks of tournament appearances and the other is Syracuse. But, hey, better Gonzaga or Boeheim than Michigan State.
12. How do the Sweet 16 seeds rank historically?
There have been 32 NCAA tournaments since the field expanded to 64. Of them, just seven have had a Sweet 16 field with a better total seed count. This is also the third "best" Sweet 16 since 1997, with a total seed count of 66. (The Gonzaga-Syracuse game almost accounts for a full third of that.) The record, by the way, is 49, set in 2009.
13. Which teams are the efficiency kings and jesters?
We love the efficiency numbers on Ken Pomeroy's website because they're better at projecting success than any other metric, by far. Don't believe me? There are 351 teams in Division I. Each of the Sweet 16 teams is in the Top 25 for either offensive or defensive efficiency. That's not luck. But which teams have the best combo of offense and defense? This is a rudimentary way of finding out, but when you add a team's offensive and defensive efficiency ranks together, here's who comes out the best and worst. (Lower is obviously better.)
The best four: UVA (10); Kansas and North Carolina (15); Villanova (16)
The worst four: Notre Dame (179); Duke (114); Wisconsin (100); Iowa State (95) — Each of these teams has a top ranking in one metric, then greatly suffers in another. ND, for instance, is 7th in offensive efficiency but 172nd in defensive.
14. Will there be a first-time champion?
There are nine former champs remaining, though two of those won theirs in the first three years of the tournament so its, uh, been a while. (Oregon won the inaugural tourney in 1939, Wisconsin won the third in 1941.) And three champs are guaranteed to make the Elite Eight because there are three games pitting former title winners (Kansas/Maryland, UNC/Indiana and Oregon/Duke). It's going to be a toss-up though and the smart bet is on "no." One of the two favorites (UVA) hasn't won before. The rest of the top teams: Kansas, UNC, Villanova and Duke (yeah, if Duke's ever in it, they're included as a top team) all have a trophy sitting in a case somewhere on campus.
15. How many Final Four virgins remain?
Only three teams left haven't played in the Final Four, yet another sign of the talent and historic prowess of the field. Two of those teams would snap top-20 streaks of most NCAA tournament appearances without a F4 bid. Those teams are Gonzaga (T9 with 19 tournaments) and Texas A&M (T19 with 13 appearances). This is only Miami's eighth appearance though. The 'Canes have never made it past the Sweet 16 and have only made it this far twice.
16. If you had to build your Thursday and Friday night schedules around one game, which are the best on the schedule?
For Thursday, it'd have to be Kansas vs. Maryland at 9:40 p.m. ET. One is the top overall seed in the tournament, the other is an up-and-down team that could easily win this game comfortably or get run out of the gym after being unable to guard KU's two quick guards while also failing to keep senior Perry Ellis in check.
On Friday, it's another late-tip that takes the cake: UNC vs. Indiana, two college basketball blue bloods, are scheduled to start at 9:57 p.m. ET in Philadelphia. On both nights you can have a reasonably timed dinner, enough time for dessert of a post-dinner cocktail and then get home like you're a 6th-grader on curfew – by 10 p.m. But if you do go out, make sure there are TVs present. Just because the best matchups are late doesn't mean the best games will be.