How likeable are the Sweet 16 teams? A very serious ranking
Perhaps you're a Michigan State alum whose team got eliminated from the NCAA tournament about five rounds sooner than you'd been anticipating. Or perhaps a fan of one of the six Pac-12 teams eliminated on opening week. Or perhaps you just plain love Cinderellas, none of which managed to make it to the second weekend this year.
All of you have at least one thing in common: You need a new team to root for the rest of the tournament.
Below, I've ranked the remaining Sweet 16 teams — not in order of their odds to cut down the nets, but rather, their likeability. Use this as a guide to better inform your decision before choosing which bandwagon to board for the duration of March Madness.
With that … let's start at the bottom.
16. Syracuse
Nothing says feel-good story like a power conference school that went 19-13 in the regular season advancing to the Sweet 16, but the Orange are a truly special kind of killjoy. Their Hall of Fame coach, Jim Boeheim, spent part of the season suspended for NCAA violations in his program. Now, the Orange could send Boeheim to his seventh Elite Eight without beating any team higher than a No. 7 seed.
Rooting for Syracuse to make the Final Four would be like cheering for the Yankees to beat a Triple-A team.
15. North Carolina
The Tar Heels probably shouldn't have been eligible for this tourney what with the long-awaited verdict on UNC's decades-long academic charade now imminent. But the school managed to kick the case down the road for another year so Roy Williams' loaded 2015-16 squad could fulfill its potential. No question senior stars Marcus Paige and Brice Johnson have earned their moment in the sun. They'd just be easier to root for if they were wearing a different uniform.
14. Duke
I'm not normally one to hate on Duke just for being Duke, but this year's squad has not done much to earn points on the likeability scale. Its sophomore star, Grayson Allen, can't stop intentionally tripping opposing players. It claims that Marshall Plumlee is in fact a different Plumlee, but c'mon, we all know it's been the same guy for eight years. And of course, the Blue Devils just won a championship last year. How about spreading the wealth a little?
13. Texas A&M
The Aggies likely won over a lot of hoops junkies with their historic last-minute comeback against Northern Iowa. It's perfectly understandable if you now want to see them parlay that moment into a storybook title run. But first you have to consider how incredibly obnoxious it's going to be when SEC fans who previously could not have been more apathetic about either Texas A&M or basketball start chest-beating over Texas A&M basketball.
12. Oregon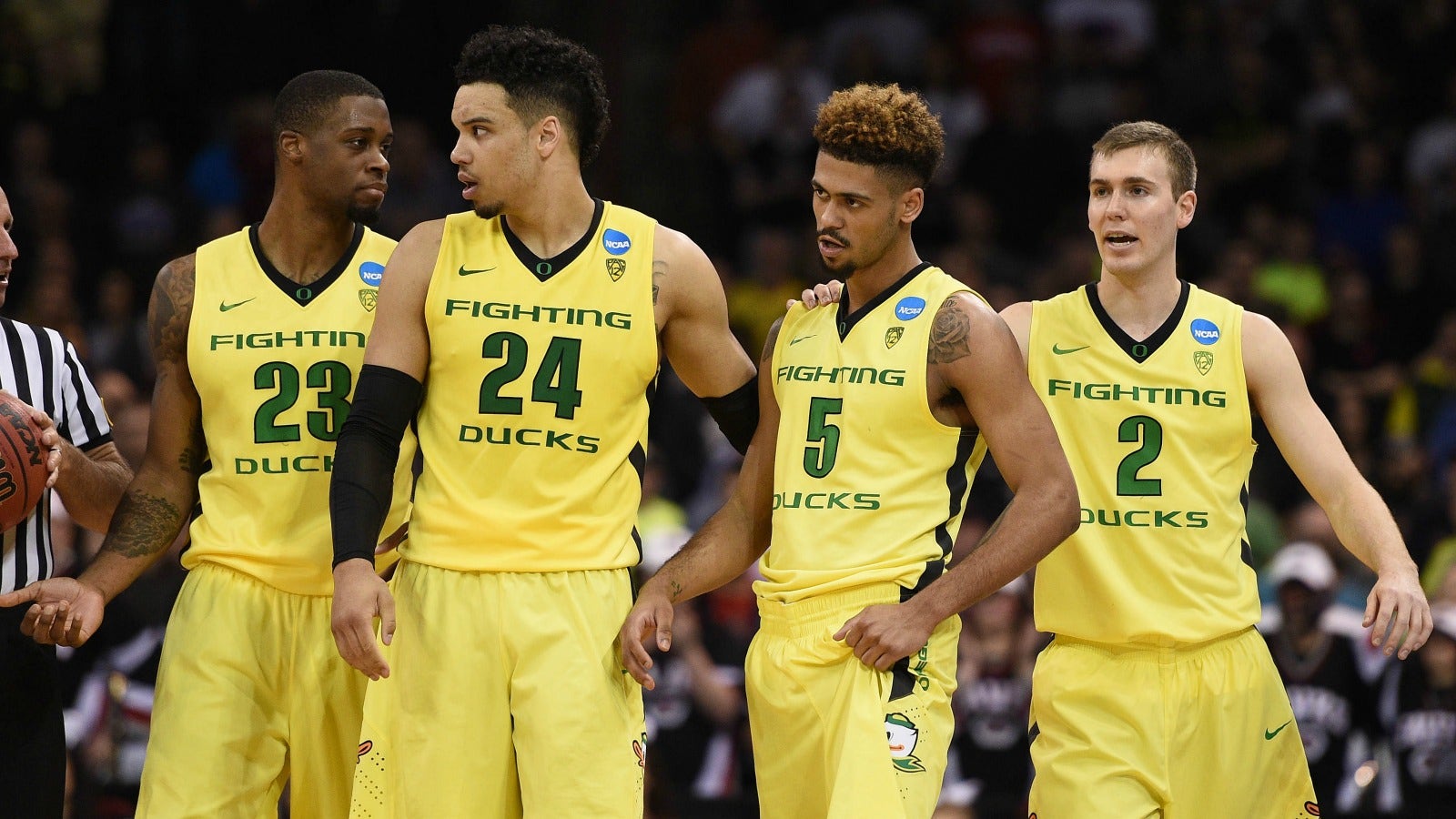 I suppose you might find yourself rooting for the Ducks either because you like their uniforms or because you want to see new blood in the Final Four. Oregon has not been since the very first one back in 1939. But as is abundantly clear by now, the Ducks landed their No. 1 seed by virtue of both they and their conference opponents' inflated RPI ratings. Never fear, the tournament will go on even if there's no Pac-12 representative in Houston.
11. Virginia
The Cavs are the perfect team to rally around if you enjoy crisp, efficient basketball with lots of passing and tenacious defense. However, in the event you are anyone other than a basketball coach, you may find it hard to embrace a team that literally plays at the slowest tempo out of all 351 Division-I teams. Just don't hold it against Malcolm Brogdon. He's eminently likeable.
10. Kansas
Bill Self is indisputably likeable. So is Perry Elllis. And Wayne Selden. And, frankly, the rest of the Jayhawks' lineup. So this particular Kansas team didn't do anything wrong to check in so low on this list. It's the opposite — they were so good they earned the No. 1 overall seed. So unless you're still rooting for your bracket (which, no offense, is just annoying), there's no particularly inspiring reason to become a two-week KU fan. Unless of course you're a big proponent of order and predictability.
9. Iowa State
The Cyclones lost a bit of their appeal last year, when coach Fred Hoiberg jumped to the NBA. Successor Steve Prohm is likeable enough but lacks a badass nickname like "The Mayor." Iowa State does boast star Georges Niang, who put off the pros to come back and score 20 points a game. Feel free to rationalize your excitement over a fifth-place Big 12 team because they're just so darned fun to watch.
8. Maryland
It's been 14 years since the Terps' one and only national title. Since then, their fans have endured an extended descent into mediocrity under Gary Williams, Maryland football, massive athletic department financial woes, Maryland football, an unwanted end to cherished ACC rivalries with Duke and North Carolina, mid-winter road trips to Lincoln and Minneapolis and Maryland football. Have they not suffered enough?
7. Notre Dame
In football, Notre Dame is the most polarizing brand in the sport, perceived as arrogant, coddled and perennially overrated. In basketball, the Irish are … mostly harmless. After years of early-tourney flameouts, longtime coach Mike Brey's program has enjoyed an unlikely renaissance since moving to the ACC and took undefeated Kentucky to the wire in last year's Elite Eight thriller. Wouldn't it be fun to see Brey finally reach the Final Four in his 11th try?
6. Wisconsin
Badgers coach Greg Gard has been one of the great stories in college basketball this season, thrown into the fire after longtime boss Bo Ryan's retirement and absolutely nailing his job audition. Bronson Koenig etched himself into Wisconsin lore with his buzzer-beater three against Xavier, and Nigel Hayes is one of the funniest players in college basketball. It's hard to term the reigning national runner-ups a lovable underdog, but these Badgers do have that feel.
5. Villanova
Jay Wright's team has been the poster for college basketball's all-or-nothing mentality surrounding the tournament. The Wildcats have dominated Big East 2.0 since the league's formation three years ago, going 48-6 in league play and earning a No. 1 or 2 seed every year, but are largely disregarded nationally due to early tourney exits. Senior Ryan Arcidiacono — who's been there for seemingly a decade — deserves a Final Four trip as his swan song.
4. Indiana
Rarely in the annals of college basketball history has the Hoosiers gotten to play the underdog card, but here they are, Big Ten regular-season champions relegated to a No. 5 seed, tasked with beating Kentucky and North Carolina back-to-back. Oft-criticized eighth-year coach Tom Crean will go from hot seat to hero if he can pull it off, while senior point guard Yogi Ferrell's sisters get their own endorsement deals with a prominent T-shirt manufacturer.
3. Miami
On the 10th anniversary of Jim Larranaga's miraculous Final Four run at George Mason, the perpetually endearing coach could achieve another milestone by taking Miami to its first Final Four. It'd be worth it for the press conferences and postgame interviews alone. It'd also be cool to see a notoriously bandwagon sports town and fan base invariably rally around the 'Canes were they to get closer and closer to a national title. They've already ascended farther than their football counterparts have in over a decade.
2. Gonzaga
This year's 11th-seeded 'Zags have taken us on a trip down memory lane, to a time in the late '90s and early 2000s when Gonzaga was still a plucky upstart, not a top 15 fixture. Wouldn't it be something if a team that tied for the second-lowest seed of coach Mark Few's 17 straight tourney appearances is the one that delivers a thus-far elusive Final Four trip? And wouldn't it be something if former Kentucky transfer Kyle Wiltjer gets there while his former school watches on TV?
1. Oklahoma
Amidst an increasingly hostile and divisive time in our country, one man stands to bring Americans together like no other: Buddy Buckets. The more time we have these next two weeks with Oklahoma's incredible sharpshooter/clutch performer/reggae fan, the better. Hield is the closest thing to Steph Curry that college basketball has seen since … well, Steph Curry. And while a No. 2 seed from the Big 12 is not nearly the feel-good story of a Davidson or Butler, the Sooners have never won a national championship and only reached two Final Fours in the past 60 years.
Certainly, theirs would be a more heartwarming coronation than yet another North Carolina or Kansas trophy presentation.
And don't get me started on Syracuse.