At Sweet 16, star power was in stands, not on court
Isn't the one-and-done rule supposed to be killing college basketball? Well, whatever the sport lacks in star power on the court, it more than makes up for it in the stands.
Take Thursday night's Sweet 16 games. Despite the fact that the round's marquee match (Kentucky vs. Louisville) is Friday night, check out who showed up Memphis and Anaheim.
Dayton vs. Stanford
Seattle Seahawks cornerback, Super Bowl champion and NFL smack-talk king Richard Sherman got things going in Memphis by taking in the game between his Cardinal (he is a Stanford alum) and the Flyers, and he brought some heavy hitters with him.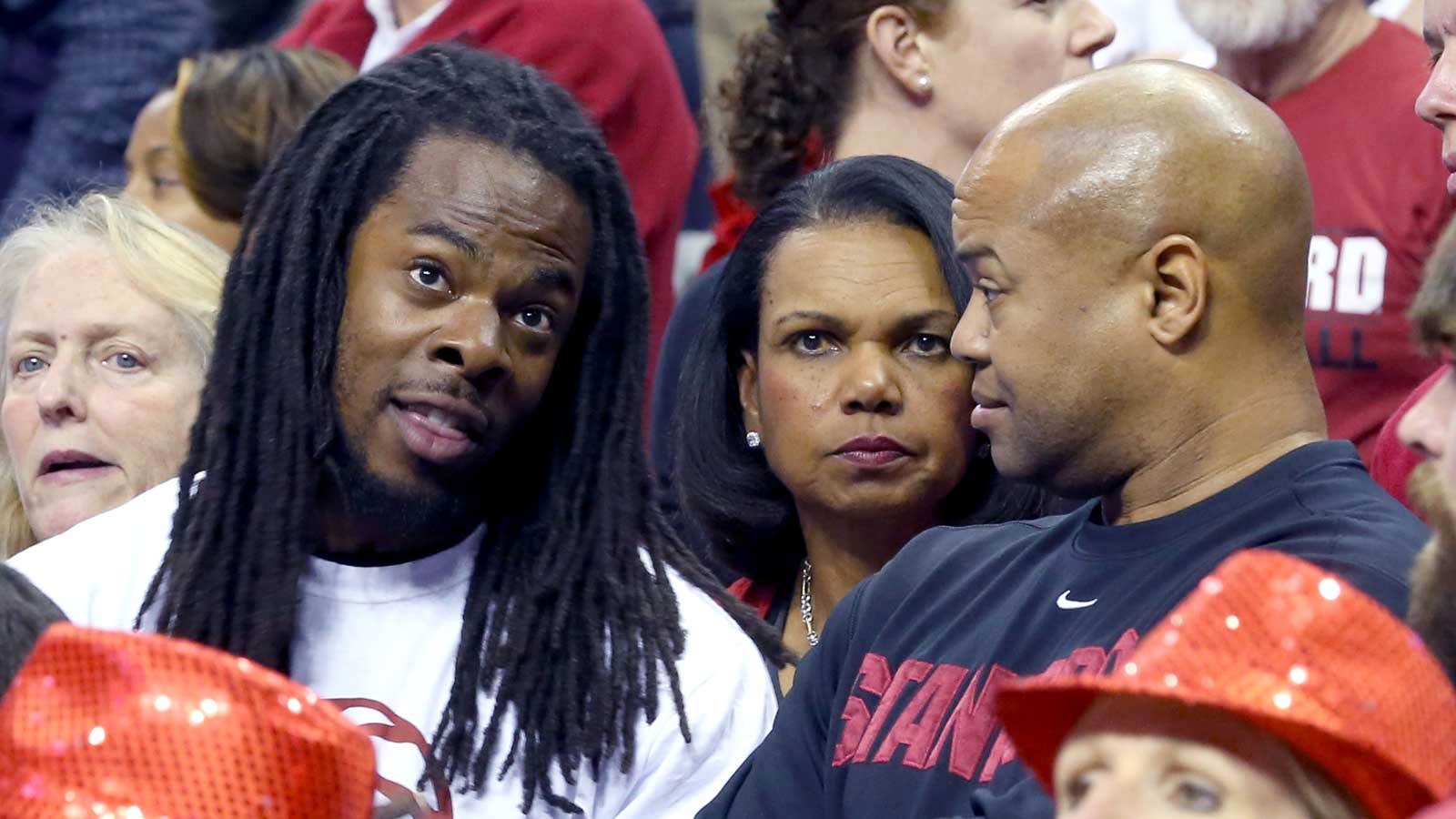 That's Stanford coach David Shaw to the right. And yeah, that's former U.S. Secretary of State and current Stanford professor Condoleezza Rice. And Sherman and Rice were in quite the jovial mood, apparently, taking this selfie which quickly took off on the web.
Nice crowd tonight in Memphis pic.twitter.com/n4kn3wzq1h

— Richard Sherman (@RSherman_25) March 27, 2014
And, despite seeing their beloved Cardinal's season end in the South Regional semifinal, they even found time to make nice and take a photo with one of rival UCLA's greatest alums.
Great hanging with some of Stanford's finest, @RSherman_25 and Condoleezza Rice.. Sorry about the Cardinal tonight. pic.twitter.com/udMDLYOO92

— Reggie Miller (@ReggieMillerTNT) March 28, 2014
A Super Bowl champ and at one time one of the world's most powerful women? That's big time for sure. But it's pretty hard to top what happened in the second game in Memphis.
Florida vs. UCLA
When it comes to football-player star power, nobody can top Florida. Because look who took in the game.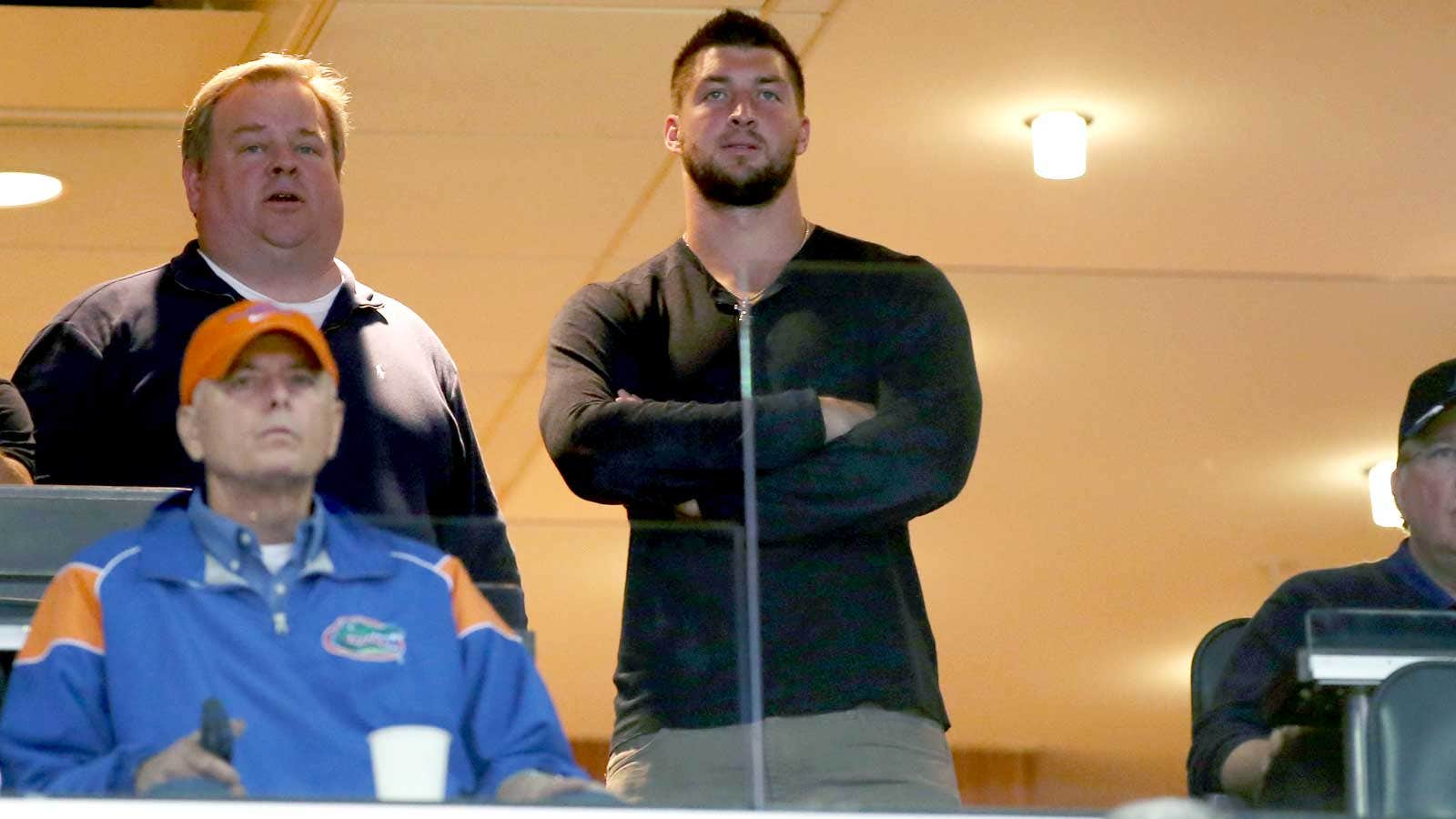 And Tim Tebow is no luxury-suite snob. He is a man of the people, a possible politician in the making. (After all, how's that football career going?)
So he quickly left the skybox and made his way through the crowd — and helped the crowd in FedEx Forum go selfie crazy.
Got a picture with my hero tonight. Thanks man! @TimTebow pic.twitter.com/Oss4qGMD6L

— Josh (@joshhatch17) March 28, 2014
That's right I just took a freaking selfie with Tim TeBow pic.twitter.com/X1mz7Tl2Xy

— Austin Chambers (@theAC24) March 28, 2014
Tim Tebow is in the house!! pic.twitter.com/JydHlSFunO

— JerryHines (@JerryHines) March 28, 2014
SELFIE WITH TIM TEBOW! pic.twitter.com/AbugJadyZu

— Billy Rinderle (@Billy_Rinderle) March 28, 2014
Nice to see tim tebow at the forum pic.twitter.com/28s662J34E

— Grant Stevenson (@GStevenson3) March 28, 2014
But not everyone was impressed with Sherman and Tebow . . . or their seats.
Im sitting closer than @timtebow and @condoleezzarice…just saying pic.twitter.com/zRrIX7aJti

— Dan Wilczynski (@Dan_Wiz) March 28, 2014
Heck, this former Gator (who was actually great on the field) had even worse seats — he sent his congratulations from afar after the top-seeded Gators took down the Bruins.
Elite 8 here we come!!! It's great 2b a Florida Gator.

— Emmitt Smith (@EmmittSmith22) March 28, 2014
Too bad Emmitt doesn't know Tebow. Apparently he is a really nice guy.
Thank you @TimTebow for helping me get to Memphis to see my boys! I owe you one…. Let's Go Stanford! #nerdnation

— Richard Sherman (@RSherman_25) March 27, 2014
But none of those people captured the heart of "their" team like a certain QB in Wisconsin.
Wisconsin vs. Baylor
Aaron Rodgers went to Cal. But the Badgers faithful love their Packers, so clearly they've adopted him.
Here he is with Wisconsin native and two-time U.S. Open winner Andy North.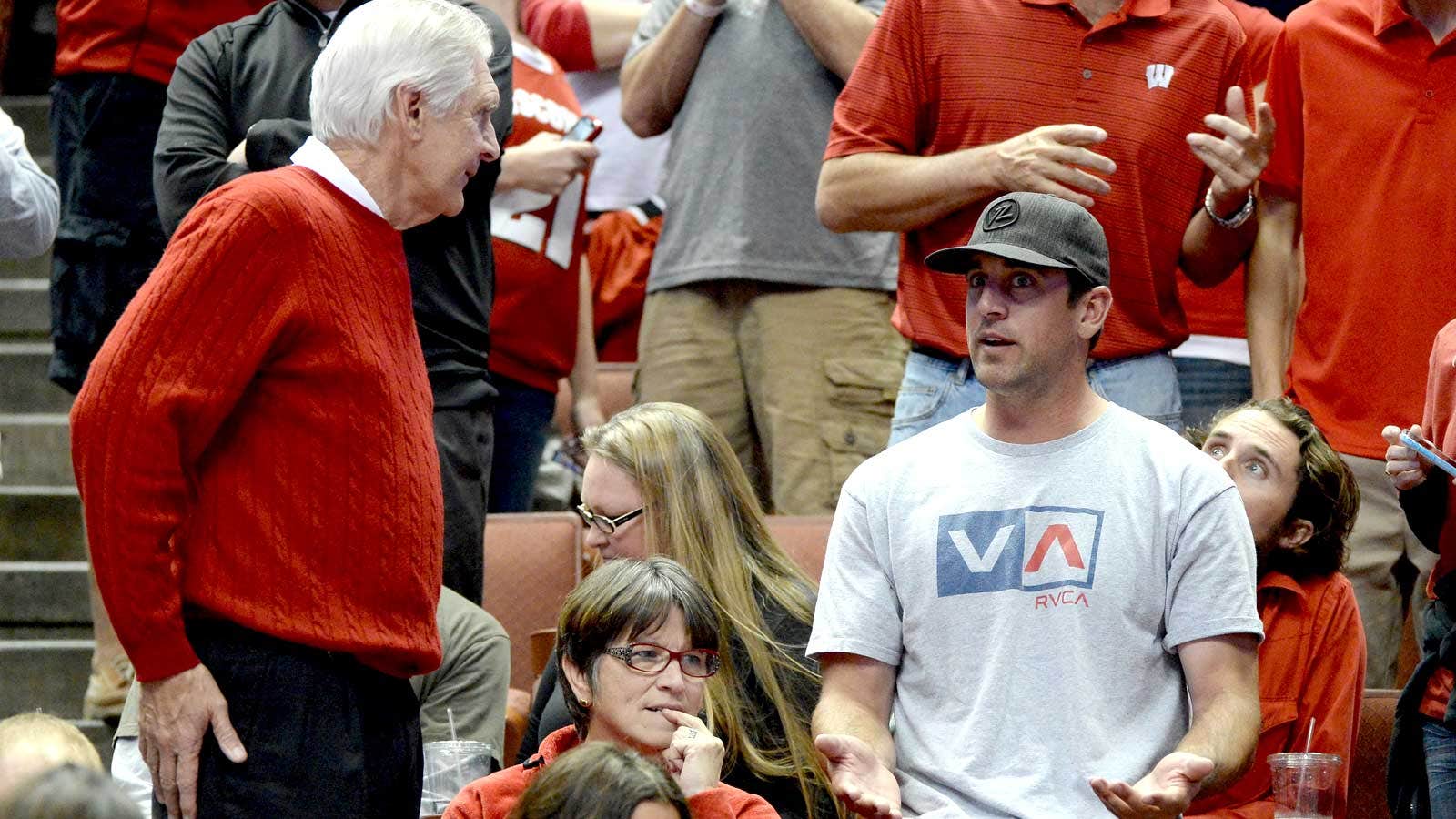 Here he is with a fan.
Met @AaronRodgers12 at our game tonight #badgers #packers pic.twitter.com/Lnn9CrxxOc

— Katherine Vosters (@kvosters24) March 28, 2014
Here he is with Badgers freshman (and apparent Vikings fan) Riley Dearring.
Sorry Viking fans.. But I had to get a picture with the guy who kills us every year @AaronRodgers12 pic.twitter.com/Z3VGiSykaG

— Riley Dearring (@R_35_Dearring) March 28, 2014
Here he is with Badgers coach Bo Ryan.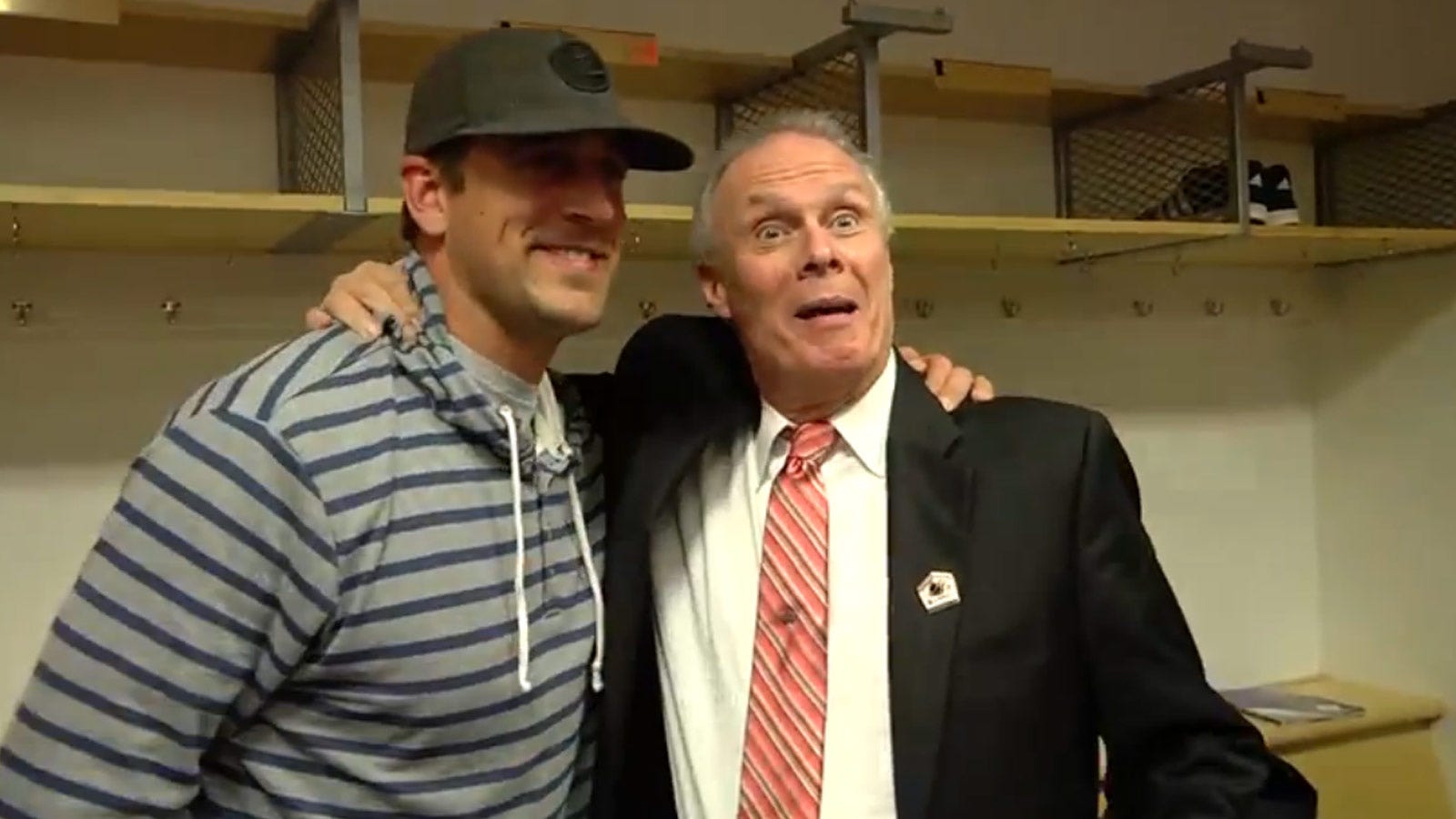 Here he is in a pretty funny meme.
Too funny. #gobadgers @AaronRodgers12 pic.twitter.com/ZvgAIYQUek

— Ashleigh Koleski (@ashski12) March 28, 2014
And here he is breaking the team huddle in the locker room after the Badgers took down the Bears at Honda Center in Anaheim, Calif., to advance to West Regional final.
Arizona vs. San Diego State
Yeah, there were actually four games Thursday night. And this was the most competitive, as the game was not put away until the final minute when the top-seeded Wildcats took care of the Aztecs in Anaheim.
No big celebs were caught cheering for those teams, but at they at least had this guy's attention.