SU's Offense Needed A Break-Out Game Like This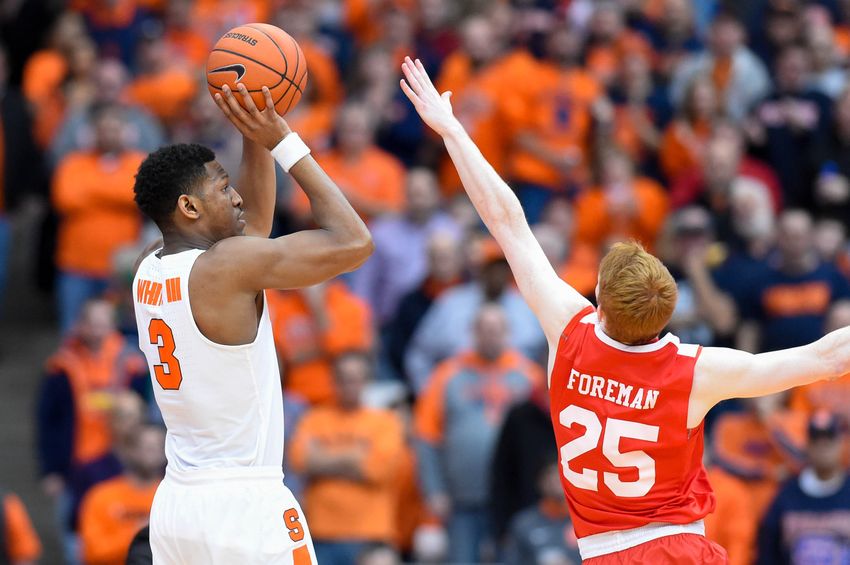 SU Hoops finally broke out of their slump and really dominated offensively. Neil Adler gives us the full recap and what to take away from this game.
The Syracuse basketball squad broke out of its recent scoring slump, nearly reaching the century mark for the second time in this young season, as SU routed Boston University, 99-77, on Saturday afternoon from the Carrier Dome.
The Orange improved to 6-3, after losing three of its last four contests. Most importantly, SU's offense settled into a nice rhythm, while the defense clamped down in the second half against the Terriers (4-6) out of the Patriot League.
I have to admit, this game made me a little nervous prior to tip off. Syracuse, which fell out of the Top 25 earlier this week, blew an 11-point, second-half lead against former Big East foe UConn on Monday night at Madison Square Garden in New York City.
'Cuse's offense has looked horrendous of late, with no flow and absolutely dreadful shooting percentages. And don't let BU's record fool you: the Terriers barely lost to the Huskies themselves, and they also played N.C. State tough before bowing out.
So that's why I felt that the Orange could go down against BU. But Syracuse proved me way
More from Inside the Loud House
wrong in the first meeting of these two teams since 1993. Thank gosh. We sorely needed this kind of outcome to gain some positive momentum, with conference play lurking in the not-too-distant future.
The two schools played a relatively close first half, with each building up a little lead (BU as much as eight; SU as much as 10). Syracuse headed into intermission ahead by six, 45-39.
Note that the Orange's first-half point total amounted to only five fewer than it scored the ENTIRE game versus UConn. Encouraging. However, as head coach Jim Boeheim said at halftime, 'Cuse's defense was awful.
Syracuse gave up way too many offensive rebounds and second-chance buckets, which prevented the Orange from breaking things open. BU players had countless wide-open looks both from 3-point land, as well as in the paint.
Ironic that SU's offense represented the bright spot, while the defense proved pretty putrid, given what happened against the Huskies, when Syracuse couldn't make a shot. Literally.
In the second half of its game with the Terriers, the Orange came together, and it was a pleasant sight to see. A 16-0 run pushed SU's lead to 20, and Syracuse never looked back, winning by 22.
Graduate transfers John Gillon and Andrew White III, along with freshman Taurean Thompson, played off the charts.
Gillon, a bit subpar in recent games, shot 6-of-7 from downtown, finishing with 23 points, five rebounds, four assists and two steals.
Thompson, in just 19 minutes of action, was 10-of-13 from the field, scoring a career-high 22 points to go along with seven rebounds. His jumper is silky smooth. He even nailed a 3-pointer and had several strong moves around the rim. I love his game. As he continues to mature, watch out.
White, meanwhile, connected on 5-of-9 from 3-point land. He had 19 points, along with four steals. Sophomore Tyler Lydon, who I still think has to act more aggressively, generated 10 points, the fourth SU player in double-figures.
Boeheim said this of Lydon in his post-game press conference: "He's still not playing to the level he needs to. I'm confident he will."
Gillon, on the other hand, was extremely active. Most notably, when his teammates would grab a defensive board and get it to him, Gillon would use his speed to push the ball out in transition. This led, on numerous occasions, to quick baskets, or guys getting fouled and then hitting free throws.
This is an imperative moving forward, for Gillon and his back-court mate, sophomore Frank Howard. Syracuse has so much athleticism, and depth, that it must get out and run. Particularly when it isn't shooting well, or its offense is stagnant, these easy transition buckets will help provide some scoring support.
SU shared the ball quite well. Ten guys scored. That's what I call balance. The team had 24 assists on 33 field goals. Howard himself racked up 11 dimes, and only two turnovers.
So often in recent contests, and including the first half against BU, the Orange would just pass the ball around the perimeter, and not penetrate. This is not the way to shred a zone defense, which the Terriers put out there on Saturday.
After intermission, however, Syracuse replicated what Wisconsin did in crushing the Orange about two weeks ago. SU got the ball into the high-post, which resulted in paint points, as well as dishes to the outside. Such crisp movement propelled 'Cuse to shoot 52 percent from the field, and 44 percent from downtown, including 14 made 3-pointers.
My main criticisms of Syracuse in this game are that it continues to get outrebounded by its opponents, an Achilles' heel of Boeheim's trademark 2-3 zone; it left nine points at the charity stripe; and the Orange failed, yet again, to do a competent job of defending the other team's best player – or, at least, its hottest player.
Against BU, I'm referring to junior Cedric Hankerson. He came in averaging nine points a game. But he connected on 10-of-20 from 3-point range versus Syracuse, and tallied 34 points. SU got up by more than 30 over the Terriers in the second half, but Hankerson's triples shrunk the lead down by game's end.
"We're still not playing defense the way we need to," Boeheim said. "We couldn't identify that one guy."
In all fairness, the defense stepped it up a notch in the second half. SU pounded the boards better. For the game, 'Cuse snagged 13 steals and forced 18 turnovers, which created a lot of transition scoring. The Orange also took care of the ball, only committing nine turnovers of its own.
Sophomore Paschal Chukwu, who did not play the last few times out, made the most of his minutes against BU, scoring four points, grabbing three rebounds, and blocking three shots. SU had eight blocks throughout the entire game.
A few more thoughts from Boeheim: "There were some huge positives today. … I think it was a really good offensive performance. … It's easy to coach when you have six guys. You just play them. With nine guys you try to figure out who can help you. … I think it was foolish of me or anybody to think this would come quickly. It's going to take a long time."
Expectations for Syracuse in 2016-17 soared when Boeheim said before the season started that this squad COULD represent his best team in years.
But, as we're all beginning to understand, the Orange has a lot of work to do. There's tons of promise, and tons of talent, but also tons of new guys who need more time to gel into a cohesive unit.
Kudos to Gillon and Thompson for their efforts. No doubt, it's a fantastic problem to have when White, SU's leading scorer so far, had 19 points against BU – good for ONLY third-highest among Syracuse players in this game.
I view the victory against the Terriers as a vital bounce-back performance after really struggling the past few games. The Orange now has a week of practice before it hosts Georgetown next Saturday, Dec. 17, on Pearl Washington Day.
We have to keep bringing the energy, dig down deep on defense, and move the ball with precision and purpose on offense. Syracuse cannot – I repeat, cannot – lose to its most-hated former Big East rival on its home court.
Let's win for Pearl, and make him proud.
This article originally appeared on