St. John's Basketball: Johnnies use balance to complete opening night victory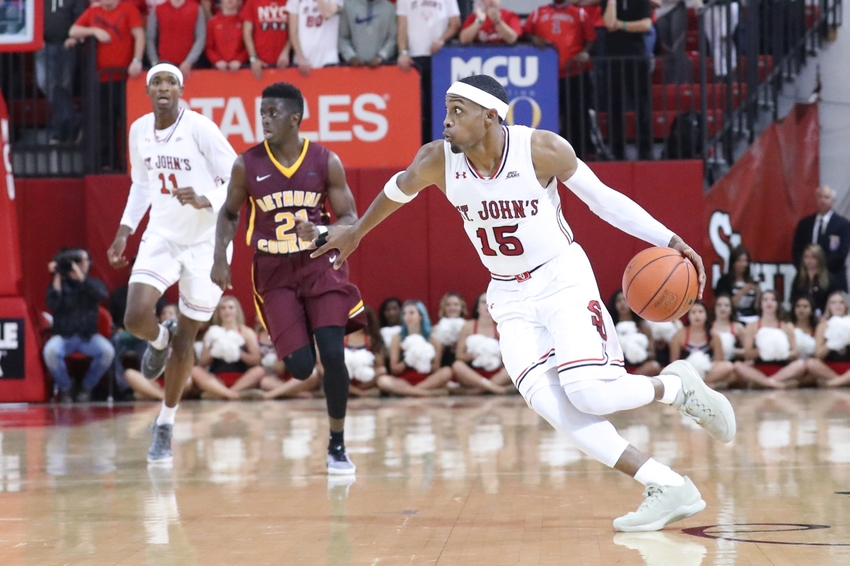 St. John's basketball showed off their balance and flexibility on Friday night.

100

53
The Big East Conference as a whole had an impressive opening night on Friday. The defending National Champs beat down Lafayette by 40. The Seton Hall Pirates knocked off a tough NEC opponent in Fairleigh Dickinson. And Creighton and Xavier edged their respective opponents.
While Marquette had the most earth-shattering performance of the evening (they dropped 95 on Vanderbilt), the St. John's Red Storm weren't far behind.
The Johnnies, who are coming off one of the worst seasons in program history, defeated Bethune-Cookman, 100-53 in their 2016-17 season opener at Carnesecca Arena.
St. John's trailed 6-2 in the opening minutes, but that's as close as it would be all night. The Red Storm shot an impressive 62 percent from the field and 50 percent from three. They were completely unselfish all evening long, dishing out 21 assists on 33 made baskets, and only turned the basketball over 11 times compared to 18 giveaways from Bethune-Cookman.
More from Busting Brackets
Chris Mullin's squad was led by Federico Mussini (20 points) and Marcus LoVett (19 points and seven assists), but it was St. John's balance and lineup flexibility that truly carried them to victory.
Right now, St. John's is capable of playing 10 deep. Their chemistry is off the charts and their system relies on ball movement, so there is truly no one alpha dog on the roster. Instead, the whole is greater than the sum of the parts.
Yankuba Sima and Kassoum Yakwe, the two top bigs on last year's team, scored a combined 17 points, but were awfully quiet for most of the night. The reason? This season, they aren't counted on to provide as much offense as last year. Mussini is suddenly comfortable and thriving in his new role (playing off the ball), while LoVett looks like the perfect floor general to lead the team.
Then there's the lineups that Mullin is able to create mismatches with. On Friday, the Johnnies threw out numerous unique looks that caught the Wildcats off-guard.
The All-International lineup: Mussini, Richard Freudenberg, Amar Alibegovic, Yakwe and Sima
The small-ball, four guard look: Mussini, LoVett, Shamorie Ponds, Malik Ellison and Freudenberg
The starters: Ponds, Ellison, Bashir Ahmed, Owens and Sima
And the three guard look: Ponds, Mussini, LoVett, Ahmed and Yakwe
The length, athleticism and speed is tough to match up with and Mullin suddenly has a lot of options at his disposal after having very little to work with in 2015-16.
Again, it's important to keep everything in perspective though. This is only a game against a Bethune-Cookman team that lost three of their top five scorers from last year, and has a key player, Jordan Potts, battling a foot injury. The tests for the Red Storm will come versus Minnesota next week and in the Battle 4 Atlantis during Thanksgiving break.
However, like the Johnnies' exhibition game against Baruch, this is another step in the right direction for a program that is currently going through a rebuild. Mullin's squad has to take things game-by-game before the expectations start to rise.
This article originally appeared on