South Carolina Basketball: Guard Sindarius Thornwell suspended indefinitely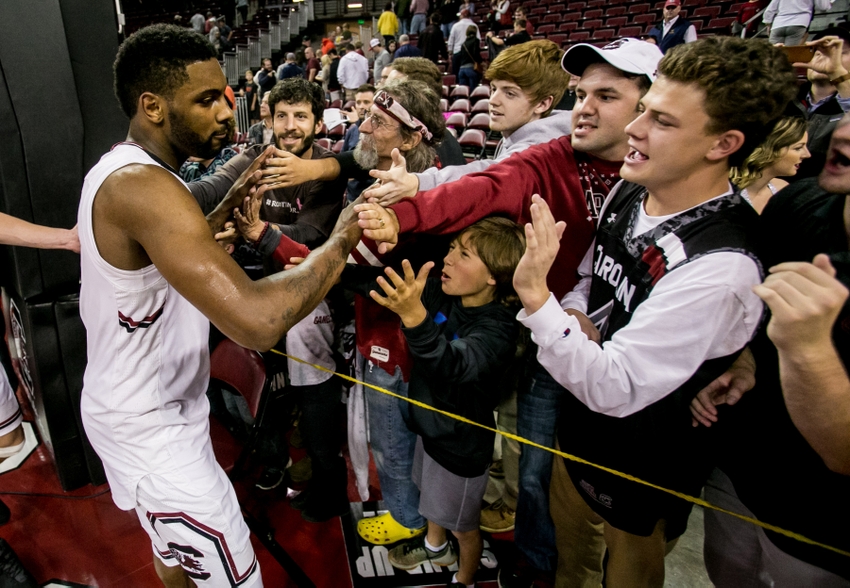 South Carolina basketball loses their top scorer and rebounder for an indefinite amount of time.
The South Carolina Gamecocks have jumped out to an unexpected hot start. Frank Martin's squad is currently ranked 20th in the AP Poll due to an 8-0 record and two upset victories over the Syracuse Orange at the Barclays Center and the Michigan Wolverines at home.
But suddenly South Carolina is in a bit of trouble.
The Gamecocks announced on Sunday that senior guard Sindarius Thornwell has been suspended indefinitely due to a violation of an athletic department policy.
The details behind the decision weren't released, with coach Frank Martin saying he would walk out of his post-game press conference after Sunday's win over Florida International if asked about the situation. Thornwell went through warm-ups with the team and sat on the bench during the game.

A source has indicated to The State that Thornwell will be suspended for multiple games. He could return by the start of conference play.
This is obviously not good news for the Gamecocks. The remainder of their non-conference slate is no walk in the park, as they will face Seton Hall at Madison Square Garden next Monday, travel to South Florida, host Clemson and travel to Memphis to close out their early season slate.
The Gamecocks won 24 games last season and still didn't earn a berth in the NCAA Tournament because of their lack of quality wins. This season, Martin's squad already has two key wins. However, it would be beneficial for them in the long run if they could win three of the four games mentioned above.
Not having Thornwell obviously limits the Gamecocks' upside for the time being.
Thornwell is averaging 18.7 points, 6.7 rebounds and 4.1 assists per game, while shooting 48 percent from the field and 48 percent from three. His offensive production and experience is important, but what is especially valuable to South Carolina is Thornwell's defense.
He is a terrific on-ball defender, blocks 1.3 shots per game and snags 1.6 steals per game. Thornwell is the anchor and key-cog of South Carolina's defense – a unit that has not given up more than 54 points in any of their last four games.
South Carolina needs their best player back as soon as possible if they want to achieve ultimate success. But for the time being, Justin McKie will start in Thornwell's place, while P.J. Dozier and Duane Notice will have to take on an even greater role moving forward.
More from Busting Brackets
This article originally appeared on