SEC Basketball: In-depth conference preview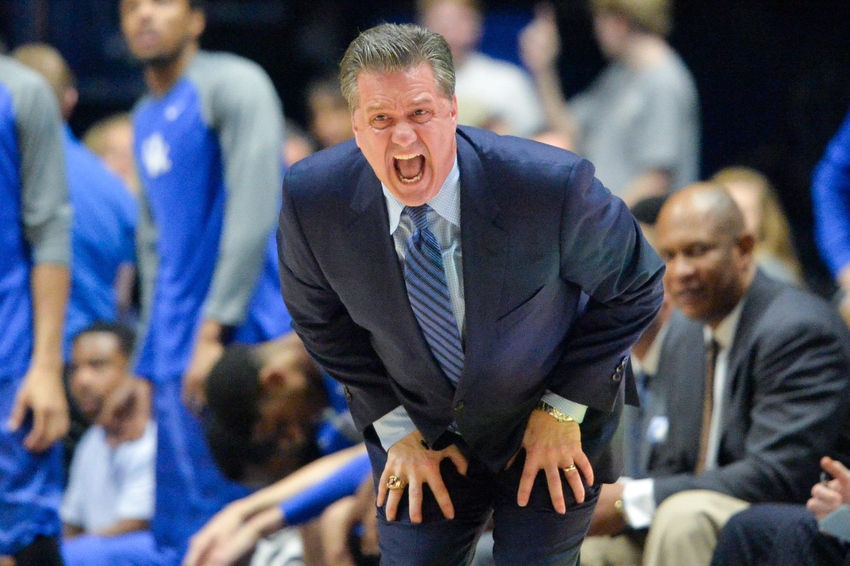 Busting Brackets' NCAA conference previews continue with SEC basketball.
The SEC continues to display one of the most unbalanced distributions of talent among major conferences in college basketball. Kentucky head coach John Calipari has once again assembled himself an extremely young and even more athletic group of players who know how to score as a unit as well as anyone in the country.
The Texas A&M Aggies, who finished with the same conference record as Kentucky in the 2015-2016 season (13-5), will likely be in the mix for the second slot in the SEC standings. Florida, Georgia, Arkansas and South Carolina should provide intriguing teams as well, but the SEC doesn't look as strong as it has been in years past. In fact, it's a mad scramble for positioning beyond Kentucky.
The good news is the future could be bright.
While Kentucky enjoys having their pick of the top SEC talent, more and more young players are choosing to attend other SEC schools for the opportunity to play against highly-ranked opponents and benefit from the guidance of well-known coaches such as Bruce Pearl (Auburn), Avery Johnson (Alabama) and Rick Barnes (Tennessee). Their programs haven't enjoyed an enormous amount of success lately, but having successful coaches take over will bring discipline to the game and lead to drastic improvements in the next few years.
Conference Awards
Coach of the Year: John Calipari, Kentucky
Player of the Year: Edrice 'Bam' Adebayo, Kentucky
Freshman of the Year: Malik Monk, Kentucky
All-SEC First Team:
Sophomore guard Isaiah Briscoe, Kentucky
Freshman guard Malik Monk, Kentucky
Junior guard J.J. Frazier, Georgia
Senior forward Moses Kingsley, Arkansas
Freshman forward Edrice 'Bam' Adebayo, Kentucky
All-SEC Second Team:
Freshman guard De'Aaron Fox, Kentucky
Sophomore guard KeVaughn Allen, Florida
Sophomore guard Quinndary Weatherspoon, Mississippi State
Junior forward Yante Maten, Georgia
Sophomore center Tyler Davis, Texas A&M
Sindarius Thornwell of South Carolina and Canyon Barry of Florida could jump into the mix as All-SEC Second Teamers. But as mentioned on the first slide, the talent after Kentucky drops off significantly.
One player worth watching though is Quinndary Weatherspoon, who was the best freshman on Mississippi State last year despite five-star guard Malik Newman being on the roster.
14. Missouri Tigers
2015-16 record: 10-21 overall, 3-15 in SEC
Head coach: Kim Anderson
Notable departures: Wes Clark, Namon Wright, Ryan Rosburg, Tramaine Isabell
Notable returnees: Kevin Puryear, Terrence Phillips, K.J. Walton, Cullen VanLeer
Notable newcomers: Three-star C Mitchell Smith, three-star C Reed Nikko, three-star SF Willie Jackson, three-star SG Frankie Hughes, freshman F Jakoby Kemp
The Tigers enter the 2016-17 campaign losing the bulk of their leadership from a year ago, however, head coach Kim Anderson's tendency to spread the wealth as far as minutes per game bodes well for this squad.
Kevin Puryear will return after leading his team in scoring as a freshman. His leadership will prove valuable to newcomers Willie Jackson, Frankie Hughes, Jakoby Kemp, Reed Nikko and Mitchell Smith.
Jackson and Kemp will bolster the Tigers' low-post offensive game, as both have proven to be capable scorers in settled offensive scenarios. Hughes brings much-needed size and athleticism to the Tigers' backcourt.
Missouri's lack of a dominant scoring guard and solid defensive big will leave the Tigers vulnerable in a conference filled with talented offensive players. At this point, it would be surprising to see the Tigers post a conference record any better than last year's.
13. LSU Tigers
2015-16 record: 19-14 overall, 12-8 in SEC
Head coach: Johnny Jones
Notable departures: Ben Simmons, Keith Hornsby, Tim Quarterman Josh Gray
Notable returnees: Antonio Blakeney, Craig Victor II, Jalyn Patterson, Brandon Sampson, Aaron Epps, Elbert Robinson III
Notable newcomers: Four-star PG Skylar Mays, three-star F Wayde Sims, JUCO PF Duop Reath, JUCO SG Brandon Jenkins, Australian non-ranked SG Kieran Hayward
After the departure of Ben Simmons, the Tigers are in for another rough year in Baton Rouge. With head coach Johnny Jones on the hot seat, LSU probably needs to make the NCAA Tournament in 2016-17 to save his job.  
LSU's 2016 recruiting class is ranked 50th in the country and 9th in the SEC by 247 Sports, showing that Simmons' presence failed to create any allure to other prospects. Look for the Tigers to finish low in conference play, and struggle to find opportunities to compete after the conference tournament.
12. Auburn Tigers
2015-16 record: 11-20 overall, 5-13 in SEC
Head coach: Bruce Pearl
Notable departures: Kareem Canty, Tyler Harris, Cinmeon Bowers, Jordon Granger
Notable returnees: T.J. Dunans, Bryce Brown, TJ Lang, Horace Spencer
Notable newcomers: Five-star SG Mustapha Heron, four-star PG Jared Harper four-star PF Anfernee McLemore, Houston transfer G Ronnie Johnson, Bethune-Cookman transfer F LaRon Smith, redshirt freshman F Danjel Purifoy
Auburn is clearly in rebuild mode as they continue to collect talent for head coach Bruce Pearl to work with. Mustapha Heron's commitment marked the school's first consensus 5-star recruit of the Bruce Pearl era. The 6'5" guard aims to lead Auburn back to relevancy in the SEC during his career.
The outlook for the 16-17 campaign remains bleak for Auburn however, as they have lost three of their top four leading scorers from a year ago and lack great depth. Heron and fellow freshman small forward Anfernee McLemore will work with guards T.J. Dunans and Bryce Brown to create a formidable starting unit for head coach Bruce Pearl.
McLemore, a four-star recruit, adds a defensive presence to Auburn's team as he averaged nearly seven blocks a game in high school at 6'7".
Bruce Pearl's group is one that should be worth watching for years to come. But we expect them to struggle against other SEC teams in 2016-17.
11. Tennessee Volunteers
2015-16 record: 15-19 overall, 6-12 in SEC
Head coach: Rick Barnes
Notable departures: Kevin Punter, Armani Moore, Devon Baulkman, Ray Kasongo
Notable returnees: Robert Hubbs III, Detrick Mostella, Admiral Schofield, Shembari Phillips, Kyle Alexander
Notable newcomers: Four-star SG Jalen Johnson, four-star PF Grant Williams, four-star SG Kwe Parker, non-ranked SG Jordan Bone, non-ranked PF John Fulkerson, non-ranked SG Jordan Bowden, freshman G Jacob Fleschman, Utah State GS F Lew Evans, redshirt guard Lamonte Turner
Tennessee is another SEC team looking towards the future while they search for recruits who can add to head coach Rick Barnes' squad. The Volunteers will lose leading scorer Kevin Punter while gaining seven freshman, Utah State graduate transfer Lew Evans and redshirt guard Lamonte Turner. 
One of the main bright spots for the upcoming season is Robert Hubbs III, who is projected to be among Tennessee's leading scorers. The 6'5" hybrid should see more opportunities to put the ball in the basket in 2016-17.
Tennessee has talent, but also a lot of question marks moving forward. They should finish near the bottom of the league this year.
10. Ole Miss Rebels
2015-16 record: 20-12 overall, 10-8 in SEC
Head coach: Andy Kennedy
Notable departures: Stefan Moody, Tomasz Gielo, Anthony Perez, Sam Finley, Martavious Newby
Notable returnees: Sebastian Saiz, Rasheed Brooks, Marcanvis Hymon
Notable newcomers: Three-star C Nate Morris, three-star PG Breein Tyree, non-ranked C Karlis Silins, JUCO SF Justas Furmanavicius, JUCO G Lane Below, Miami transfer G Deandre Burnett, New Mexico transfer G Cullen Neal
The Rebels will endure significant turnover as they attempt to build upon a 2015-2016 campaign in which they finished 6th in the SEC with a 10-8 conference record.
Three of their top five scorers are no longer with the team, leaving head coach Andy Kennedy in a difficult position.
He will rely on two veteran transfers in Deandre Burnett and Cullen Neal in the backcourt. Both players have competed in big time games throughout their careers, so they could force this prediction to look foolish if they blend together successfully.
Sebastian Saiz will have to anchor the front court with Tomasz Gielo and Anthony Perez departing, but they will also have to rely on three-star center Nate Morris. Ole Miss could creep up the standings, however, we will slot them in at 10th as of now. 
9. Alabama Crimson Tide
2015-16 record: 18-15 overall, 8-10 in SEC
Head coach: Avery Johnson
Notable departures: Retin Obasohan, Arthur Edwards, Justin Coleman, Michael Kessens
Notable returnees: Shannon Hale, Dazon Ingram, Riley Norris, Jimmie Taylor, Donta Hall
Notable newcomers: Four-star SF Braxton Key, JUCO SF Ar'mond Davis, Memphis transfer Nick King, Morehead State GS G Corban Collins, Southern Illinois GS F Bola Olaniyan
Avery Johnson's Crimson Tide will return the majority of their role players from a year ago and two of their top five scorers.
The most notable of departure is Retin Obasohan, who averaged 17.6 points in 32.3 minutes per game last year.
The great news is that the Tide will once again have guard Dazon Ingram, who sat out the majority of last year with a medical redshirt. Ingram returns as a freshman after leading the team in assists and rebounds through their first seven contests of 2015, all of which he started. His return will give Alabama confidence on offense.
Johnson also adds Corbin Collins, Ar'mond Davis, Nick King andBola Olaniyan to add experience. But perhaps the most talked about player on campus is freshman Braxton Key of Charlotte, NC. Key, a four-star recruit, will add much-needed talent to the Crimson Tide's front court.
At 6'8″ 220 pounds, Key can play with the best at his position in the SEC, and should improve Alabama's versatility. Alabama is still in rebuilding mode, but they will be even more competitive in 2016-17. Expect them to pull of some upsets along the way. 
8. Mississippi State Bulldogs
2015-16 record: 14-17 overall, 7-11 in SEC 
Head coach: Ben Howland
Notable departures: Gavin Ware, Craig Sword, Malik Newman, Fred Thomas
Notable returnees: Quinndary Weatherspoon, I.J. Ready, Aric Holman
Notable newcomers: Four-star SF Mario Kegler, four-star C Schnider Herard, Four-star SG Eli Wright, four-star C Abdulhakim Ado, four-star PG Tyson Carter, four-star PG Lamar Peters, three-star C E.J. Datcher, Louisiana Tech transfer G Xavian Stapleton, redshirt four-star freshman Joe Strugg, F Abdul Ado
The Bulldogs return a healthy backcourt with sophomore Quinndary Weatherspoon leading the way. Their inconsistencies in the front court will persist however, as head coach Ben Howland has failed to secure a reliable scoring big man.
The Bulldogs have an excellent recruiting class coming to Starkville, so expect this team to take a while to gell as a unit.
7. Vanderbilt Commodores
2015-16 record: 19-14 overall, 11-7 in SEC
Head coach: Bryce Drew (first year)
Notable departures: Wade Baldwin IV, Damian Jones
Notable returnees: Matthew Fisher-Davis, Jeff Roberson, Luke Kornet, Riley LaChance, Nolan Cressler, Joe Toye, Camron Justice 
Notable newcomers: Three-star SG Payton Willis, non-ranked PF Clevon Brown, four-star redshirt freshman Djery Baptiste
The Commodores have lost a lot of production with the departures of Damian Jones and Wade Baldwin IV to the NBA.
On top of that, they have to adjust to a new head coach. Bryce Drew, three-time Horizon League Coach of the Year at Valparaiso, is now in the fold and will implement his system in year one. 
The Commodores will be led by Matthew Fisher-Davis, Riley LaChance, Luke Kornet and Jeff Roberson. We expect Vanderbilt to finish at about .500 in conference play — anywhere from 6th to 10th in the SEC — but for now we will slot them in at 7th. 
6. Arkansas Razorbacks
2015-16 record: 16-16 overall, 9-9 in SEC
Head coach: Mike Anderson
Notable departures: Anthlon Bell, Jabril Durham, Jimmy Whitt
Notable returnees: Dusty Hannahs, Moses Kingsley, Anton Beard, Manuale Watkins, Trey Thompson
Notable newcomers: Three-star PF Brachen Hazen, non-ranked PF Adrio Bailey, non-ranked SG C.J. Jones, JUCO F Arlando Cook, JUCO SG Jaylen Barford, JUCO SF Daryl Macon, Colorado transfer F Dustin Thomas, 
The Razorbacks look to shock the SEC as they bring back the majority of their key scoring pieces from last year, while adding notable talent in Arlando Cook, Jaylen Barford, Daryl Macon and Colorado transfer Dustin Thomas. Cook, Barford and Macon all were talented JUCO players in 2015-16, and should give the Razorbacks much needed experience and depth this year.
Moses Kingsley, the team's second-leading scorer from a year ago, could win SEC Player of the Year, while the team's leading returning scorer, Dusty Hannahs, will return to run the point. We expect to see head coach Mike Anderson rely on junior guard Anton Beard as well, who saw about 20 minutes per game last year.
Anderson has quietly guided his Razorbacks back to success in recent seasons, leading the conference in three-point percentage a year ago and ranking third in total scoring per game. Watch for the Razorbacks to compete with and finish amongst the top five teams in the conference.
5. Georgia Bulldogs
2015-16 record: 20-14 overall, 10-8 in SEC
Head coach: Mark Fox
Notable departures: Kenny Gaines, Charles Mann
Notable returnees: J.J. Frazier, Yante Maten, Derek Ogbeide, Kenny Paul Geno, Mike Edwards, Juwan Parker
Notable newcomers: Four-star SG Tyree Crump, four-star SG Jordan Harris, JUCO SF Pape Diattai 
Expectations are high in Athens for Mark Fox's Bulldogs. Georgia has added two talented recruits in Jordan Harris and Tyree Crump to take the place of guards Kenny Gaines and Charles Mann, who accounted for 23.7 combined points per game a year ago.
Harris averaged a double-double during his last two seasons of high school ball, boasting averages of 30.5 points and 11.4 rebounds, to go along with six assists and nearly four steals per game. Crump is also an accomplished scorer, averaging over 20 points during high school.
UGA was also able to hang onto leading scorer J.J. Frazier, who will resume control of the Bulldogs' backcourt this November. Yante Maten, the 6'8″ forward who averaged 16.5 points per game for the Bulldogs last year, will be expected to continue to produce impressive points and rebounding averages.
Coach Fox will also need sophomore forward Derek Ogbeide to increase his offensive efficiency in order to have a complete front court. Georgia's roster is stacked with talent from top to bottom this year, and they should expect to win at least 11 conference match-ups while competing for a top five spot in the SEC.
4. Florida Gators
2015-16 record: 21-15 overall, 9-9 in SEC
Head coach: Michael White 
Notable departures: Dorian Finney-Smith, Brandone Francis-Ramirez 
Notable returnees: KeVaughn Allen, John Egbunu, Kasey Hill, Devin Robinson, Chris Chiozza, Justin Leon, Kevarrius Hayes
Notable newcomers: Three-star C Gorjok Gak, three-star PG Eric Hester, three-star PF Dontay Bassett, Charleston GS G Canyon Barry, redshirt freshman Keith Stone
The Gators are entering a crucial year as they get used to life without their two-time leading scorer and rebounder Dorian Finney-Smith. With his departure Florida will look to KeVaughn Allen and Devin Robinson to continue putting up solid points per game (11.5 and 9.0 respectively) while improving their rebounding.
Florida also has John Egbunu, Kasey Hill, Chris Chiozza and Kevarrius Hayes returning. They also add a solid freshman class and of course, Canyon Barry. Barry , a graduate transfer from Charleston, is a knock down shooter and gives the Gators excellent size on the wing.
Florida could finish second or they could finish fifth. Regardless, the Gators are trending upwards in Michael White's second season.
3. South Carolina Gamecocks
2015-2016 record: 25-9 overall, 11-7 SEC
Head coach: Frank Martin
Notable departures: Michael Carrera, Laimonas Chatkevicius, Mindaugas Kacinas
Notable returnees: Duane Notice, Sindarius Thornwell, P.J. Dozier, Chris Silva
Notable newcomers: Four-star PF Sedee Keita, two-star PG Rakym Felder, non-ranked PF Maik-Kalev Kotsar, non-ranked Ran Tut, three-star F Khadim Gueye, JUCO G Hassani Gravett
South Carolina is fresh off their best season in program history, with their only other 24+ win season being the 1933-34 campaign. While the Gamecocks have lost size and talent in the front court due to the departures of forwards Michael Carrera, Laimonas Chatkevicius and Mindaugas Kacinas, head coach Frank Martin tried to reel in a possible replacement who is more than capable of helping out in the paint.
The Gamecocks are especially excited about the arrival of 6'9″ power forward Sedee Keita. Keita closed out the recruiting season as the 85th best recruit in ESPN's top 100 and plans to use all of his 240 pounds and athletic frame to run the floor, punish defenders down low, and protect the rim on the defensive side of the ball.
Duane Notice, Sindarius Thornwell and P.J. Dozier will anchor the backcourt. They should all expect to get plenty of outside shots, while the Gamecocks try to figure out their front court. If Martin's backcourt plays lights out and the Keita steps up, the fifth year coach should enjoy finishing in the top three of the conference for the second straight season.
2. Texas A&M Aggies
2015-16 record: 28-9 overall, 13-5 in SEC, reached NCAA Tournament Sweet 16
Head coach: Billy Kennedy
Notable departures: Danuel House, Jalen Jones, Alex Caruso, Anthony Collins
Notable returnees: Tyler Davis, Tonny Trocha-Morelos, Admon Gilder, D.J. Hogg, Tavario Miller, Kobie Eubanks
Notable newcomers: Four-star power forward Robert Williams, non-ranked PF Eric Vila, Lipscomb GS JC Hampton
Under the guidance of the reigning SEC Coach of the Year, the Aggies will attempt to maintain their winning ways despite the departure of a ton of experience.
The Aggies were also dealt a heavy blow this offseason when they learned that four-star freshman point guard J.J. Caldwell was deemed ineligible for the season by the NCAA. Caldwell is still officially a member of the team and a student at A&M, which bodes well for the future of the program.
Without their four main talents from a year ago (Danuel House, Jalen Jones, Alex Caruso and Anthony Collins), and without two of their top recruits (Deshawn Corprew is also ineligible), the Aggies will have to rely on sophomore Admon Gilder to run the point.
This year the Aggies will also look to concentrate their efforts in the front court offensively, as they have two centers in their second years who got solid minutes as freshman.
They also add four-star recruit Robert Williams. At 6'9″, Williams stands a chance at making an impact against the tougher teams in the conference.
Due to the lack of experience within the Aggies' locker room, it wouldn't shock anyone if A&M was unable to live up to the success they enjoyed last year. However, this is still a dangerous team with a good crop of young talent. They should finish near the top of the league. 
1. Kentucky Wildcats
2015-16 record: 27-9 overall, 13-5 in SEC, reached NCAA Tournament second round 
Head coach: John Calipari
Notable departures: Tyler Ulis, Jamal Murray, Alex Poythress, Charles Matthews, Skal Labissiere
Notable returnees: Isaiah Briscoe, Derek Willis, Dominique Hawkins, Isaac Humphries
Notable newcomers: Five-star PG De'Aaron Fox, five-star F/C Edrice 'Bam' Adebayo, five-star SG Malik Monk, five-star F Wenyen Gabriel, five-star F Sacha Killeya-Jones, redshirt F Tai Wynyard
Entering his 7th season with the Wildcats, John Calipari will once again have a (good) problem figuring out how much talent he wants on the floor at once.
Will starting point guard Isaiah Briscoe's return limit the production of highly recruited De'Aaron Fox and Malik Monk? Not at all. Briscoe is an extremely reliable player who averaged over 30 minutes per game last year with the Wildcats. He deserves to conduct the offense at the beginning of the year.
Briscoe's presence also may compliment Fox's game, as the freshman won't have to deal with the immense amount of pressure of arriving on a college campus and running one of the nation's top offenses within the same three month span. Briscoe benefitted from Tyler Ulis' presence last year and it seems logical that Fox will enjoy the same privilege with Briscoe sticking around.. Malik Monk will also have a huge role as well.
Big Blue Nation is also excited about having Edrice 'Bam' Adebayo on campus, as he will add a huge physical factor down low, something last year's Kentucky team seemed to lack at times. The 6'10", 260 pounder will combine with Wenyen Gabriel to create the most athletic and powerful front court in the SEC, and possibly the nation.
And that's not even mentioning Sacha Killeya-Jones and redshirt freshman Tai Wynyard, who we also expect to be solid contributors out of the gate. With all the speculation of another National Championship, Kentucky's conference record seems like an afterthought. Welcome to another year of Wildcat dominance.
This article originally appeared on