Rhode Island Basketball: E.C. Matthews' directs Rhody to critical win over Bearcats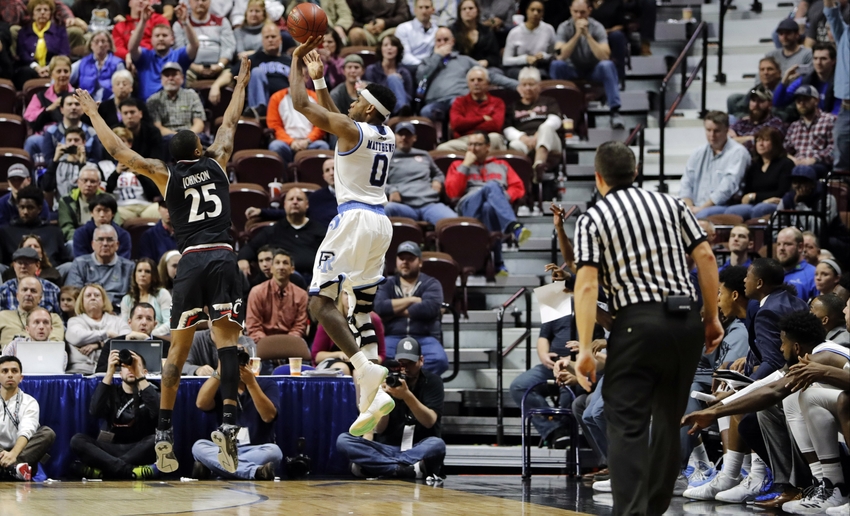 Rhode Island basketball advances to Sunday showcase against the Duke Blue Devils.

76

71
Saturday's matinee at Mohegan Sun was a battle between two ranked teams who love to play in the mud.
Both the Rhode Island Rams and the Cincinnati Bearcats thrive on their defense, toughness and aggressiveness.
But it was Rhody's offensive attack and their best player E.C. Matthews that helped lead them to a crucial resume building victory, 76-71, over the Bearcats in the semifinals of the Hall of Fame Tip-Off.
The Rams trailed by as many as 12 points in the first half, but Matthews scored 15 of his 18 points in the second, hit all four of his three pointers and drilled a dagger three with 20 seconds left. The senior point guard only shot 5-of-17 from the field overall, but his clutch play down the stretch, ability to hit big shots and rebounding (six total) proved to be important.
Beyond just Matthews, Rhode Island's offense as a whole operated much better in the second frame. They attacked Cincinnati's zone to perfection, using a high-low offense and superb ball movement to get easy baskets around the rim.
Rhode Island vs Cincinnati: Rhody Opens as Four Point Underdogs
They also started to knock down outside jumpers. In the first half, the Rams hit just 17 percent of their 12 three point attempts. In the second half, the Rams turned the tide, as they hit 6-of-8 threes (75 percent) and completely ripped apart the Bearcats' zone.
In addition to Matthews, URI had three players in double figures. Hassan Martin scored 14 points on 5-of-6 shooting despite fouling out, Kuron Iverson recorded a double-double with 15 points and 10 boards, and Jared Terrell's hot shooting from downtown resulted in 14 points.
On the flip side, the Bearcats did not preform poorly in this game at all. Jacob Evans was terrific (25 points and six rebounds), while Kyle Washington showed off his complete offensive arsenal (23 points and 10 rebounds).
The Bearcats played solid defense on Matthews (for the most part) and weren't afraid to draw contact against Martin. They also grabbed 13 offensive rebounds, with many of them keeping their team in the game late in the second half.
Mick Cronin's squad just couldn't close the deal and stop Matthews when it mattered most.
Overall, this is a monster win for Rhode Island and their program in general. The Rams haven't made the NCAA Tournament since 1999 and haven't been ranked in the AP Poll to start a season since 1998-99.
They dealt with significant adversity last year with their 'Core Four' (Matthews, Martin, Iverson, Jarvis Garrett) all suffering different injuries. Matthews' torn ACL on opening night was ultimately foreshadowing for the rest of the year, as Rhode Island failed to make the Big Dance and compete for an Atlantic 10 title.
In 2016-17, Rhody is expected to be a top two team in the Atlantic 10. However, their core group lacks big game experience. This top-25 showdown was the first step of their maturation, and they passed the test with flying colors.
Next up is the number one team in the land the Duke Blue Devils in Sunday's Hall of Fame Tip-Off final. The Rams might have to play without their starting point guard Garrett after the junior was stretchered off the court with a neck/head injury on Saturday. He apparently checked out alright, but his status is certainly up in the air for Sunday.
The good news for Rhode Island is that Duke is banged up as well. Marques Bolden, Harry Giles and Jayson Tatum won't play, and Chase Jeter went down with an ankle injury of his own against Penn State on Saturday. Grayson Allen has also been battling a toe injury and Duke has maintained just a six man rotation without their full compliment of players. If the Rams have any shot of upsetting the Blue Devils, now is the time to do so.
More from Busting Brackets
This article originally appeared on