Recruiting Roundup: 9/14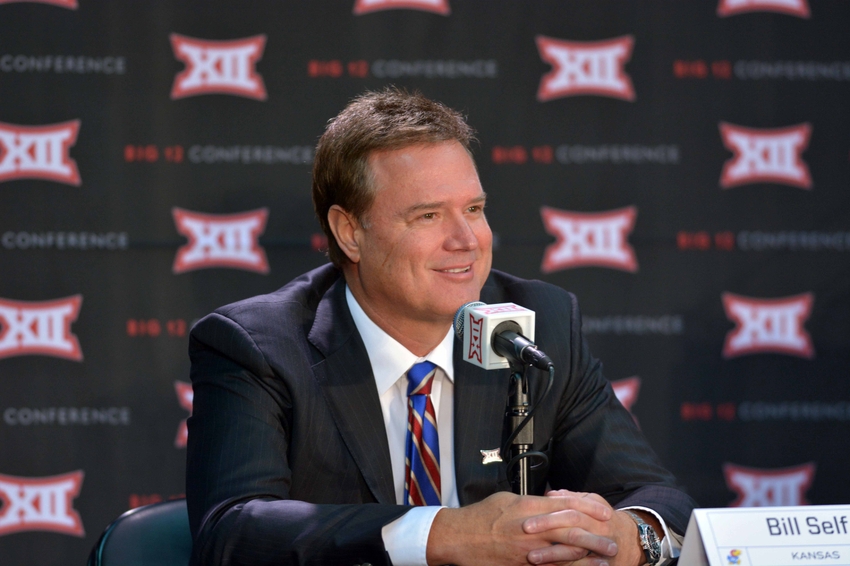 Fall recruiting is in full swing for the Kansas basketball coaching staff. As such, here at Through the Phog, we'll try to keep readers updated as much as possible, and give you all the week's information in one place. Without further ado, here's the first installment in Recruiting Roundup.
West Coast Swing
On Monday, Bill Self and staff headed west to Las Vegas, to conduct in-home visits with wing target Troy Brown and big man P.J. Washington. It seems as if Kansas has been recruiting Troy Brown for years, and there is some truth to that. Brown is a versatile wing who can play multiple positions on offense and defense. He's looking to decide in the early signing period. Washington, a physical 6'7" big, who also attends high school in Las Vegas, is a more recent target for Kansas. Washington cut Kansas from his list in December, but added them back on his final eight in August. The Jayhawks have to make up a lot of ground to land Washington, against Kentucky and new perceived favorite UNLV.
The staff continued its west coast swing yesterday, visiting 2017 big man Cody Riley and watching 2018 top player, forward Marvin Bagley III. After missing on top target DeAndre Ayton, look for the staff to step up its pursuit of Riley. He is a physical left hander, who could come in right away and start next to Udoka Azubuike. Riley will visit Kansas for Late Night in the Phog on September 30th– October 1st. UCLA is the favorite as of now, but KU will make a strong push. Kansas watching Bagley came as a surprise, as the Jayhawks were not part of Bagley's final six schools. As a 2018 player, there is still plenty of time for the staff to make inroads with the multi-talented forward. The staff really had nothing to lose, especially since he attends the same high school as Riley.
Preston Update
Speaking of big men, 2017 top 10 forward Billy Preston released a revised final list on Tuesday night. In wake of the Ayton commitment, Preston cut Arizona, but added Indiana and N.C. State. His final five now stands at Kansas, Maryland, USC, Indiana, and N.C. State. Preston spent three years of high school at Advanced Prep, formerly Prime Prep (the same high school as Emmanuel Mudiay and Terrance Ferguson, among others), before transferring this year to Oak Hill Academy after the NCAA ruled it would not accept coursework from API. As such, Preston will have an extraordinarily difficult time qualifying academically to play in college. If he defies the odds and does qualify, USC is likely the frontrunner, with Kansas on the periphery.
East Coast Targets
It has also been an active week for KU recruiting players off the Peach Jam runner-up PSA Cardinals. Through the Phog has not been able to confirm a date for the visit, but the staff is expected to visit point guard Quade Green this week. Green was long-considered a Duke lean, but Syracuse seems to have taken the lead. It would be a big surprise if KU were to land Green, though a visit is not out of the question. Fellow PSA Cardinal, wing Brandon Randolph, cut his list to four this week. Randolph is down to Arizona, Oregon, Syracuse, and Wake Forest. Look for former Jayhawk great and Wake Forest head coach Danny Manning to land the sharp-shooting Randolph.
It was a busy week on the trail for Bill Self and the rest of the staff, and will get even more busy as boot camp starts next week, and official visits ramp up. Watch this space for more recruiting updates!
More from Through the Phog
This article originally appeared on