Record Crowd Watches Oregon Ducks Open 2016 With A Win Over Army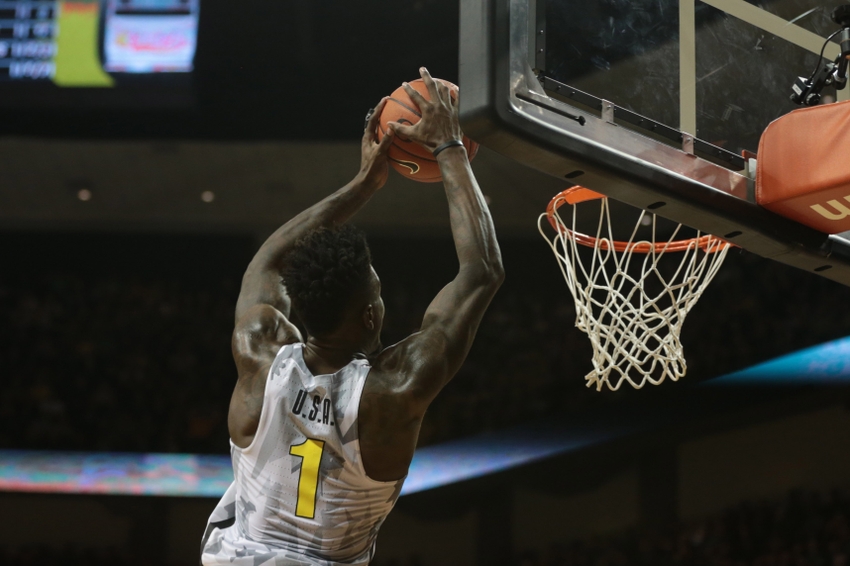 The Oregon Ducks started the much anticipated season at Matthew Knight Arena on Friday night with a win over the Army Black Knights.
It was a Perfect Storm of a Friday for Oregon. Head Coach Dana Altman picked up a contract extension through 2023 and the game also marked the 50th year of Public Address Announcer Don Essig behind the microphone for Oregon Basketball.
Tyler Dorsey started the game with a four point play, followed by Chris Boucher with a four point play three possessions later to give Oregon and 8-5 lead. Army pulled within two at 11-9, two plays by Kavell Bigby Williams extended the Ducks lead to six. Both teams showed they could get up and down the floor quickly. With just under 4 minutes left in the first half Bigby-Williams picked up his third foul with the Ducks leading by 16, 40-24.
Despite a sluggish first half that saw Oregon hit just 5 of 16 three-pointers, Oregon led Army 49-30. The Ducks had 23 points off the bench but shot just 40 percent from the floor before the break.
The same team for Oregon took to the court to start the second half. Army pulled to within 10 points before the first media timeout thanks to back to back threes. The Black Knights started the second half on a 7-0 run. Kavell Bigby-Williams and Chris Boucher would find themselves in foul trouble with 10 minutes left in the game.
Jordan Bell had back to back blocked shots that led to two points invigorating the sold-out crowd and giving the Oregon Ducks a 73-58 lead. Army pulled to within single digits as Matt Hoffman hit a two point bucket with seven minutes left.
A lot of good things early, ball movement was pretty good. I was disappointed defensively in the second half. We have a tremendous amount of work to do.

Head Coach Dana Altman on the first game of the year vs Army
In the end Oregon would win by 14 points, but allowed their competition to play to their level. One standout was the play of Freshman Payton Pritchard who made key shots and had a blocked shot down the stretch for the Ducks. Five players were in double figures for Oregon including Pritchard with 15 points. Jordan Bell added 14 to go with 8 rebounds.
Oregon hits the road for a Tuesday matchup against Baylor. Gametime is set for 12:30pm Pacific Time on ESPN2.
This article originally appeared on