No one wanted to beat Kentucky more than Quentin Snider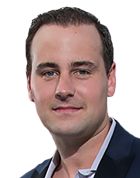 LOUISVILLE, Ky. — Louisville guard Quentin Snider had Kentucky's Bam Adebayo dancing at the top of the key.
With 1:40 left on the clock Wednesday night and Louisville up four, Snider crossed right, back left, hesitated and exploded by a collapsed Adebayo for the signature moment in Louisville's 73-70 win over its bitter rival.
"Really, I was just trying to dance on him," an elated Snider said after the game. "Trying to move his feet. Once I saw him fall, I just went into attack mode."
That play and this game meant a little more to the junior guard, one of four Louisville natives that hit the court, especially after failing to score in 28 minutes in last season's two-point loss to the Wildcats.
"It was pretty big," Snider said. "Last year's performance carried through my mind the whole season, so I was waiting for this game. It was a revenge game."
"He didn't really play well last year," sophomore guard Donovan Mitchell said after the game. "He kept talking to me about that. He said, 'I just need to get them back this year.' He did just that."
Indeed he did. Snider got his payback, scoring 22 points on 10-for-19 shooting and tossing out five assists, etching his name into the rivalry's storied tradition. And outside of his coach, Rick Pitino, no one involved in the game understands the tradition more than him.
See Snider grew up in Louisville, played high school ball at nearby Ballard and is the son of a lifelong Cardinals fan. And in Kentucky, when it comes to sports, you pull for the Cards or the Cats. There's no in-between.
And the Sniders are Cardinals.
So after last year's game in Rupp Arena, Snider took it hard. During holiday break, he made the short drive to his parents' home and didn't leave his room for a day.
"He took that game on himself because he knew he didn't play well," Snider's father, Scott, told FOX Sports. "They had a couple-day break and he stayed in his room for 24 hours. I know he's been waiting on this game the whole year."
"It's different for him," he added. "That's why he felt so bad last year when he didn't score. That's why he worked so hard. He wanted to do this in a big game like this because he's from this city."
Snider's teammates saw it too. Mitchell said Snider's concentration reached new levels in preparation for the Wildcats.
"He was more vocal than I've seen him," Mitchell said. "He was focused and locked in throughout the week. Being the local kid and having a game like this, where you watch this your whole life, it means so much. I'm real proud of him. I know how much this game meant to him."
It's been a long time since a Louisville kid impacted this game. Since 1995, in fact, when DeJuan Wheat, also a Ballard product, scored 23 points in a Louisville win over a then-Rick-Pitino-led Wildcats team.
Leading up to the matchup, the talk centered on Kentucky's freshman duo of De'Aaron Fox and Malik Monk, and rightfully so. They have been nothing short of sensational this season. Offensively, Fox had bright moments, leading the Cats in scoring with 21 points. But defensively, Kentucky left the door open.
Ball screens were especially an issue, as the Cats went under and got caught on bad switches.
"The pick-and-roll is my money game," Snider said. "Coach said be aggressive on offense, so I tried to be aggressive."
While Snider is the hometown hero, he certainly had help.
Sophomore wing Deng Adel picked a good time to have his coming-out party, scoring 18 points and grabbing six rebounds and Jaylen Johnson was effective in the paint, scoring 14 points on 7-for-11 shooting.
The game itself had a March-like feel in the midst of what has already been an outstanding college basketball season. The loss likely won't have long-term implications for the Wildcats, as they already boast a pair of top 15 wins and will be the class of the SEC.
For Louisville it's the type of win that helps seeding come tournament time. It gives Pitino his first win over Kentucky since 2012. And it certainly gives the Cardinals confidence heading into ACC play, where they start with No. 12 Virginia next Wednesday.
But the Cards will worry about the Cavaliers next week, as their holiday break started late Wednesday night and it'll be a more enjoyable one than last year for the Snider household.