Pre-Season Player, Team Expectations High for Kentucky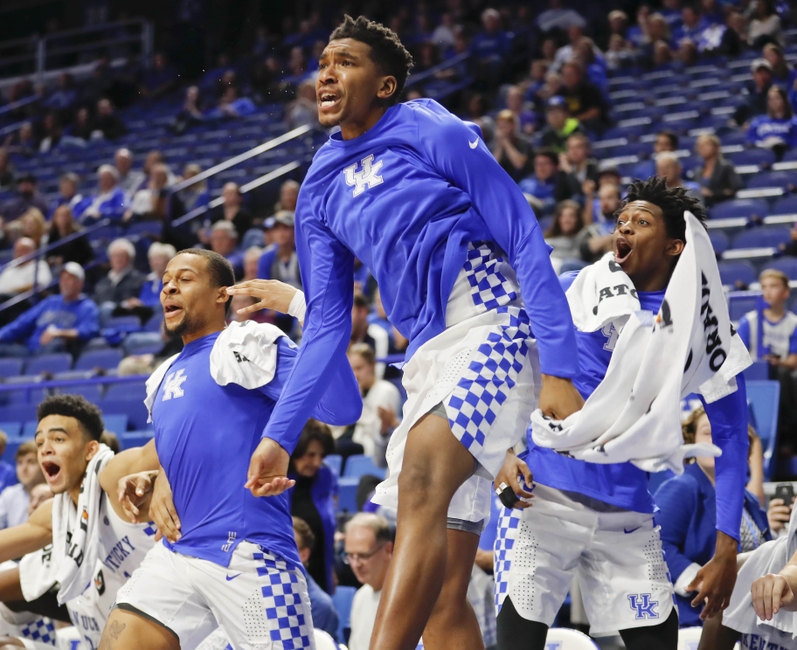 Fox, Adebayo, Monk, Briscoe Headline Pre-Season Watch Lists; Cats Ranked #2 in Nation
With the tipoff to the 2016-2017 Kentucky Basketball season only days away, several Cats have received pre-season honors, further elevating the status of the top freshman class in the country and team with Final 4 expectations.
Finally, Bam Adebayo is on the Kareem Abdul-Jabbar Center of the Year Award Watch List, as the potential honors for Kentucky's freshman class continues to impress.
Within the SEC, media predictions placed two Kentucky freshmen—Fox and Adebayo—on the First Team All-SEC, while Briscoe made the preseason Second Team All-SEC.
Ultimately, the three freshmen sensations—Fox, Adebayo and Monk—have lived up to preseason hype so far. Fox is ridiculously fast on the dribble and will break down defenses, Monk is a leaper and scorer of incredible talent, and Adebayo looks like a beast so far, providing the inside presence that could carry a team.
However, within Kentucky's locker room, one would be hard pressed to find anyone that didn't believe Briscoe was the key to Kentucky's success. Expected to be a scorer, defender and playmaker, Briscoe's most important influence will be taking on role of leader.
"… It starts with Isaiah Briscoe, and he's coaching De'Aaron Fox, he's coaching these guys, he's talking, if you listen, you hear his voice more than you even hear mine, which is perfect, which is what I want," Kentucky coach John Calipari said of Briscoe's presence following the exhibition win over Clarion. "But it starts with him. … When you think of his game, if that's who he is, make some 15-footers, he's as good as anybody in the country now. He's as physical, he's a beast. And he defends and rebounds."
If Briscoe can handle the immense load placed upon his shoulders this season—think Tyler Ulis last year—then the sophomore guard will likely put up big numbers and play himself into a lottery pick in the 2016 NBA Draft. And if that's the year he has, then Kentucky has a great chance at some magic come March.
More from Wildcat Blue Nation
This article originally appeared on