Peter Jok Named to National Award Watch List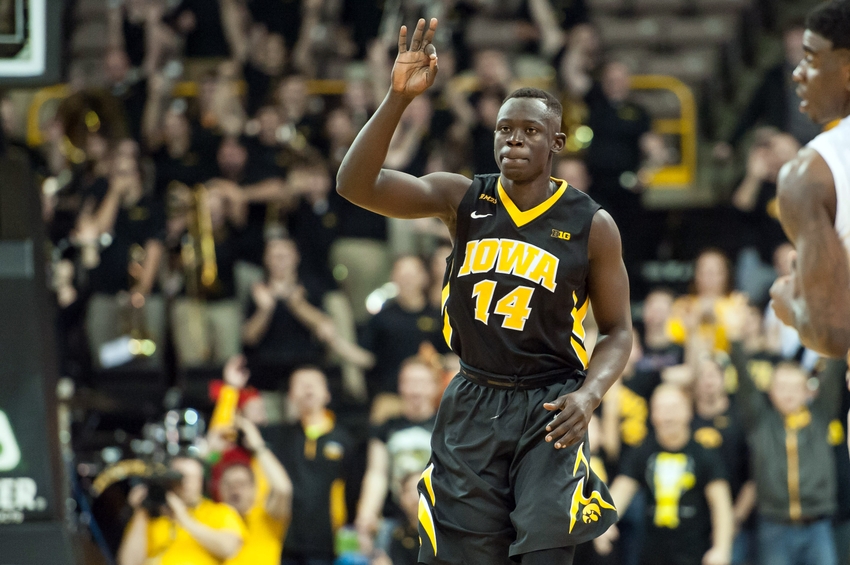 Peter Jok has been named to a preseason award watch list
The NCAA released the 20 players on the Jerry West Award watch list, and Peter Jok is one of the preseason candidates. The shooting guard will become the team's leader and go-to player after Iowa lost their other four starters from a season ago.
Jok averaged 16.1 points, 3.5 rebounds and 1.3 steals per game as a junior in 2015-16. He also shot 43.1 percent from the field and 40.2 percent from three-point range. He quickly became one of the better three-point shooters in the Big Ten, although he'll have to be more than just a scorer to help the Hawkeyes reach the heights they did a year ago.
Big Ten West Power Ranking: Hawkeyes Prove A Lot in Win
Jok is one of seven seniors to be named to the award watch list, two of which also play in the Big Ten. In total, the Big Ten has four players on the watch list, including Jok. Malcolm Hill (Illinois), Eron Harris (Michigan State) and James Blackmon Jr (Indiana) round out the Big Ten players.
Malik Monk (Kentucky) is the lone freshman on the list. In fact, there are only seven underclassmen on the watch list. That being said, every award watch list gets updated as the season goes on, therefore more underclassmen have a chance to make the list once everyone sees what they can do. It also means players get knocked off the list if their teams aren't performing well or they personally are struggling.
This is only the third year of the Jerry West Award. Last year, Oklahoma shooting guard Buddy Hield took home the award, and the year prior Ohio State's D'Angelo Russell won it.
Jok is a long shot to win the award. Iowa will need to at least make the NCAA Tournament for Jok to be in consideration. That being said, it's a testament to how far Jok has come during his Iowa career and the level of play everyone around the nation thinks he can play at.
Duke shooting guard Grayson Allen is the heavy favorite to take home the award.
This article originally appeared on