One & Done: In 1971, Penn's perfect season was burst by a super 'Nova performance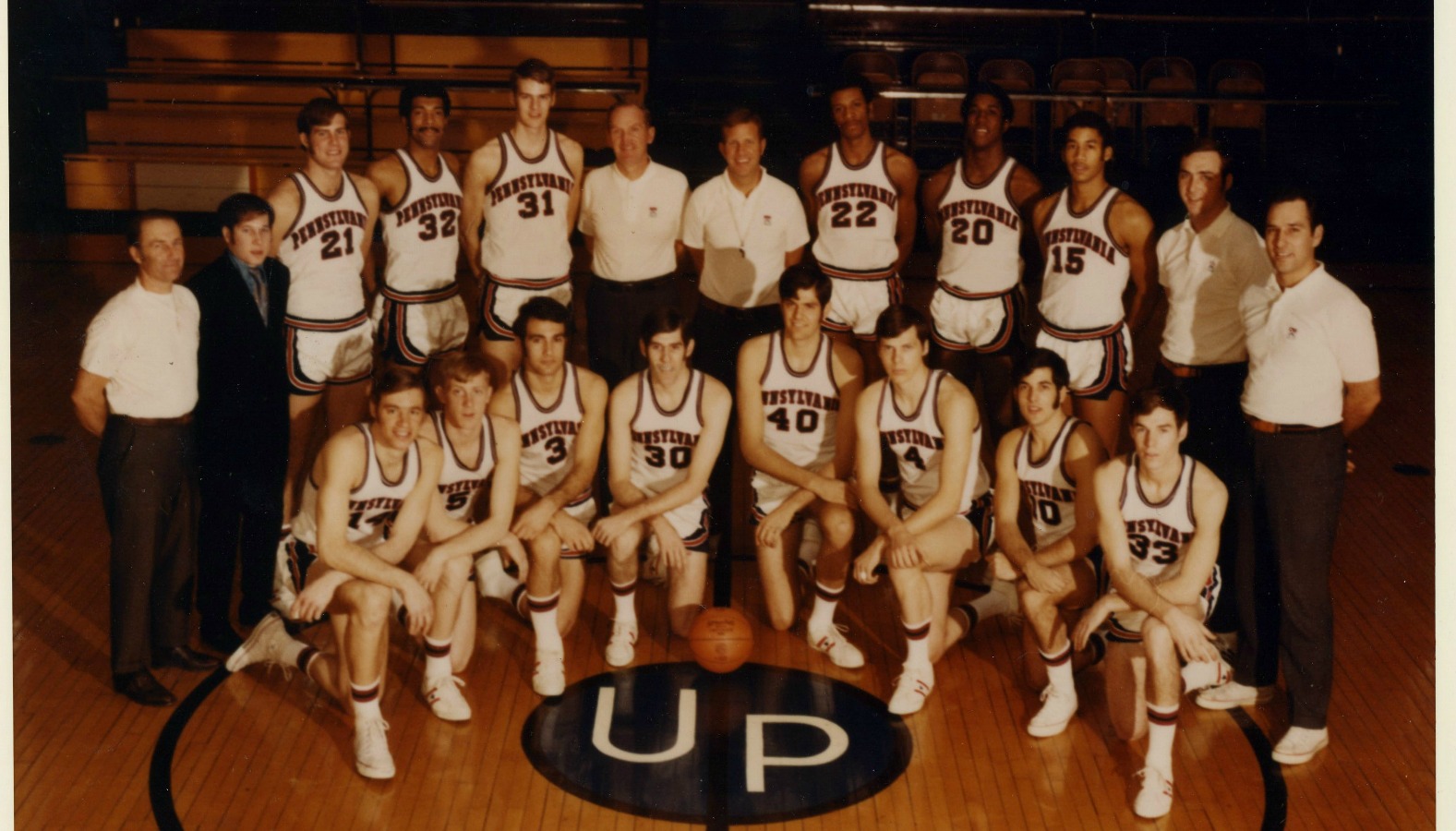 In the world of sports, athletes often dedicate their entire lives to reaching the pinnacle of their profession, but for many, life at the top can be short-lived. Sometimes all a player gets to experience at the highest level is one minute on the court, one trip to the plate, one shot on goal or one checkered flag, but more often than not, that fleeting moment in the spotlight is a story all its own. This is One and Done, a FOX Sports series profiling athletes, their paths to success and the stories behind some of sports' most ephemeral brushes with glory.
There have only been a handful of teams in the history of college basketball that can claim an undefeated season.
In the 1950s, there was San Francisco and North Carolina, and in the '60s and '70s UCLA and John Wooden did it on four separate occasions. In 1976, Bobby Knight's Indiana squad became the last team to go unbeaten and win a national championship, and nearly a half dozen other suitors have entered the NCAA tournament with an unblemished record since, only to come up short.
But never in the sport's history has a team kissed perfection goodbye quite like the University of Pennsylvania did in 1971, when the Quakers saw a 28-0 start go up in flames during a 43-point defeat on the doorstep of the Final Four. And though Penn's 90-47 loss to crosstown rival Villanova was later expunged from the record books, you won't find a soul to argue that it never happened.
"Over my four years we were 99-6, and I think all of us can remember the six that we lost," former Penn forward Corky Calhoun told FOX Sports recently. "We lost once to Temple and once to Princeton. We lost to Niagara in the NCAA tournament, we lost to North Carolina in the NCAA tournament, and we lost one to Purdue my sophomore year in the Christmas holiday tournament. And obviously we lost to Villanova one game away from the Final Four.
"So I can name all six losses," Calhoun continued. "But the one against Villanova — that's the one that stings the most."
Yet while the pain of one of the most humiliating blowouts in NCAA tournament history lingers 45 years later, that 1970-71 campaign is one that virtually every member of that Penn team still remembers fondly. In the heyday of the Big 5, the Quakers were arguably the best they've ever been, captivating the Ivy League, the city of Philadelphia and the country at large with their run.
And though their quest for immortality ended abruptly and spectacularly, there's still something to be said for being almost perfect.
"We really started that year expecting, as our goal, to be in the Final Four,"former Quakers guard Alan Cotler said. "I mean, that was our expectation, and for 28 games, that's what happened."
"It was heartbreaking, a disappointment, a shocker, everything, but only one team finishes their season in the NCAA tournament with a victory," star forward Bob Morse added. "Sure, it was a big loss, and it was something that Villanova fans certainly celebrated, but it's one loss. 28-1. And if you look at that season, it's still probably the best season that Penn has ever had."
Stuck between the best and the worst of its conference for years, Penn's first step toward transcendence actually came in 1966, when the Quakers went 19-6 and won their first official Ivy League championship in their final season under coach Jack McCloskey. But with little talent left over from the '66 run, the program regressed in the early years under McCloskey's replacement, Dick Harter.
A former Quakers assistant, Harter went 11-14 overall and 0-4 in the Big 5 in his first season, then went 9-17 in 1967-68. Meanwhile, behind the scenes, a young assistant named Digger Phelps was cultivating a series of strong recruiting classes with players from all over the country, and by Harter's third season, Penn was 10-4 in the Ivy League, while its freshman team — coached by Phelps and led by Calhoun, Morse, Cotler, Ron Billingslea and Billy Walters — had a 21-0 record.
It was when those freshmen moved up to varsity for the 1969-70 season that the future of Penn basketball truly began to take shape. As a sophomore, Morse led the Quakers with 15.9 points per game, the first of three consecutive years as the team's leading scorer, while Calhoun paced the team with 8.9 rebounds per contest, and at the end of the regular season, Penn was 25-1 and ranked No. 7 in the country.
The effort was all undone in the first round of the NCAA tournament, however, as a hot-shooting Calvin Murphy scored 35 points in Niagara's 79-69 win over the Quakers.
"We were a much better team than Niagara, except they had Calvin Murphy," said Cotler, who scored seven points in the loss, Penn's first NCAA tournament game since 1953. "You always hear people saying that experience counts, and when you've been in it, you see what the difference is between having experience and not having experience. I also think that, psychologically, when you go from 15-10 to 25-1, it's very difficult to maintain that edge and that hunger to win, and you get a little complacent."
Still, the 1969-70 season laid a strong foundation for the following year, and with the top seven players from the 25-2 team all returning — plus the addition of the previous year's freshman stars, Phil Hankinson and Craig Littlepage, to the varsity roster — the Quakers entered the season ranked No. 11 in the AP poll.
"One of the things that really was a trademark or hallmark of this team was a lot of confidence in its abilities," said Steve Bilsky, a senior on the '70-'71 team. "So while a 25-1 regular season the year before maybe substantiated it to the rest of the world, I don't think it was surprising to the team at all. And then the following year, obviously, we didn't sneak up on anybody."
"I think all of us had a feeling of urgency that came as a result of the unfinished business from the '69-'70 season, as successful as it was," Littlepage added. "The feeling among everybody was that, 'Hey, we can go even farther than that previous year,' and we were all committed to doing what we could to contribute to that."
Penn was not at all shy about its objectives, either — even as a newcomer to the national consciousness.
We were all recruited with the goal in mind to win a national championship.
Steve Bilsky
"We were all recruited with the goal in mind to win a national championship," Bilsky said. "Looking back, that probably seemed foolish to a bunch of 17-year-olds being recruited at Penn, so we were recruited maybe with a little bit of a fantasy in mind, but by the time we became seniors it was absolutely the goal."
And though the era dominated by UCLA, which won 10 championships in 12 seasons between 1964 and 1975, the Quakers felt they had the talent to steal a title.
"For many years everybody thought they were playing for second place, but in '70-'71, I think everybody felt that there was a real chance to unseat them," Cotler said of the Bruins. "There's such a psychological thing about UCLA. When you said UCLA in those days, it was like the New York Yankees of the '50s and '60s. Just to say the name would freak people out. It was that kind of karma.
"But in '70-'71 the center was Steve Patterson for UCLA, and Steve Patterson was not (Lew) Alcindor and was not (Bill) Walton," Cotler continued. "UCLA had great high school All-Americans like they always did — they had Sidney Wicks, Curtis Rowe — but that, relatively speaking, was a weak UCLA team. So they were ripe. People felt, 'This is the year.'"
For much of the year, Penn looked every bit a threat to usurp the throne from UCLA, too.
In the fourth game of the season, the Quakers traveled to Columbus and beat eventual Big Ten champ Ohio State. Then they returned to Philadelphia, where they beat La Salle — later a top-10 team nationally — by 29 in the first Big 5 game of the season and won their own holiday tournament, knocking off Temple, Syracuse and Utah to move to 8-0.
At that time, Penn hadn't necessarily set its sights on an undefeated season, but soon the prospect of one became unavoidable, especially after the Quakers escaped the rest of the Big 5 unscathed, with January wins at the Palestra over St. Joseph's, Temple and Villanova.
"It was just a great place to be playing basketball," Penn senior guard Jim Haney said. "And you truly felt that if you were capable of beating those teams, then you could compete with anybody in the country."
Founded in 1954, the Big 5 was the brainchild of former Penn athletic director Jerry Ford and featured the best of Philadelphia basketball each year. Double- and triple-headers were played at the Palestra and aired on UHF TV, pitting the top Philly schools both against each other and other top-flight programs from around the country in a series of games that galvanized the city.
"You couldn't hear yourself think when there were 9,000 people there screaming and yelling," Cotler said of the atmosphere during Big 5 competition. "You'd be in the locker room dressing for the second game, and in the second half of the first game, you'd start to hear the fans saying, 'Let's go 'Nova,' or, 'Let's go Quakers,' and you could hear it like they were inside the locker room with you,
"And as an 18- or 19-year-old kid, by the time that first game ended, the crowd was roaring and the place was vibrating and you couldn't hear a soul," Cotler continued. "So you'd run out of the locker room and the streamers start coming down on your head, and it was bedlam. I swear you would jump six inches higher because your adrenaline was so great."
Penn followed up its 78-70 triumph over Villanova, then the No. 14 team in the country, with an overtime win over Princeton, and at that point — with the team 16-0 and ranked No. 4 — a perfect regular season seemed likely, particularly given the dearth of talent in the bottom half of the Ivy League. From there, the Quakers swept their final 10 games by an average of 23 points per win.
"I think that we were hurt by the Ivy League schedule," Cotler said. "When you played Princeton and maybe Columbia as the toughest games you had, you're not used to playing three highly competitive games in a row, where you have to bring your A-game."
"Maybe the lack of competition in some of those games may have hurt us going into the tournament, not having to play from behind very often," Morse added. "But we did what we could with the schedule that we had."
If Penn was primed for a tournament letdown, you wouldn't know it, though. Not after a first-round win over 11th-ranked Duquesne in a virtual home game for the Dukes and a second-round win over No. 6 South Carolina, a legitimate championship contender. Those victories improved Penn, at the time No. 3 in the country, to 28-0 and set up a rematch with Villanova for a berth in the Final Four.
At that point, Penn had won three consecutive games over the Wildcats, dating back to a painfully and intentionally slow-moving 32-30 win in January 1969. And while Villanova was playing well, having beaten St. Joseph's and a Phelps-coached Fordham team to reach the Elite Eight, there was little thought given to the idea that the Wildcats would be the ones to end Penn's run at history.
"It wasn't like we were playing a team that was so much better than us or demonstrated some superiority over us," senior guard Dave Wohl said. "They had struggled to even come close to us in our Big 5 games when we played them, and they felt, if anything, that they were a little bit of an underdog going in because of the history."
However, those recent struggles against the Quakers appeared to fuel Villanova going into the game.
"They had the advantage of looking at the game not as the next step on the way to the Final Four and a national championship, but also wanting to reconcile a loss," said Haney, now the executive director of the National Association of Basketball Coaches. "They'd been beaten three times in a row, so to them it was an opportunity for — revenge is too strong of a word; I don't think they hated us or we hated them — but I think they had a very singular focus to beat Penn."
From the outset, it was never Penn's game. It took six minutes for the Quakers to muster a field goal, as Villanova jumped out to a 9-1 lead, and midway through the first half, the Wildcats led 23-8. That advantage later ballooned to 25 at 41-16, and eventually Villanova took a 43-22 lead into the break.
"We just stunk from the very beginning," Bilsky said.
… the Quakers were rebooked on an Eastern Airlines flight back to Philadelphia — one that just happened to be taking the Villanova team back home, as well.
Things didn't improve in the second half, either, as the Wildcats went on a 16-0 run coming out of the locker room, running the score up to 59-22 with 15 minutes still left to play in front of a crowd of 10,800 in Raleigh, N.C. It wasn't long after that Harter waved the proverbial white flag, removing most of his starters from the game while Villanova coach Jack Kraft rode his first unit virtually until the end.
"He basically said to us, 'I don't want your careers to end in this way,'" Bilsky said of Harter's decision. "But Villanova kept its starters in and ran it up, so it turned out to be a 40-point loss when it probably should have been a 20-point loss. It wouldn't have made us feel any better, but the score was so absurd that it doesn't really portray at least the first 30 minutes of the game quite as accurately."
Regardless, it was a game that Penn, for all its talent, was never meant to win.
Normally adept offensively, Penn shot 29.9 percent from the floor, nearly 15 percent worse than its season average, and didn't have a single player score in double figures. Villanova, meanwhile, shot 61.7 percent from the field and was paced by 35 points from Howard Porter, who seemingly channeled the Niagara star Murphy in the win.
"To be honest, that particular night, Villanova played so well it would have been hard to beat them, even if we played our normal game," said Calhoun, who had two points on 1-of-7 shooting in the loss. "They seemed to have the momentum from the beginning and they just kept pouring it on."
"I've never watched that game on TV, and it's probably the only game throughout my college career that I didn't watch," added Wohl, now the general manager of the Los Angeles Clippers. "I thought it was an anomaly. It was almost unexplainable to me. It was the one day that we all had bad games."
And if that wasn't enough, things only got worse once the game was over.
Anticipating a trip to the Final Four in at the Astrodome, Penn had booked tickets from Raleigh to Houston, also the site of this year's championship. When those were no longer necessary, the Quakers were rebooked on an Eastern Airlines flight back to Philadelphia — one that just happened to be taking the Villanova team back home, as well.
"When we arrived at the Philadelphia airport, the flight attendant, as we got to the gate, acknowledged the fact that the two teams were on the flight and congratulated the two teams on their seasons, and Villanova for their win," Littlepage recalled. "And they said because of the number of people that were in the waiting area, they'd like to allow the Penn team to get off the plane first, and we knew, at that point, that the Villanova team and their fans were going to be celebrating.
"So we got off the plane to the joy of the Villanova people who got a chance to jeer us and say a few choice things to the Penn Quakers as we went through the concourse to the baggage claim to get the bus."
The bad luck followed them all the way home, too, as the team bus later broke down between the airport and the Penn campus.
"As we were on the up span on the bridge, the bus kind of chugged and lurched and belched, and before we got to the top of the span of the bridge, the guy pulled over and we were stuck there," said Littlepage, who later went on to coach at Penn and is now the athletic director at Virginia. "That was before the days of cell phones, so it wasn't like another bus could be dispatched to be there within the next 10 or 15 minutes, so it took a considerable period of time.
"It just so happened that as we were stuck on the side of the bridge, the Villanova caravan — to add insult to injury — comes by and they see that our bus is stuck," Littlepage continued. "There were a lot of car horns being beeped and a lot of middle fingers being thrown out windows toward the Penn bus. But looking back, I think we were well aware of how big a deal this was for Villanova, going to the Final Four and getting a chance to potentially play UCLA, and that's just part of it. It was what it was."
After its upset of Penn, Villanova beat Western Kentucky in a national semifinal before eventually falling to UCLA 68-62 in the national championship game. That offseason, the Quakers coach Harter left for the Oregon job, and the following year, in Chuck Daly's first season, Penn went 25-3, beating Villanova in both the regular season and NCAA tournament before ultimately falling to North Carolina in the Elite Eight.
But there was no satisfaction or redemption in the bounceback effort for most of the Penn players, not with the the taste of 90-47 still so fresh in their mouths, and even 45 years later, the most imperfect end to a perfect season still stings for some.
"We really thought and the coaches really believed that we could do it, and you have to live with it forever," Cotler said of the Final Four run cut short. "When you played, people don't appreciate that even 20 year old kids who live with this stuff and practice thousands of hours like we did, that loss, it gets filed away with you somewhere in your head forever."
The Villanova game, to me is the kind of a wound that never healed.
Dave Wohl
Nor was there any gratification that came from the fact that, officially speaking, Penn never lost the game.
After Villanova's run ended, it was revealed that Porter had signed a contract with the ABA's Pittsburgh Condors during the 1970-71 season. As a result of the rules violation, the Wildcats had to forfeit all but four of its games from that season, including the win over Penn. But while the record books may say that the Quakers technically won, that's of little comfort to the players who endured the 90-47 beating.
"The Villanova game, to me," Wohl said, "is kind of a wound that never healed."
Generally speaking, time has eased the pain, however, allowing most, if not all of the Penn players to define the '70-'71 season not by how it ended, but for what it was as a whole.
"It's almost like a big gulf we didn't quite make it across," said Calhoun, who won an NBA championship with the Portland Trail Blazers in 1977. "But when we look back, even with the disappointment of the way we lost the last game, when you look back and reflect on the 28-1 record, there's a lot to be proud of there."
"There's not a week that goes by when someone doesn't bring up that game," added Bilsky, who later became Penn's AD and the executive director of the Big 5. "I'm down in Florida now, I'm retired, and I'll run into people on the golf course or at a get-together and they'll hear my name and say, 'Oh, you played on that great Penn team. What happened that last game?' I literally hear about it, all these years later, at least once a week. And if I'm back in Philadelphia, I might hear it once a day.
"Everybody loses their last game except for one team though," Bilsky added. "I wish it wouldn't have been us, but there are a lot of people who wish their endings had been a little bit better."
PREVIOUS ONE & DONES:
May 12: Dean Morton
May 19: Ross Browner
May 26: Dave Salvian
June 2: Mine That Bird
June 9: Kerwin Bell
June 16: MIchael Campbell
June 23: Tyson Wheeler
June 30: Roe Skidmore
July 7: Steven Hill
July 14: LaMarr Hoyt
July 21: Bernard Quarles
July 28: Matt Tupman
August 4: Kevin Melillo
August 11: Roy Gleason
August 18: Cory Aldridge
August 25: Tom Brown
September 1: Tony Cloninger
September 8: Mike Pantazis
September 15: Wilbur Wood
September 22: Doug Clarey
September 29: Danny Young
October 6: Chad Wiseman
October 13: David Matranga
October 20: Brad Fast
October 27: Zenyatta
November 3: Ohio Northern
November 10: Dave Scholz
November 17: Matt Walsh
November 24: Clint Longley
December 1: Steve O'Neal
December 8: 1985 Miami Dolphins
December 15: 1998 New York Giants
December 22: Ed Podolak
December 29: Scott Skiles
January 5: Bram Kohlhausen
January 12: 1968 New York Jets
January 19: Ricky Proehl
January 26: Mike Boryla
February 2: John Kasay
February 9: Julius Erving
February 16: Shaquille O'Neal
February 23: Mario Andretti
March 1: Nykesha Sales
March 8: 1962 Yale Basketball
March 15: 1998 Harvard Women's Basketball
You can follow Sam Gardner on Twitter or email him at samgardnerfox@gmail.com.