OU Men's Basketball Has Been a Postseason Regular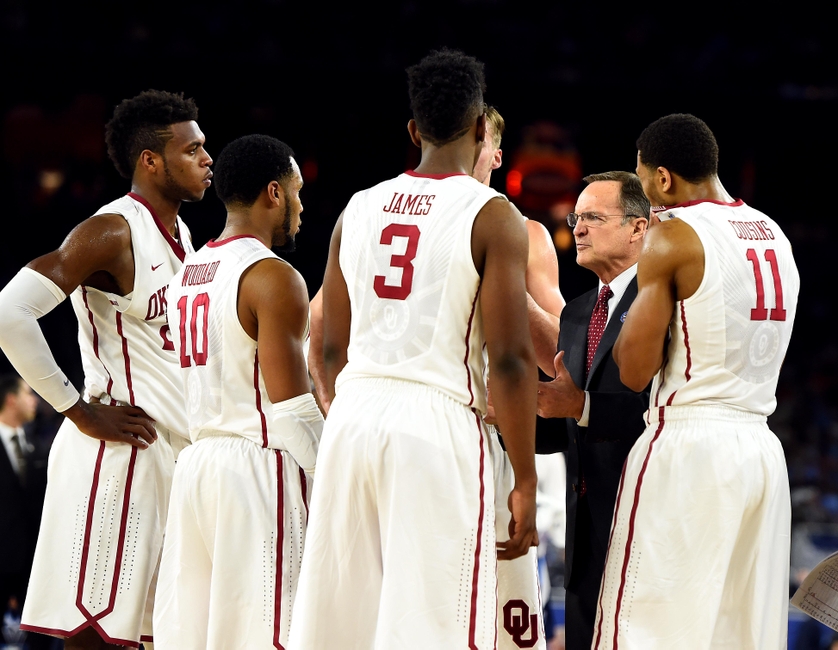 With seven national championships, 45 conference titles and a top-25 national ranking in 69 of 81 seasons, it's easy to understand why the University of Oklahoma is considered a football school. Over the past three and a half decades, the OU men's basketball has earned its place as one of nation's top programs in that sport, as well.
The Sooners overall record has improved every season since Lon Kruger became head coach in 2011. Last season, the OU men fell one win short of a 30-win season and enjoyed their best season since the 2008-09 campaign, National Player of the Year Blake Griffin's final season at Oklahoma.
Oklahoma has been to the NCAA Tournament in four consecutive seasons under Kruger, and last season advanced to the Final Four for the fifth time in school history.
The Sooner head coach, himself a former player and later head coach at Kansas State, has built a career out of taking teams to the NCAA Tournament. He is one of only two head coaches (Tubby Smith is the other) who has taken five different teams to the NCAA Tournament.
The Oklahoma men have been to the Big Dance, otherwise known as the NCAA Basketball Championship, 27 times in school history. Twenty-four of those appearances have come since 1982-83.
The Sooners went to the NCAA Tournament nine times in Billy Tubbs' 14 seasons as head coach and 11 times in the 12 years that Kelvin Sampson was head coach, including nine straight years between 1994-95 and 2002-03. Sampson's 2001-02 team went to the Final Four, losing to Indiana in the national semifinals.
In the 20 seasons since the Big 12 was formed, in 1996, Oklahoma has been to the NCAA Tournament 15 times and once to the postseason National Invitational Tournament.
Oklahoma's five Final Four appearances are the third most among current Big 12 teams behind Kansas (14) and Oklahoma State (6). The Sooners have been one of the final two teams standing twice (1947 and 1988), which pales in comparison to Kansas, which has played in the national championship game nine times and hoisted the championship trophy on three occasions.
More from Stormin in Norman
This article originally appeared on