Oregon Ducks Stale Start Leads To Second Road Loss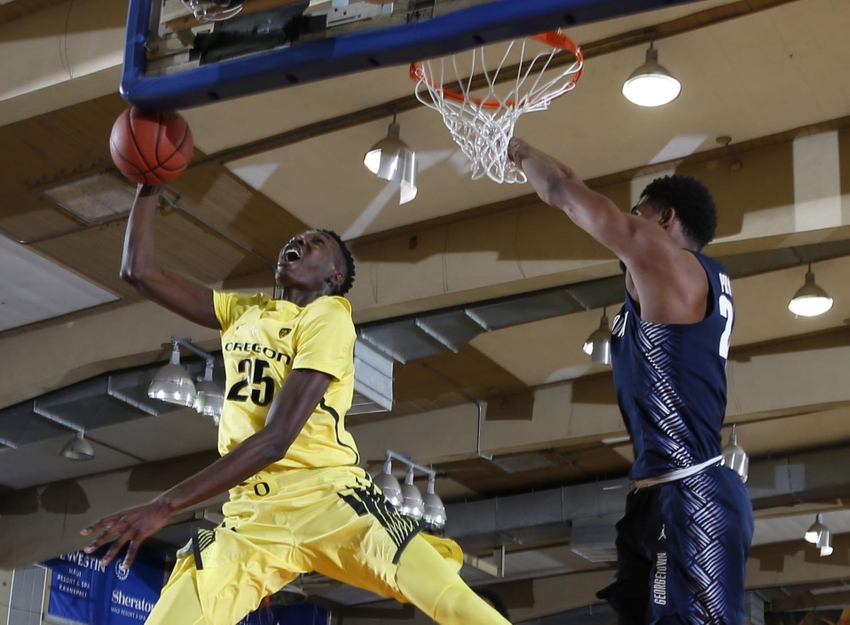 The Oregon Ducks faced another road test facing Georgetown and did not show up in the first half.
Oregon got off to a rough start missing their first 7 shots from the field. The Hoyas started hot hitting 50 percent from the floor to take an early 9-1 lead. In the first five minutes, all five Oregon Starters missed at least one shot. Jordan Bell missed three but made a free throw.
Dylan Ennis and Payton Pritchard put Oregon on the board after the rough start. Dillon Brooks saw his first action of the season with just under 14 minutes left in the first half. Following a hot start, Georgetown hit a 4 minute scoring drought.
In his first rotation, Brooks saw nine minutes of action and recorded an assist.
The Hoyas started a 13-0 run to end the first half going 6 for 6 from the floor and Oregon went scoreless for over 3 minutes. Georgetown led the Ducks 38-21 at the break. The first half ended with Oregon hitting 7 of 29 shots from the floor. Georgetown was over 50 percent hitting 15 of 32.
The Oregon Ducks hit 3 of 3 from the field to start the second half and cut the Georgetown lead to 8 points. Peyton Pritchard led the charge.
Dana Altman watched his team take the lead 43-42 with just over 8 minutes left in the game. It was a 22-4 run to start. Both teams were hitting 33 percent from the floor at that point. The Ducks then missed their next three shots.
In the end it was the rough start that did the Oregon Ducks in. Georgetown landed 71 percent of their free throws to seal the victory sending Oregon to 2-2 on the season. Tyler Dorsey had just two points to go with 5 turnovers and did not register an assist. Dillon Brooks hit a 3-pointer with :03 left on the clock to pull within 3, but Oregon lost by 4, 65-61 in the first round of the Maui Jim Maui Invitational.
Oregon will take on Tennessee on Wednesday at 12:30pm Pacific Time.
This article originally appeared on