Oregon Ducks Get 52 Rebounds In Win Over Western Oregon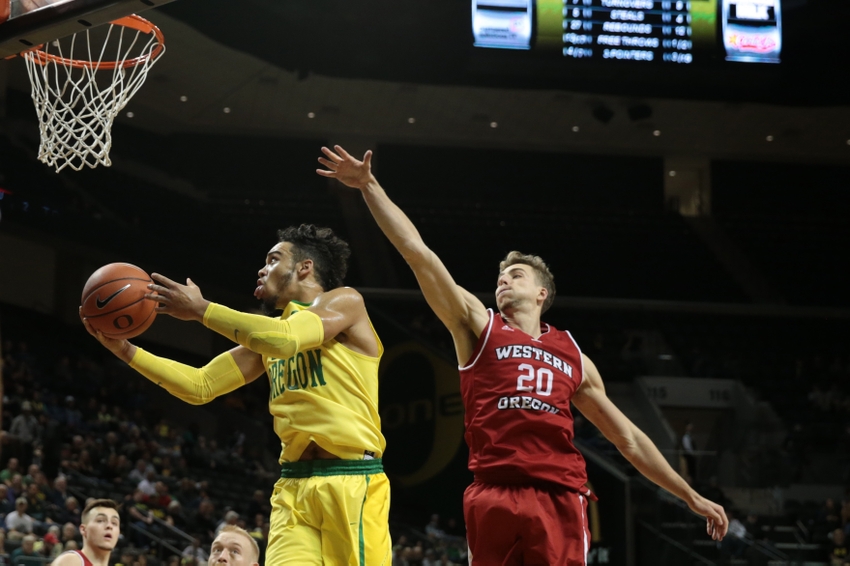 Oregon took care of business against Western Oregon 93-54 to get to 6-2 on the season.
The Oregon Ducks looked to extend their home winning streak against Western Oregon on Wednesday night. The game started off well for the Ducks who landed the first shot of the night. The Ducks were looking to extend their recent winning streak to four games with a win over the Wolves.
Oregon hit close to 70 percent in the first 10 minutes after a slow start to push the lead to 14 points with 11:17 left in the first half. They had 14 points inside the paint and 11 off the bench to go with two steals forcing a Western Oregon timeout.
In an odd statistic of the night, Oregon shot just six three-pointers in the first half with the Ducks big men hitting all of them. The Ducks were comfortably ahead as every player who was on the floor but Payton Pritchard had points going into halftime. Oregon was up 48-20.
DIllon Brooks started the second half with a monster slam dunk pushing the Ducks lead to 55-20. At that point he led all scorers with 12 points. Oregon ended the first half and started the second in an 18-0 run.
Oregon continued to dominate limiting Western Oregon to 25 percent shooting from the floor and extended their lead with bench play and points inside the paint. The Ducks also cashed in with 19 points off turnovers and out rebounded the Wolves.
Dana Altman did his best Kelly Graves impression with 11 players seeing the floor in a 93-54 win over Western Oregon. The Ducks shot 47 percent from the field. Dillon Brooks finished with a team-leading 26 points in 19 minutes.
The Oregon Ducks wrap up the week with a third game hosting Savannah State on Saturday at 3pm Pacific Time on Pac-12 Network.
This article originally appeared on