Oregon Ducks Find A Way To Win vs Boise State Despite 15 Turnovers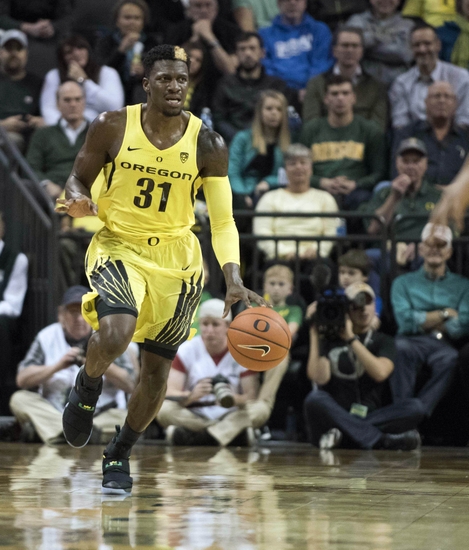 Dylan Ennis paves they way with 18 points as the Oregon Ducks come from behind to beat Boise State.
The Oregon Ducks returned home after a three-game road trip in Hawaii to take on the Boise State Broncos who came to Eugene. Tyler Dorsey would look to continue his hot hand. He had 19 points against UConn last week. Dillon Brooks looked to continue getting back into form following a decent trip coming off the bench in the Maui Jim Maui Invitational.
The Boise State Broncos started the game with two turnovers before finding the basket. Oregon would be held to a four-minute scoreless streak that saw Nick Duncan land two three-pointers pushing the Bronco lead to 13-6 and forcing Dana Altman to use a timeout.
Boise State came to play with four steals in the first 10 minutes, three of them leading to points. Tyler Dorsey pulled Oregon within 4 at 15-11 with just under 12 minute left in the first half. Dana Altman's team would find their way with a 9-0 run starting with 8 minutes left in the first half to cut the Boise State lead to five points.
Both teams went on scoring droughts as the first half came to an end. Boise State did make a shot for 3 minutes, the Ducks just past 4 but Oregon had the ball with 1:08 left looking to cut into the Broncos 32-26 lead. Tyler Dorsey landed the Ducks second three-pointer of the game to cut it to 3. Boise State took the lead into the break, 32-29.
Boise State hit two three-pointers to start the second half before Jordan Bell put in a slam dunk getting back within 5 points. Every time Oregon tried to get ahead, Boise State had an answer. Payton Pritchard and Casey Benson had back to back three pointers for the Ducks, but it was Boise State with a 9 point lead with just over 12 minutes to go.
Both teams were shooting at 44 percent, but the Broncos were hitting close to 50 percent from beyond the arc.
Chris Boucher found foul trouble with his 4th foul with just over 8 minutes left in the game. Boise State led 53-47 as the Oregon Ducks could not get ahead and were running out of time. Back to back possessions saw baskets for Oregon who pulled within 4 with six minutes remaining. A block followed by a three from Tyler Dorsey put Oregon down 1, 58-57 and sent the crowd of over 7000 on hand to their feet.
Dylan Ennis gave Oregon a 60-58 lead with 3:03 left. The Ducks held Boise State scoreless for five of the final seven minutes of the game and held a three point lead with just over a minute to go. Payton Pritchard put Oregon up 5 points before Paris Austin hit a bucket cutting the Oregon lead to 3 with 18 seconds left.
It was a free throw contest with Tyler Dorsey at the line. He missed the first. He made the second. Boise State would turnover the ball with five seconds left sealing the win for Oregon.
The Ducks have a quick turnaround and face Western Oregon on Wednesday night. (7pm PT, Pac-12 Network)
This article originally appeared on