Oregon Ducks Dillon Brooks Hits Game Winner In OT vs Tennessee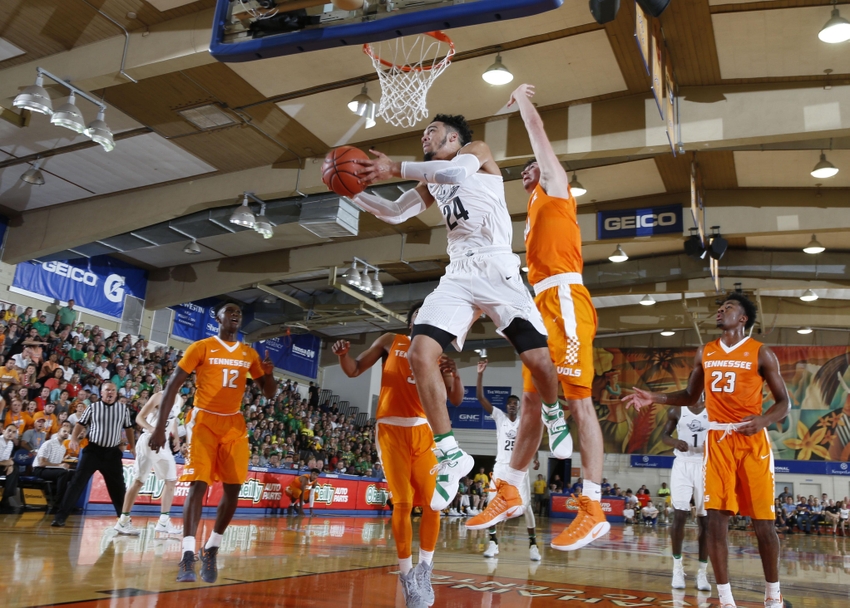 The Oregon Ducks had another poor shooting game, but Dillon Brooks brought the Ducks back for the win against Tennessee.
The Oregon Ducks were looking to jump start the Offense against Tennessee after a bad start against Georgetown on Monday. Freshman Payton Pritchard who led in points vs Georgetown saw his first career start vs Tennessee, but would it make a difference?
Oregon missed their first two shots, but landed three free throws before getting off on a better foot for a 7-1 lead. Tennessee saw an 8-0 run to take the lead before Oregon ended a 3 minute scoring drought.
Dylan Ellis picked up two early personal fouls in the first 10 minutes and Oregon was perfect from the free throw line (7-7). Tennessee found a way to stick around forcing the Ducks into errors Oregon shot 1 for 11 over a five minute span as Tennessee went on a 6-0 run.
The game would be tied at halftime after Dillon Brooks landed a 3-pointer to make it 32-32. While Oregon shot better than Monday, it was still 33 percent to Tennessee at 42 percent. Payton Pritchard was held scoreless in the first half and played just 10 minutes.
The second half saw both teams begin to struggle from the free throw line. Dillon Brooks saw game action scoring 10 points in 17 minutes going 3 for 6 from the field. Payton Pritchard got on the board int he second half with 6 points, but Pritchard and Boucher were in foul trouble with just under 6 minutes left at an 8 point lead.
The Ducks found another scoring rut missing six straight shots in the final ten minutes against Tennessee, but the Volunteers also struggled for points.
Get the FanSided App
Oregon went on a 12 minute scoring drought that led to Overtime where Dillon Brooks took charge to earn the win for Dana Altman, 69-65. He finished with 17 points to lead Oregon.
Tyler Dorsey again was anemic on Offense, he scored 7 points but had 4 turnovers, including one at the end of the 2nd Half that could have given Oregon a loss. Dorsey has had 9 turnovers in the last two games.
Oregon will play a third and final game in the Maui Jim Maui Invitational on Wednesday before Thanksgiving Break.
This article originally appeared on