Oregon Basketball: Jordan Bell Flies Over Three Students In Slam Dunk Contest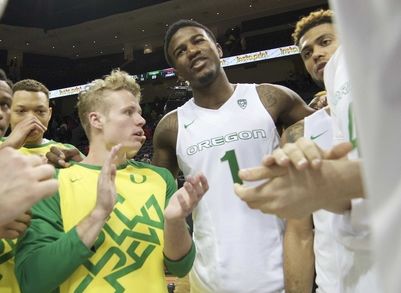 On an off day for Oregon Football, the Ducks hosted a Block Party showcasing the 2016 Men's and Women's Basketball teams, but Jordan Bell stole the show.
RT @GoDucks: So…this just happened. #GoDucks pic.twitter.com/FoP0e3NNdI

— Justin Phillips (@KPNWSports) October 16, 2016
The Oregon Ducks jump started the 2016 College Basketball season on Sunday with a Block Party for fans at Matthew Knight Arena. There is plenty of buzz for the Men's Basketball team coming off an Elite 8 Performance in 2015. First, the Oregon Women's Basketball team took center stage with a three point shoot out and a scrimmage.
The highlight of the afternoon came just before the event came to an end. If you were there your kicking yourself this morning for missing it. The Men's Team was introduced and presented with Pac-12 Championship Rings from last season, which was also an undefeated season at Matthew Knight Arena. Several players including Tyler Dorsey and Dillon Brooks received the loudest ovations from the crowd. The scrimmage for the Men's team was spirited, but it did not come close to the Slam Dunk Contest.
After several heats, Roman Sorkin and Jordan Bell were the finalists of the event. Sorkin did a solid 'Windmill' to the basket for a slam in his final attempt, getting solid marks from the judges made up of members of the Women's Basketball team and several U of O Students in the 'Pit Crew'.
RT @GoDucks: A first-person view, @OregonMBB's @1jordanbell taking flight over @OregonPitCrew members. #GoDucks pic.twitter.com/BKeVlUPb3t

— Justin Phillips (@KPNWSports) October 16, 2016
Jordan Bell was next. He decided his Slam Dunk was going to be not only a highlight in Matthew Knight Arena, but a Sportscenter moment. He lined up three members of the Pit Crew in front of the basket and 'flew' over them for the dunk. It took a few attempts, but the third time was the charm. It even brought a smile(or smirk) to the face of Head Coach Dana Altman.
The Oregon Men's Basketball team begins 2016 hosting Army on November 11th. The Oregon Women's Basketball team begins the season with a four game homestand hosting Lamar on Sunday, November 13th,
This article originally appeared on