Oklahoma State Basketball: Jawun Evans among best point guards in the country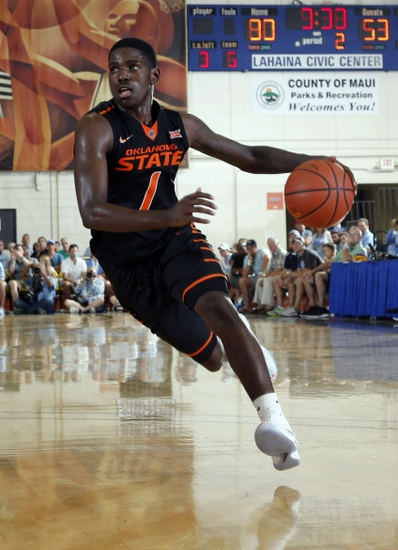 Oklahoma State sophomore point guard Jawun Evans has looked like one of the best in the country after the Cowboys first six games.
Oklahoma State Cowboys point guard Jawun Evans has looked like a player the caliber of a lottery pick for the 2017 NBA Draft. Evans is among the leading scorers in all of college basketball. He is averaging 24.7 points  per game, good for eighth in the country. That is also good for best among all power five conference players. Furthermore, he led Oklahoma State to a third place finish in the 2016 Maui Invitational tournament, which had three top 25 teams in the field.
The Pokes are out to a 5-1 start this season, with their only loss coming to the number four ranked and undefeated North Carolina Tar Heels. He also led the Cowboys to a 27 point victory over the Georgetown Hoyas. According to the Oklahoma State Cowboys basketball Twitter page, Jawun Evans was named to the Maui Invitational All-Tournament Team. He registered 26.0 points per game over his three games in the Maui Invitational. Evans also shot 50 percent from three, as he was six for 12.
The biggest problem that Evans is going to face this season is the level of competition for point guards in the Big 12. Kansas' Frank Mason III and Iowa State's Monte Morris are also among the best point guards in the country.
You also have to consider the level of competition that Evans will be facing this season in Big 12 play. The Big 12 is arguably the best college basketball conference is the country. They could very likely send seven or eight of the 10 teams to the NCAA Tournament.
If Oklahoma State does make the tournament it will be on the shoulders of their backcourt. Evans and shooting guard Phil Forte have been tremendous this season.
On top of averaging 24.7 points per game, Evans is averaging 3.0 rebounds, 5.3 assists, and 2.8 steals. He has also stayed out of foul trouble with an impressively low 1.8 fouls per game.
Expect Evans to continue playing like one of the most unstoppable players in the country. According to Basketball NCAA, ESPN commentator Jay Bilas compared Evans to Los Angeles Clippers point guard Chris Paul with the way he moves on offense. This could end up being a very special season for the Cowboys point guard.
This article originally appeared on