Oklahoma State Basketball: Cowboys survive Tulsa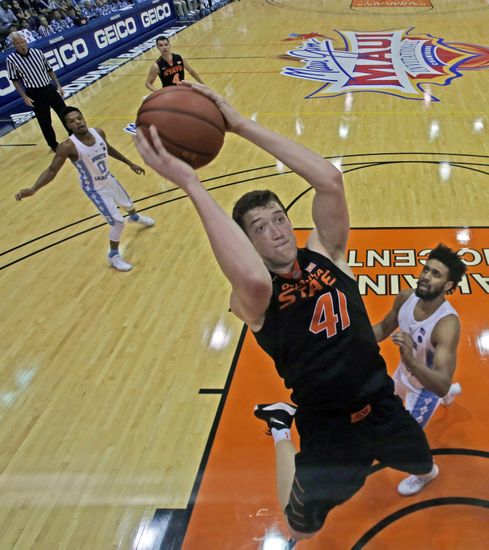 After a heartbreaking loss to the Maryland Terrapins, the Oklahoma State Cowboys rebounded against the Tulsa Golden Hurricane.
It was another close call on the road for the Oklahoma State Cowboys basketball team. After a one-point loss to the Maryland Terrapins, the Pokes needed to rebound against the Tulsa Golden Hurricane. Entering this game the Pokes had a record of 0-1 on the road. Moreover, Tulsa won four of their last five games.
The Pokes were without their best player. Sophomore point guard Jawun Evans missed the entire game with a shoulder injury. He is known to be day-to-day.
Tulsa controlled the game for the first ten minutes of the first half but struggled to get the lead back after that. The Pokes led by as many as 15 points at one time. A clutch jump shot by freshman Lindy Waters III ended up as the game-winning basket. A 71-67 victory moves the Cowboys to 7-2. This is also their first road win of the season.
OK State got a big effort from true freshman point guard Brandon Averette. He led the team in scoring with 17 points on 7-17 shooting. Averette also posted three rebounds, three assists, and three steals. Furthermore, he looked like the best defensive player for the Cowboys the entire game. Considering he played 37 minutes, Averette was definitely the most valuable player for the Pokes.
Forward Jeffrey Carroll also put up some big numbers to help the Pokes. With Evans out, Carroll got one of his few starts of the season. He led OK State in rebounds with eight and was second in points with 13. Carroll was one of the few players able to create offense on his own.
Want your voice heard? Join the Pokes Post team!
A storyline to watch will be the injury situation with senior shooting guard Phil Forte. He only played 21 minutes despite being the Pokes leading scorer with Evans out. If OK State does not have Evans and Forte healthy soon then they will run into some unforeseen trouble.
Up Next
Oklahoma State returns home on Dec. 14 to face Arkansas-Pine Bluff. This will be a stepping stone to the last key out of conference against the Wichita State Shockers. The Pokes have an opportunity to take a considerable amount of momentum into conference play.
This article originally appeared on