Oklahoma Basketball: Unranked Sooners Have a Top-10 Schedule, According to ESPN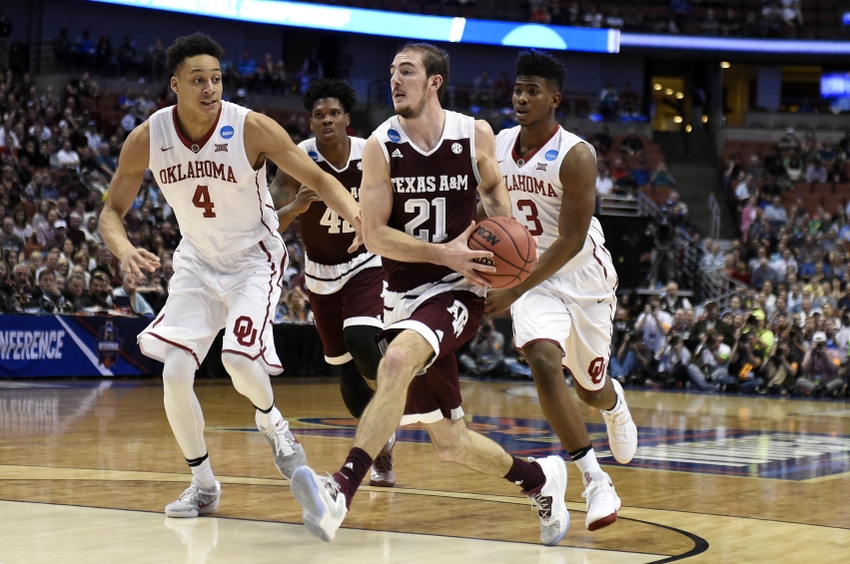 Oklahoma basketball spent most of last season ranked among the nation's top 25 men's teams. The Sooners begin the 2016-17 season unranked.
Based on the number of votes cast by the media members who vote in the Associated Press poll, Oklahoma would rank 38th this week if the poll went that high. Despite falling outside of the top 25 to begin this season after finishing last season at No. 4, at least one ESPN staff member believes that the Sooners have one of the 10 most difficult schedules in college basketball in 2016-17.
It probably wouldn't surprise you to learn that the 12-time defending Big 12 champion Kansas Jayhawks regularly play one of the more difficult schedules in college basketball. Sharon Katz of the ESPN analytics group lists the Jayhawks as having the sixth toughest overall schedule and the toughest nonconference schedule of any major college team.
Kansas has already played Indiana, ranked 6th nationally, and No. 1 Duke and later on this season the Jayhawks have a game scheduled at Kentucky, which will likely replace Duke as the top-ranked team in next week's polls after Kansas' thrilling victory over the Blue Devils in the Champions Classic in New York City earlier this week.
Just two spots back of the reigning Big 12 champions and No. 7-ranked Jayhawks, though, is the unranked Oklahoma Sooners, according to the ESPN analysis.
In addition to a round-robin Big 12 schedule, which includes road trips to Kansas, West Virginia and Iowa State, all presently ranked in the nation's top 25, Katz cites the Sooners trip in early December to play at No. 9 Wisconsin, followed a few days later by a game with Wichita State in Oklahoma City. The Shockers have won the Missouri Valley Conference in four of the past five seasons and have made five consecutive NCAA Tournament appearances.
ESPN takes typical strength of schedule measurement a step further, Katz writes, "accounting for all of the factors in the ESPN Basketball Power Index's game predictions – opponent's true strength, game site, distance traveled from home, days of rest for each team and high-altitude effects – (designed) to produce the truest measure of the difficulty of each game."
Five teams from the Atlantic Coast Conference – Virginia, Wake Forest, North Carolina, Louisville and Miami – hold down the top five spots in ESPN's rankings of the teams with the most difficult overall schedules this college basketball season.
More from Stormin in Norman
This article originally appeared on