Oklahoma Basketball: Sooners Sweep Away Washburn in Second Half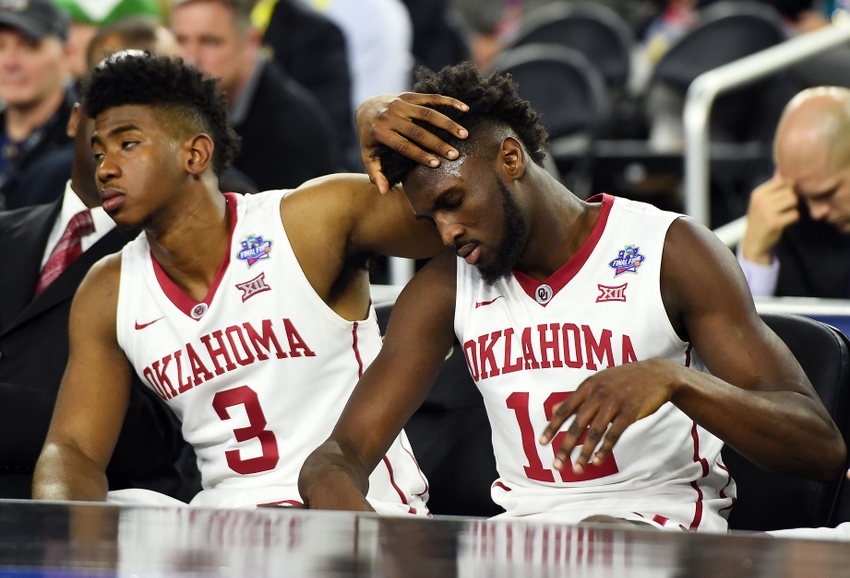 It may not have counted for the record, but much came out of Tuesday night's Oklahoma basketball exhibition with Washburn University that sets the stage for the new season and the new-look Sooners.
Oklahoma started a bit slow but finished strong in posting an 84-64 victory over Washburn at Lloyd Noble Center in a tune-up for the official season tip off at home on Sunday against Northwestern (Oklahoma) State.
Taking the court without All-American and two-time Big 12 Player of the Year Buddy Hield for the first time in three seasons, the Sooners took a while to get things going, battling the visiting Ichabods from Topeka, Kan., to a back-and-forth, one-point lead after the first 30 minutes.
That sluggish start carried over for the first five minutes of the second half before a young Sooners' squad turned it up a couple of notches and put the game away with an impressive 37-14 run on 62-percent shooting over the final 15 minutes of the exhibition contest.
Sophomore guard Christian James, who had several strong performances late last season and in the Sooners deep NCAA Tournament run, showed he is going to be a prime contributor in the coming season with a game high in points (16), rebounds (8) and assists (6).
Head coach Lon Kruger liked what he saw from his team in its first live game action of the new season.
"I thought a lot of guys got in the ball game," the OU head coach said. "Defensively in the first half Washburn kind of did what they wanted to, but we got a little sharper defensively in the second half.
"The opportunity to get people in a live game situation in front of fans was really good for us, and we'll benefit from this a lot."
Some observations, looking back at the Washburn exhibition and forward to Sunday's season opener:
The 2015-16 Oklahoma men's team relied heavily on its offensive firepower, especially behind the three-point line, with three of the best three-point artists in the country in Hield, Isaiah Cousins and returning starter Jordan Woodard. This season, however, the Sooners will need to become stronger on the defensive end and not rely as much on their offense to carry the day.
Four Sooners scored in double digits in the win over Washburn: James (16), Khadeem Lattin (12), Kameron McGusty (12) and Darrion Strong-Moore (12).
Oklahoma scored 21 points off of 21 Washburn turnovers and 37 points from players off the bench.
Three Sooners (Darrion Strong-Moore, Matt Freeman and Kameron McGusty) hit two of three three-point shots in the game, but as a team OU shot only 30 percent (8 of 26) from long range for the game.
Lattin and 6-foot, 10-inch sophomore Jamuni McNeace, who are OU's key post players, combined for 20 points and 15 rebounds, including six offensive boards, in the exhibition win over Washburn.
Kruger and Washburn head coach Bob Chipman are longtime friends and former teammates at Kansas State in the early 1970s. This will be Chipman's 38th and final season as the Ichabods' head coach. He plans to retire at the end of this season.
Kruger is now 6-0 in exhibition games with Washburn while at Oklahoma. Last year's Sooner team defeated the Ichabod's 112-62.
More from Stormin in Norman
This article originally appeared on