Oklahoma Basketball 2016-17: From A to M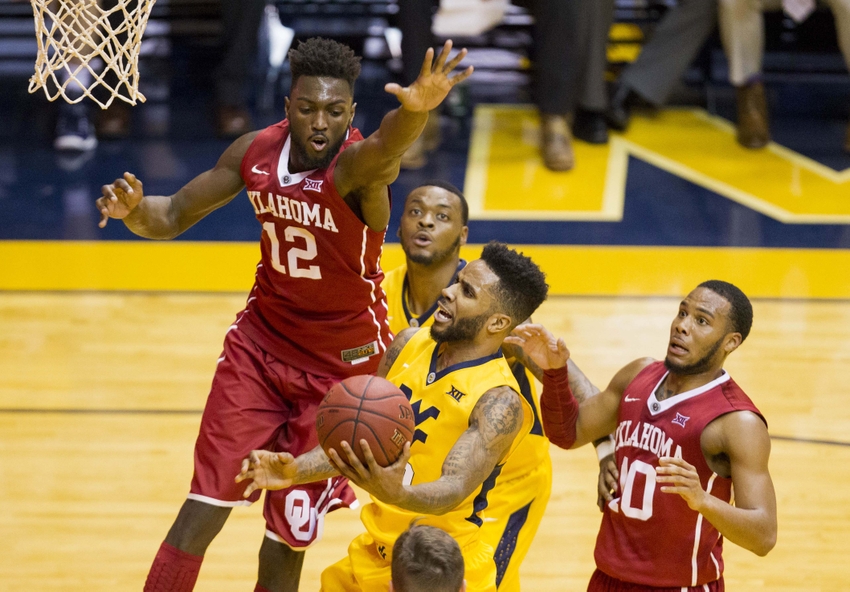 The 2016-17 season for men's Oklahoma basketball officially tipped off a week ago Sunday.
The new season ushers in a new look in Sooner basketball, and we've broken it down for you in simple, easy to follow X's and O's and 24 other depictive letters of the alphabet to help immerse you and familiarize you with what's ahead for OU men's basketball in the new season.
In the first half, we cover all things Oklahoma basketball from A to M. In the second half, on Wednesday, we take it full court and finish things off, going from N to Z.
The Sooners opened the new season on a positive note with a 97-61 win over Northwestern State and three new starters among the starting five. Oklahoma has big shoes to fill after the departure of consensus All-American and two-time Big 12 Player of the Year Buddy Hield along with Isaiah Cousins and Ryan Spangler. Those three started every single game for the Sooners over the last three seasons.
Returning OU starters, Jordan Woodard and Khadeem Lattin combined for 35 points in the Sooners 36-point win over Northwestern State.
Over the past weekend, Oklahoma won two of three in the Tire Pros Invitational, defeating Clemson 70-64 in Sunday in the tournament's third-place game.
We break down the 2016-17 edition of Oklahoma men's basketball, from A to M:
A – The Sooners play three games away from Lloyd Noble Center between now and the end of the calendar year. They play at Wisconsin (currently ranked No. 9 in the AP poll) on Dec. 3 and are in Uncasville, Conn., on Dec. 21 to play Auburn in the Basketball Hall of Fame's Birthday of Basketball game.
B – Ball protection has been an issue for the 2016-17 Sooners in their opening four games. In games against Northern Iowa and Clemson in the Tire Pros Tournament, Oklahoma committed a combined 37 turnovers, 24 against Northern Iowa alone. They have been in double-digits in turnovers in all four games this season. This is a part of the Sooners' game they are going to have to clean up if they want to be competitive in the always-tough Big 12.
C – Oklahoma will begin Big 12 play early this season. They open Big 12 play on Dec. 30 at home against Baylor.
D – One of the OU newcomers this season is 6-foot, 7-inch forward Kristian Doolittle. who comes from the same high school (Edmond [Okla.] Memorial) as senior Jordan Woodard. Doolittle is averaging seven points and seven rebounds through four games.
E – Coach Lon Kruger has acknowledged that this year's team is going to be a work in progress for a while, but says he is excited to see where they go and who steps up and who is doing what roles as the season goes forward.
F – Jordan Woodard, Kristian Doolittle and Khadeem Lattin rank 4, 5 and 6 in the Big 12 in free-throw percentage, all three are making better than 80 percent of their free-throw attempts. Woodard is the best of the Sooners at 90 percent (18 of 20).
G – The Oklahoma men will play a 30-game regular-season schedule in 2016-17 (18 conference games and 12 vs. nonconference foes).
H – Oklahoma's 97-61 victory over Northwestern State to open the season was the Sooners' 19th consecutive home win at Lloyd Noble Center to open a season. OU is 31-2 at home under coach Lon Kruger against nonconference opponents.
I – The OU men's team has improved its record in each of Lon Kruger's five seasons as the Sooners' head coach. That will be a tall order this season after the Sooners' went 29-8 last season and went to the Final Four for the fifth time in OU men's basketball history.
J – Sophomore Christian James is one of three Sooners averaging in double digits in scoring so far this season. He is averaging 12.5 points and 23 minutes a game. He averaged 2.9 points and 10 minutes a game last season.
K – Head coach Lon Kruger has a 114-58 record in five seasons at Oklahoma. The former Kansas State player and head coach has taken the Sooners to the NCAA Tournament in each of the last four seasons.
L – Forward Khadeem Lattin is averaging 12.5 points a game and has eight blocks in the Sooners' first four games of 2016-17. That is double what the offensive production from the 6-foot, 9-inch junior was last season.
M – Freshman guard Kameron McGusty came off the bench on Sunday and scored 14 points in the win over Clemson, the first double-digit scoring game in his young collegiate career.
On Wednesday: Part II, Oklahoma Basketball From M to Z
More from Stormin in Norman
This article originally appeared on