Ohio State Basketball: This is Marc Loving's Time to Shine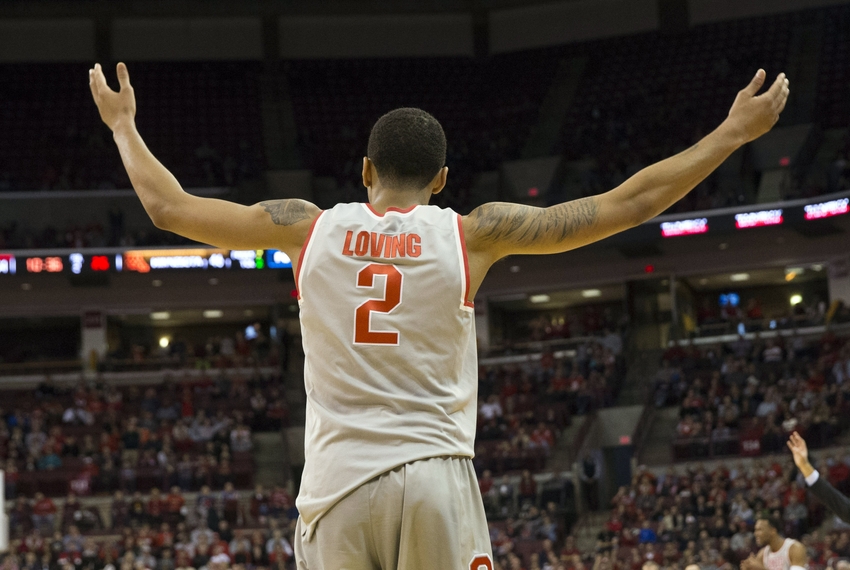 In his final season at Ohio State, it's time for Marc Loving to shine.
On a very young and unproven Ohio State basketball team this year, there is one veteran. Marc Loving is the sole senior on this team and if there was ever a time for him to excel, it is now. Loving was a standout high school basketball player from Saint Johns High School in Toledo and made it known early that he was one of the best players in the state.
His senior year, he averaged 21.3 points and 8.2 rebounds a game en route to being named 2013 Mr. Basketball in Ohio. Even though he graduated in 2013, he signed with Ohio State in August of 2010 and knew from a young age that he would be a Buckeye.
When he got to Ohio State, he was described as a "long and skilled combo forward" with "a smooth shot and excellent rebounding". He came in as the number 62 player in the nation, a 4 star recruit and an amazing amount of potential.
Throughout Loving's freshman year, he did not get a huge chance to prove himself, only seeing 10 minutes of floor time per game and averaging 4.4 points per game. This was not a huge surprise because he was a freshman on an OSU team that started all juniors and seniors and was led by point guard Aaron Craft.
Loving struggled in his minutes during his Freshman campaign, only shooting 36 percent from the field and 25 percent from behind the arc. Even though he struggled a bit his first year, he still had many eyes on him coming into his sophomore year.
During his sophomore year, Loving saw a steady increase in minutes and had a good start to the year, averaging about 10 points per game on 23 minutes of floor time. The huge improvement that Loving showed was his shooting percentage, bumping his field goal percentage by 10 percent and shooting close to 20 percent better from three.
All things were going well until the team shockingly announced his suspension in the beginning of February. This was a big hit for this OSU team as he was the second leading scorer and was doing a good job taking some of the pressure off of the true freshman phenom D'Angelo Russell.
He ended up missing three games and never really got back to where he was before the suspension. Many people felt that he had lost some passion or interest in the game at the end of that season. Loving needed to start his junior year off with a bang.
Once his third year started, he did exactly that. Loving started off his first nine games all in double figures and taking over the role as the main scorer, even though the team had a bad start to the season (2-4). However, as his numbers went up, his efficiency went way down.
More from Scarlet and Game
Loving's field goal percentage fell from 45 percent to 41 percent and his three-point shooting went from a great 46 percent to a sub par 33 percent. He averaged 14 points and close to 6 rebounds a game to make up for his shooting downfall. He had a good season, but it still was not up to the expectation that people had when he entered college.
So far this season, he has been less than average, shooting 36 percent from the field, 25 percent from three and averaging only 8 points a game. If you notice a slightly ironic statistic, that is the exact shooting percentage he averaged his freshman year.
This Ohio State team has a good chance to turn some heads in the Big Ten this year, but if Loving never gets going and stays average, they will struggle. He is the leader of this team and the most skilled scorer but so far he has been passive and indecisive with the ball.
In three games this season, he has shot the ball a combined time of 19 times. He needs to start creating some plays off the dribble and putting up shots if this team is going to prosper. This upcoming week s the best time to do that with OSU playing three inferior opponents.
Time will tell if Marc Loving has the type of games we have wanted from him for four years.
This article originally appeared on