Ohio State Basketball: Season Preview and Prediction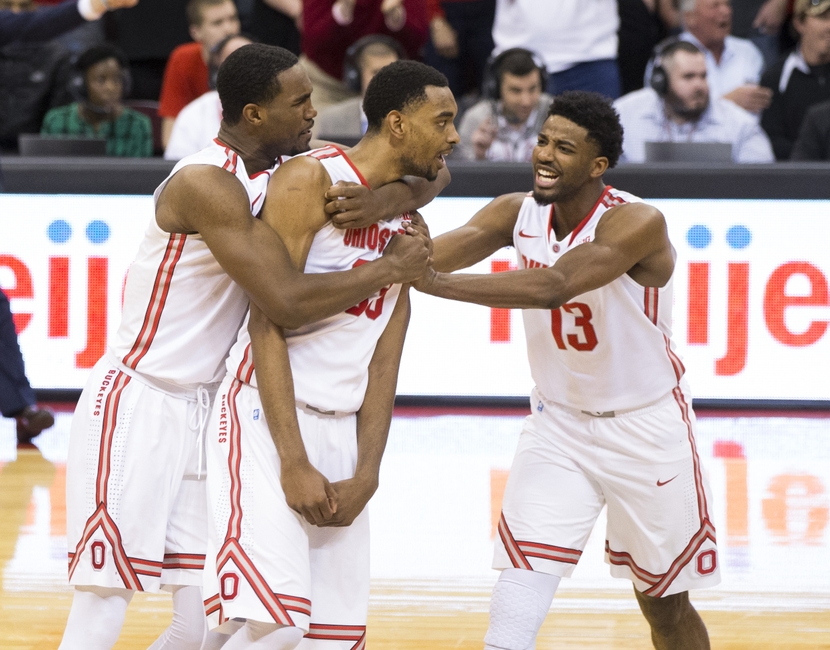 A preview of the 2016-17 Ohio State basketball season.
For Ohio State hoops fans – last year was a disappointment. The Buckeyes finished 21-14 (11-7). I am confident that this year will be much, much better.
Although it seemed like Ohio State lost half of their team via transfers, the Buckeyes return their entire core from last year. Jaquan Lyle was a freshman star last season, and he's only getting better. #13 can do it all for the Scarlet & Gray, and with a season under his belt – look for him to really step his game up in 2016-2017.
The Buckeyes lost the heart and soul of their team in 2015-16 to injury. This season, the Bucks will have a 100% healthy Jae'Sean Tate.
Ohio State also returns F Marc Loving – who will be the only senior on the roster. Loving can be a scary good shooter when he's healthy – and I predict him to have his best college season this year.
Keita Bates-Diop is a 6'7 shooter for the Buckeyes. The Illinois native has improved vastly in every season as a Buckeye and is now entering his Junior campaign. Diop has an NBA body – and has potential to put up NBA numbers. I don't think he quite reaches his potential this season, but he will make more advances in his game and be a bigger contributor to Thad Matta's Buckeyes.
It's been a while since the Buckeyes have had a good big man. Ohio State missed big time on Amir Williams and Tre McDonald, and haven't really had a go-to big man. Well I think this year that could change.
As I'm not sure who exactly it'll be – I think Ohio State will have an expanded role for its big man. 7-footer Trevor Thompson, David Bell and Micah Potter are all very serviceable centers for the Buckeyes – and frankly I do not know who will earn the starting job. It's very relieving to know that Ohio State has plenty of depth at this vital position.
Kam Williams is another player that returns to the Buckeyes. I am predicting Kam Williams to be the breakout player of the year.
Williams has freakish athleticism and a smooth shot. The Baltimore, Maryland native has been working hard on his game this off-season and I truly think that this will be his big breakout year. Williams is a SG and he'll be seeing a lot of minutes this year.
So did the Buckeyes add any new pieces? Matta added JUCO transfer CJ Jackson from Eastern Florida State. CJ Jackson is Guard with a very high ceiling. I don't see Jackson seeing big-time minutes – but down the stretch his role could improve and he could eventually become a big part of this team. The Buckeyes also added freshman Derek Funderburk, Micah Potter and Andre Wesson.
My Prediction:
I predict that the Buckeyes go 11-2 in the out-of conference portion of their schedule. I think the Buckeyes losses will come at the hands of Virginia and UCLA.
More from Scarlet and Game
Once we get into Big Ten play – it'll get real. I predict that the Buckeyes go 13-6 in Big Ten conference play. The Buckeyes have a pretty favorable B1G schedule as they draw Nebraska 3 times, and Indiana and Purdue only one time, both at home.
With a 24-8 regular season record, the Buckeyes should be in line for a first round bye in the Big Ten tournament and should then draw a beatable team. I think the Buckeyes win one game in the Big Ten tourney before ultimately losing to a higher seed.
The Buckeyes will be 25-9 entering the NCAA tournament – where they will get a 6 seed. In the NCAA tournament, Ohio State will win their opening game and then upset the 3 seed in the region.
After they pull off this upset, the Buckeyes' season will end in the next round in the Sweet 16, but altogether it will be a successful season for Matta and the basketball Buckeyes.
This is all speculation and guessing, but it's fun right? Buckeye hoops is going to be a lot of fun to watch this year and they start the season this Friday against Navy.
This article originally appeared on