Notre Dame vs Seattle Live Stream: Watch Fighting Irish vs Redhawks Online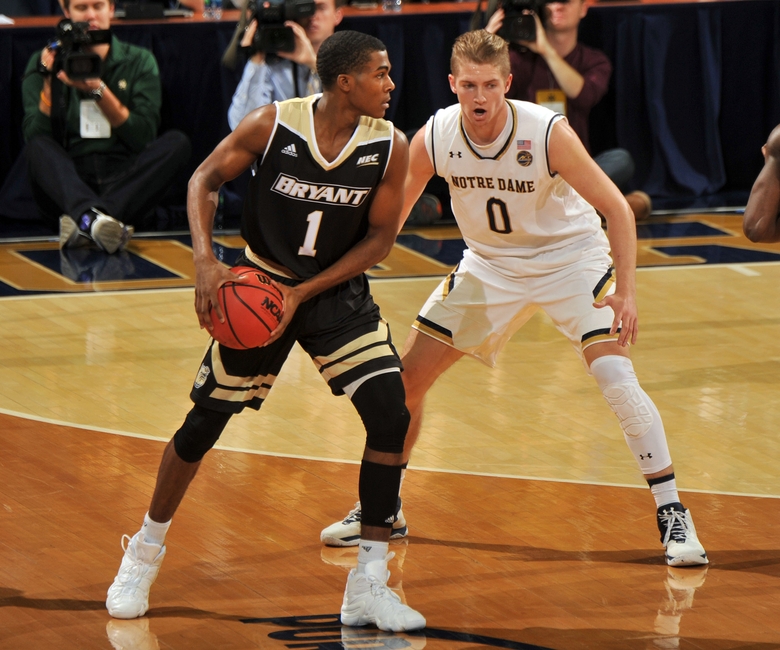 Notre Dame takes on Seattle in their second game of the 2016-2017 season. Here's how to watch the game online.
With their first game behind them, Notre Dame is looking to go 2-0 on the season against Seattle. In another game that heavily favors the Irish, Notre Dame will look to continuing fixing issues with their team.
The biggest concern for the Irish this season is their post. Against Bryant, the Irish were out-rebounded 37 to 34. For a team that won by 25 points, they should not have lost the rebounding battle.
Bonzie Colson is the closest thing the Irish have to a big man. At 6'5″, Colson has to use his athleticism in the paint. Against Bryant, that isn't a problem. When Notre Dame begins to play teams like Duke and Syracuse, they'll need a big man to have any chance of winning.
Notre Dame's best bet is to develop Martinas Geben. As a 6'10" forward, Geben is Notre Dame's best chance at gaining an advantage in the paint. In his first game of the season, Geben finished with four points and seven rebounds in 12 minutes. Obviously, Geben isn't as good as Notre Dame would like him to be if he only played 12 minutes. However, he is the Irish's best shot on the boards against better teams.
Against Seattle, this game should be another blowout. This is a team that is coming off of a loss to Colorado. Besides senior guard, Brendan Westendorf, the Redhawks have little to no talent suitable to play Notre Dame.
What Seattle does have is a 6'10" freshman, who is strong on the boards. Scott Ulaneo, a forward out of Rome, Italy, is averaging nine rebounds per game. Against Colorado, Ulaneo recorded 11 boards, seven points, and two blocks. For the first time this season, Notre Dame will test their big men against a strong post player. Which, could be the first real test for the Irish this year.
This game shouldn't be much of a struggle for the Irish. However, they should use it as a test to see just how good their big men are. Battling with Ulaneo will be a good indication of how well Colson and Geben play against teams with strong post games.
The Irish should breeze through game two of their season. Against the Redhawks the focus should be on testing Colson and Geben against their first decent competition.
Want your voice heard? Join the Slap the Sign team!
Here's live stream information for the game:
Date: Saturday, November 16
Start Time: 7:00 PM EST
Location: South Bend
Venue: Purcell Pavilion
TV: ACC Network Extra
Live Stream: ACC
This article originally appeared on