Notre Dame vs Bryant Live Stream: Watch Irish Season Opener Online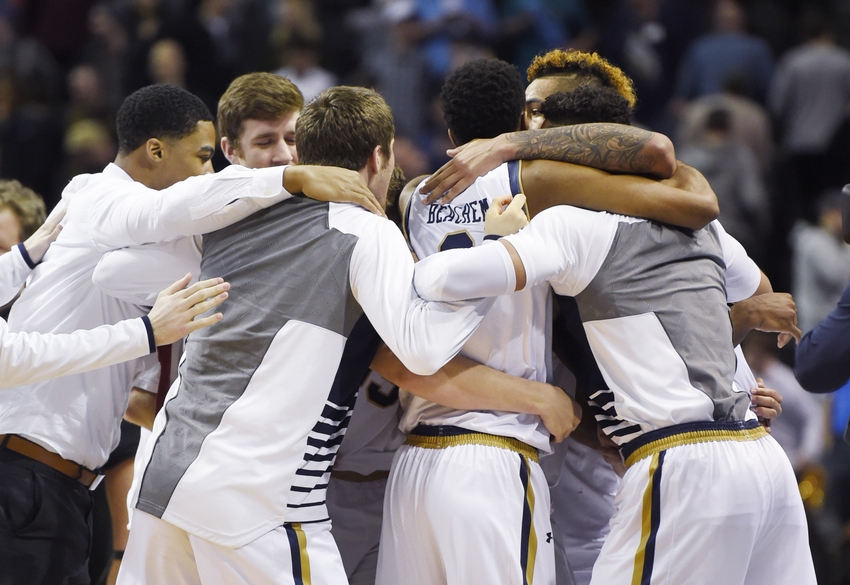 The Notre Dame Fighting Irish will take on the Bryant Bulldogs in there season opener. Here is how to watch online.
After their second straight Elite Eight appearance, Notre Dame is hoping to make 2016 another successful season. Their first step in towards this success will be against Bryant in their season opener, Saturday, November 12.
The Irish look to go 17-0 in season openers under head coach Mike Brey. Against Bryant, the Irish should be able to breeze through their first game of the 2016-2017 season. With this win, the Irish could build a three-game win streak and take momentum into their game against Colorado November 21st.
In the Irish's opening match, all eyes will be on Naismith Award watch list, V.J. Beachem. After averaging 12 PPG, shooting 47% from the field in 2015-2016, Beachem hopes to return as the Irish's star senior.
The other senior to watch is Steve Vasturia. Since cracking the starting lineup permanently as a Freshman on January 28, 2014, the senior guard has started 86 consecutive games. If Vasturia continues to stay in the starting five throughout this entire season, he'll become just the fourth player in Notre Dame history to start 100 consecutive games. If the 6'6″ guard does hit the 100 mark, he'll join Pat Connaughton, Chris Thomas, and Pat Garrity as the only players to ever reach the century mark.
For the Bulldogs, they return four top scorers from the 2015-2016 season. Senior Dan Garvin, junior Hunter Ware, NEC Rookie of the Year Marcel Pettway, and NEC all-rookie team selection Nisre Zouzoua. Although the Bulldogs are a heavy underdog, they may be able to make this game closer than most expect. The likelihood of this game actually being close is small, but the Bulldogs veteran presence will do what is needed to stay competitive.
As Notre Dame looks to claim the ACC for the first time since joining in 2013, Bryant will be searching for an early momentum upset. Make sure to watch online to see if the Irish can use their star players to pull off Mike Brey's 17th season-opening victory.
Want your voice heard? Join the Slap the Sign team!
Here's how to watch Notre Dame's season opener:
Date: Saturday, November 12
Start Time: 12:00pm EST
Location: South Bend, IN
Venue: Purcell Pavilion at the Joyce Center
TV: None
Live Stream: ACC Network Extra
This article originally appeared on