Notre Dame Basketball: What Irish Should Expect Against Pitt
Notre Dame basketball begins their ACC play this Saturday against Pitt at the Peterson Events Center.
At some point, this season, Notre Dame's two losses will mean practically nothing. That time is now, as the Irish are set to begin conference play. They may not head into ACC action undefeated, but for Notre Dame, their actual season starts now.
11-2 is a record that will keep you within the top 25. With two tight losses to Villanova and Purdue, the Irish will look to claim some top 25 victories during conference matchups. They may not have beaten the top team in the country, but wins against Duke, North Carolina, Louisville, and the rest of the ACC will be enough to forget these two losses ever happened.
Against Pitt, Notre Dame is looking to start their ACC season out right. Both teams head into Saturday's matchup 11-2, but although their records are the same, they've gotten there with completely different styles of play.
For Notre Dame, their strong suit has been their backcourt. Players like Matt Farrell and V.J. Beachem have been major contributors to their wins. Their low post has struggled this season, as they continue to find help for Bonzie Colson. The 6'5 junior has done a phenomenal job in the paint this season averaging 10.2 rebounds per game. But besides Colson, the Irish have little to no other players capable of protecting the paint.
Pitt, on the other hand, relies heavily on their forwards to control the outcome of the game. Their two leading scorers, Michael Young (22.8 PPG, 7.8 RPG) and Jamel Artis (20.8 PPG, 5.6 RPG) both average over 20 points and five boards per contest.
How Colson is able to compete against these two big men will be a factor in the game's outcome. A strong presence on the boards will slow down much of Pitt's attack. However, if Notre Dame wants to win this game, it needs to be through their guards.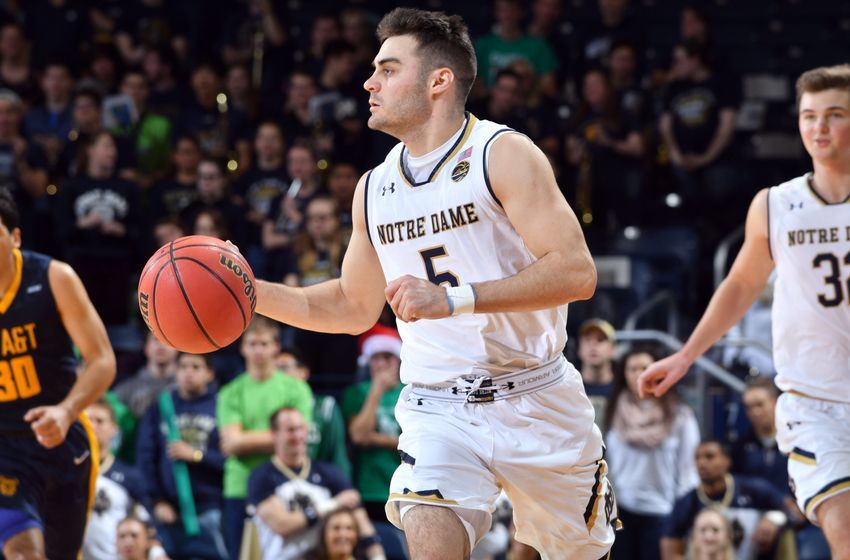 It's no secret the Fighting Irish have one of the best backcourts in the country. Matt Farrell, V.J. Beachem, Steve Vasturia, Temple Gibbs, and Rex Pflueger are one of the best all-around units in the NCAA. All season Notre Dame has succeeded through these players, and that'll be the same against Pitt.
The key to this game is winning your style of play. Pitt needs to make Notre Dame slow down their forwards, while Notre Dame needs to Pitt to turn attention to their guards. Change the opponents gameplan, and you've already won control.
Colson will be able to stay at least competitive in the paint. There's no way he'll be shut down in this game if he hasn't been slowed yet this season. So, while he's doing his part down low, the ball handlers of the team need to force attention their way. If Pitt has to slow down Farrell, Beachem, and the rest of their guards, then they'll need to draw players away from the post.
Win the battle of your style of play, and you'll likely come away with the victory.
Prediction: Notre Dame goes 1-0 in the ACC by beating Pitt.
Notre Dame may have struggled against Villanova and Purdue in the second half, but they controlled the game for most of the first half in each matchup. They don't have the depth to compete for a full 40 minutes. Which will eventually hurt them down the line.
Against Pitt, they'll be able to build momentum to carry into the second half. Their backcourt is robust enough to take a large enough to get past Pitt. Once they turn the game into stopping Notre Dame's guards, then the game is over.
This won't be a blowout. In fact, it may be one of the most exciting ACC games of the season. Pitt hasn't pulled off a big win other than Maryland, and Notre Dame is still searching for their first major victory.
Want your voice heard? Join the Slap the Sign team!
These two may play different styles of basketball, but they aren't too unequally matched. Notre Dame has the advantage in talent, and that'll earn them a win, but Pitt isn't going to allow a blowout. Look for Notre Dame to win. Possibly in dramatic fashion.
More from Slap the Sign
This article originally appeared on