Notre Dame Basketball: 5 Matchups to Watch Against Purdue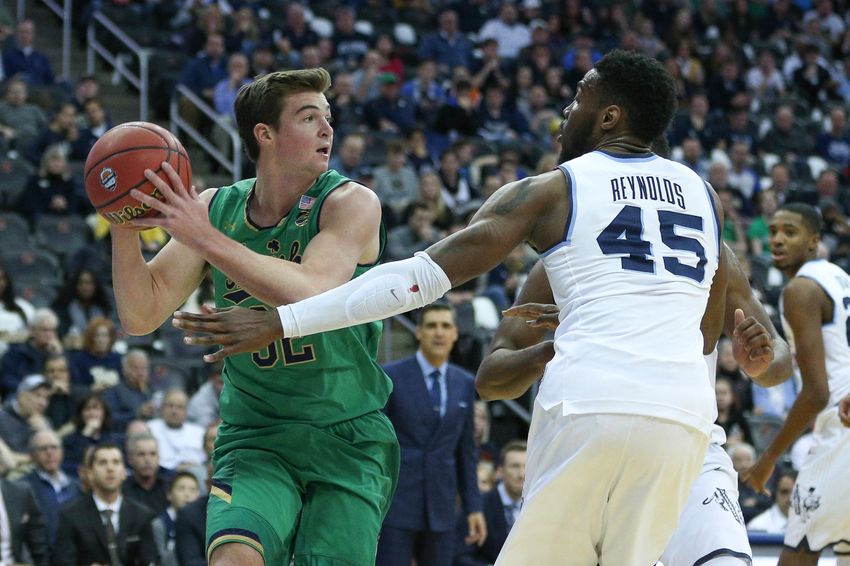 Notre Dame basketball is coming off their fist loss of the season, and looks to bounce back with a win over Purdue
Notre Dame will play their second top 25 team of the season, Purdue, on Saturday, December 17. After a close loss to Villanova, the Fighting Irish are hoping to get back to their winning ways against the Boilermakers.
In their last game, the Irish found they had a hidden star on the team. When they needed someone to step up and keep the game close, Matt Farrell took over. As they travel to Indianapolis to face Purdue, they're hoping Farrell can maintain his momentum.
Notre Dame may have been able to earn a win over Villanova if their stars played bigger roles. It seemed that V.J. Beachem and Bonzie Colson were contributing, but not nearly as much as they've been. If the Fighting Irish want to continue making a run towards the top 10, they're going to need these two to become the stars they've been all season.
Even if Beachem hasn't had the season he was predicted to have, he's still been a factor for the Irish. But when you finish a game with four points on 2-11 shooting, you begin to hurt the team more than help.
Moving forward, these two will be keys to success for Notre Dame. If they want to continue their winning ways this season, Colson and Beachem will have to have better games than they had against the Wildcats.
Looking ahead to Purdue, Notre Dame will have key matchups that should determine the outcome. They'll need specific players to have big games if they want to bounce back. If they're looking to make a statement, no one on their roster can have anything less than a perfect night.
Purdue may have two losses on the season, but they come to Louisville and Villanova. Both games were some of the tightest matches of the year.
Want your voice heard? Join the Slap the Sign team!
This team is much better than their two loss record indicates. The Boilermakers have been one of the better and more consistent teams all season. Notre Dame may have more of a statement to make being their first loss will have come a week before the game. That doesn't mean Purdue isn't going to come into the game looking to show college basketball they can beat some of the best.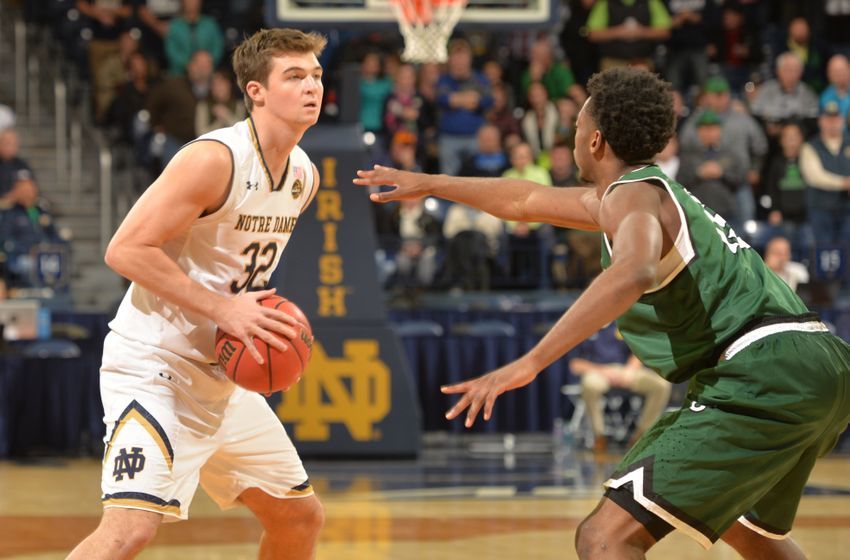 5. Steve Vasturia vs P.J. Thompson
Notre Dame and Purdue may play similar styles of basketball, but when it comes to defense, Purdue has most of the NCAA beat. The Boilermakers only allow 64.7 points per game to opponents.
P.J. Thompson has been the lead force for this Boilermakers' defense. His 1.3 steals leads the team. Thompson seems always to be on the opponents top scorer. The Boilermakers are a team that scores 100 points a night, but against big teams, they tend to rely more on defense. When a sharpshooter needs to be slowed, Thompson is the guy they call on to stop him.
Notre Dame has plenty of scorers. The Fighting Irish average the 15th most points per game in the country. Leading that offensive charge has been Steve Vasturia, who averages 16.6 points per game on 50.9% shooting for the season.
These two will battle all day. Vasturia isn't the guy bringing the ball down the court every time, but he always seems to be on the other end of a great pass or is open for a shot.
These two will go head-to-head all game. Thompson may adjust to the hot guard for Notre Dame, but chances are that's Vasturia. The winner of this battle may not decide the outcome of the game, but they'll certainly be a huge contributor towards their team's success.

4. Bonzie Colson vs Caleb Swanigan
The 6'9 sophomore for Purdue has been one of the best board snatchers in the Big East all season. His 11.2 rebounds per game lead the Boilermakers and have given him plenty of opportunities to boost his scoring through second-chance points.
Bonzie Colson has been one of the best players in college basketball. He's been the biggest force for Notre Dame both offensively and defensively. However, he's coming off his worst performance of the season against Villanova.
Even though he finished with 11 points and eight rebounds, Colson is used to leading the Irish in both categories, and rarely gets out-rebounded. Against Villanova, he allowed a lot of offensive rebounds, which hurt the Irish late in the game.
This will be a big matchup for both parties. Colson will be looking to regain momentum and reclaim his dominance on the boards. Swanigan has been pretty consistent all season. However, he may not have played a force in the paint as good as Colson yet.
Rebounds are usually a reliable indicator for who comes out on top. This matchup will be one to look for, and Colson again needs to prove that size isn't everything. If he can bounce back from an average performance, he should be a reason Notre Dame wins or loses this game.

Vince Edwards vs V.J. Beachem
V.J. Beachem has been a little bit of a let down for the Irish this season. The Preseason Naismith Watch List member has not lived up to his expectations in 2016-2017. But the season is still young, and if he's going to make a statement, this is the game to do it.
Edwards is going to cause a lot of trouble offensively, and with Colson already have tough matchups, it'll be impossible for him to guard a third man. Beachem isn't going to do much defensively to stop Edwards, but he could keep up with his scoring.
Beachem's biggest test will be having a breakout game scoring. He may need to put up 20-plus points to keep this game in check. If Notre Dame is held to a low scoring game, it'll be hard to come away with a win. The guards will be a major factor in the outcome, and Beachem will have to lead that drive.
If Beachem has a big offensive day, Notre Dame will have an enormous advantage against Purdue. Colson is going to be worn out all game, so his attribution needs to come on the defensive end. Beachem will have to take over the offensive side of the ball, and lead this Notre Dame team like he was predicted to coming into the season.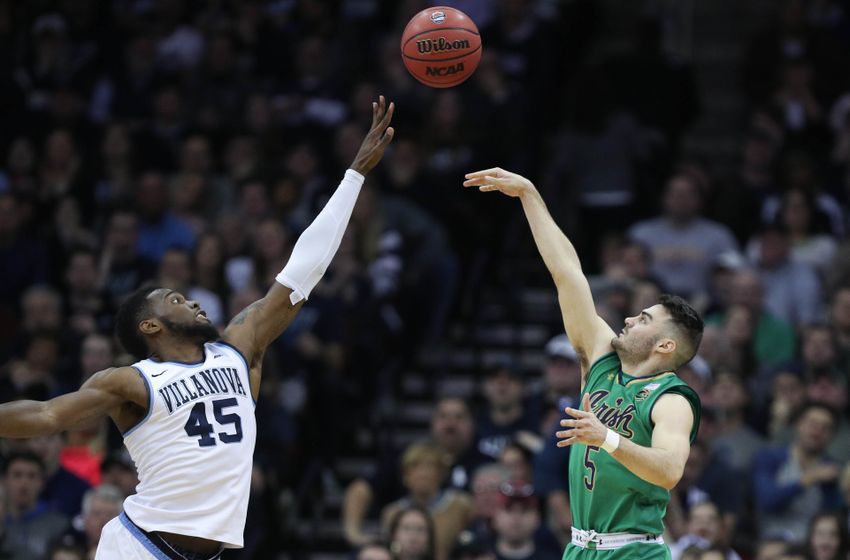 Carsen Edwards vs Matt Farrell
Matt Farrell became Notre Dame's newest star against Villanova. In the Irish's biggest stage this season, Farrell did everything he could to keep the game close. If the rest of the team could buy a bucket in the second half, Notre Dame may have come out on top against the Wildcats.
This will be the first game since that breakout performance, and probably the most important. Another big game and Farrell will establish himself as Notre Dame's top guy. It won't come easy against Carsen Edwards, which makes this an even more important matchup.
Edwards has been Purdue's lead in guard scoring. All season, he's been the driving force behind the backcourt of the Boilermakers. He may not contribute much through his passing, but he has the ability to score at any moment.
Farrell can do it all. He's going to need to play as hard of a defensive game as he can on Edwards while maintaining a strong offensive presence.
Purdue has every aspect of their team complete. Their size, ability to score, and defense are all second-to-none. Farrell has the ability to shut down this team, but it's going to take a lot.
Farrell could decide the outcome of this game with an explosive performance. On the same hand, Edwards' ability to score can end a team's chances immediately. The winner of this matchup can very likely be the deciding factor in this game.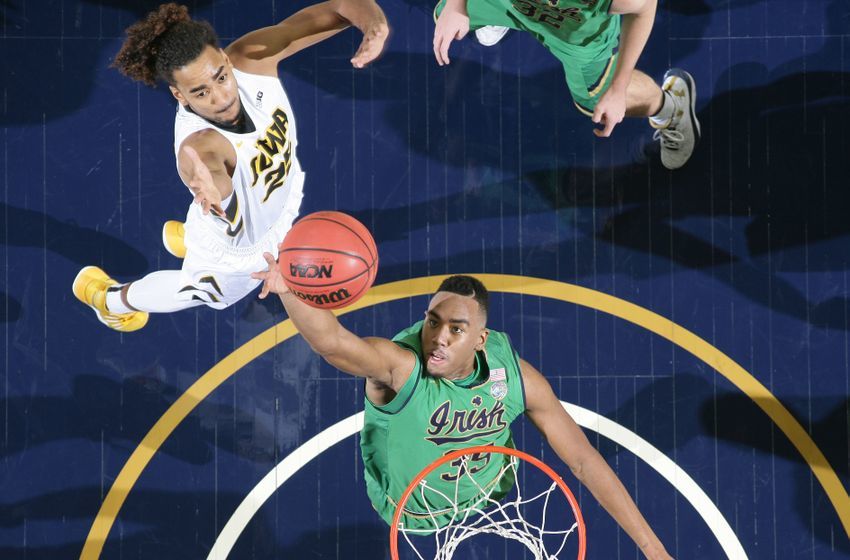 Bonzie Colson vs Isaac Haas
Bonzie Colson has one of the hardest days of his season ahead of him. Purdue thrives through their post game, which is led be Isaac Haas and Caleb Swanigan. For Notre Dame, they have Colson.
Colson will be the deciding factor in this game. He's almost a whole foot shorter than Haas, yet will be matched with him and Swanigan all game. This will be one of the hardest games of Colson's season. Not only will he have to guard one of the Big East's best rebounders, but he'll also have to guard his bigger, scarier teammate as well.
Honestly, no one has any idea how this is going to work. Notre Dame will need to keep the ball on the perimeter for most of the ball game if they don't want Colson to be exhausted by the second-half.
This doesn't mean that he's going to lose the matchup, though. Colson is one of the best players in college basketball. He's versatile and can make you pay from the paint or the perimeter. If he's going to beat Haas, he'll beat him from the outside.
Once he forces Haas to play in uncomfortable positions on the court, he'll win the battle. Don't expect this to be easy. Colson vs Haas will be the best head-to-head of the game.
This article originally appeared on