North Carolina State: Is Dennis Smith Jr. a potential ACC Player of the Year candidate?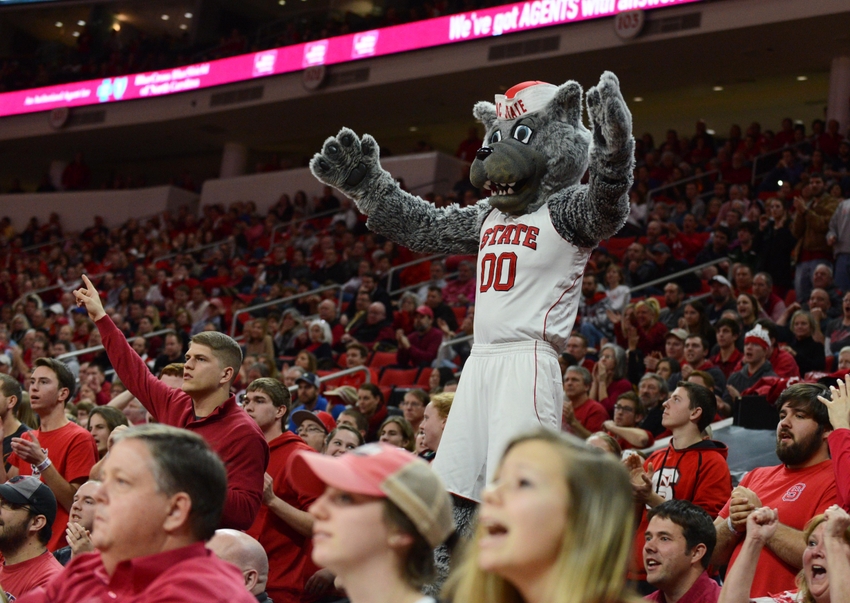 North Carolina State basketball's point guard could win ACC Player of the Year.
There is no more Anthony "Cat" Barber in the fold anymore at North Carolina State.
Barber, who averaged 23.5 points per game, was the ACC's top scorer and by far the Wolfpack's top player in 2015-16. While the massive increase in production was impressive to say the least, it didn't translate to wins. The Wolfpack finished 16-17 overall and 5-13 in the ACC, which was good for only 13th place in the league.
Because of that, Barber wasn't truly a contender for ACC Player of the Year. With so many talented players and National Title contenders, you have to have a beyond extra ordinary season to be in contention for the coveted award.
But the Wolfpack may actually have an ACC Player of the Year candidate in 2016-17. And that contender is Barber's replacement, five-star point guard Dennis Smith Jr.
Smith is coming off a torn ACL, but spent the spring semester rehabbing his injury at North Carolina State instead of remaining in high school. He made terrific strides to the point where he was able to compete in very same event, Adidas Nations, that he tore his ACL at last summer.
And Smith didn't just compete. He showed off all his explosiveness, aggressiveness, unique athleticism…and competitiveness. Against his wishes, Gottfried had limit Smith's exposure over the course of the event because he wasn't fully cleared.
That clearance was finally received at the beginning of September. Smith will now be able to participate in fall practices, run the offense live with his teammates by his side, play five-on-five and take part in preseason games.
With his ACL posing no concern, Smith will be able to make an impact impact from day one and show off his full arsenal of skills. He is one of the most explosive and athletic guards you will ever see. He attacks from the baseline, in transition, from the top of the key and from the wing. He has the skills to finish at the rim over length, the creativity to finish all layups and has the ability to dunk on his opponents.
The Fayetteville, NC native changes speeds impressively, gets into the lane at ease and has a quick first step. On top of that, Smith is a capable outside shooter and can set up his teammates with his vision and feel for the game. Sometimes his decision making is shaky and he can fall out of favor defensively, but he is a one-and-done caliber player. 
Scout.com has compared Smith to a young Steve Francis and there have been other comparisons to Baron Davis.
And guess who Smith's favorite player is? Russell Westbrook.
Now, I'm certainly not saying that Smith is going to be Westbrook or will become a Westbrook type player in the NBA. However, he does have that same fire and un-common athletic ability.
He'll be able to use that skill set by working in pick-and-roll situations with fellow freshman Omer Yurtseven, or take over the game when Gottfried needs him too.
His talent level says "ACC Player of the Year candidate," but as I mentioned above, the POY in this conference needs to also be on a winning team.
I think Smith can have a similar impact to Barber. He won't average 24 points a game, but he will be flashier and will play on a much better team.
North Carolina State's roster is loaded with talent. Abdul Malik-Abu and BeeJay Anya are back after exploring their NBA options. Terry Henderson has rebounded from a serious injury. Charlotte transfer Torin Dorn, Yurtseven, former SMU commit Ted Kapita, freshman Markell Johnson and four-star power forward Darius Hicks are the newcomers.
Then there's the two 2015 recruits, Maverick Rowan and Shaun Kirk, who should be much improved in 2016-17.
There's three potential NBA talents on their roster, and with Smith leading the way, the Wolfpack could be a surprise within the ACC.
The top five teams are set (Duke, North Carolina, Virginia, Syracuse and Louisville), but beyond that, things are wide open. Maybe the Wolfpack can jump Clemson or Florida State or Miami. Maybe the can sneak into the Big Dance.
That type of success would only increase Smith's candidacy.
So, yes Smith does have the ability to win this award and the ability to send shock waves throughout the nation.
With enough individual and team success in 2016-17, Smith will then enter the 2017 NBA Draft with the potential to be a top-five selection.
But first, it's time to conquer college basketball.
This article originally appeared on