North Carolina State Basketball: Wolfpack have talent off the charts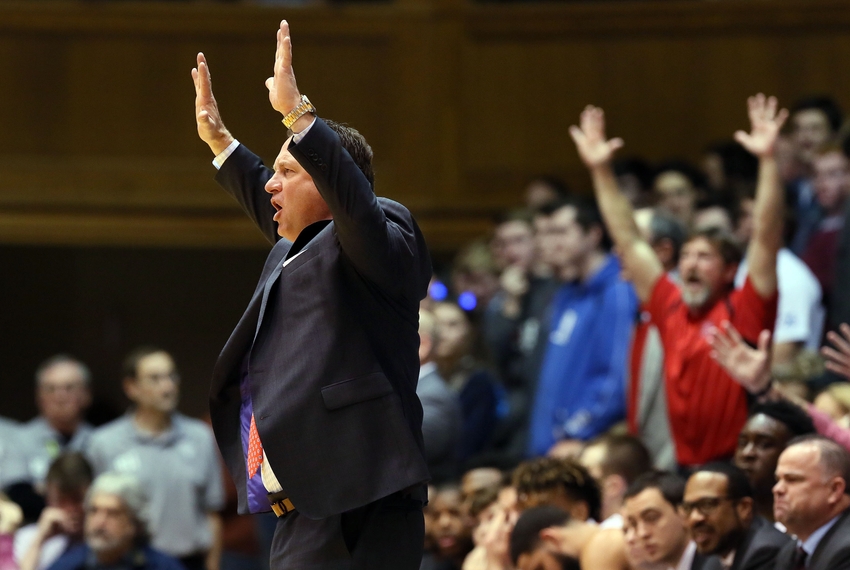 What three questions does North Carolina State basketball have to answer in order to reach the NCAA Tournament?
Anthony "Cat" Barber was North Carolina State's leading scorer (23.5 points per game), their best player, one of the most consistent performers in the ACC and was labeled as an elite player nationally. He was in the mix for ACC Player of the Year, but the success he had in his junior campaign did not translate to wins.
The Wolfpack finished 13th in the ACC standings, winning just five games in league play and 16 overall (one game under .500). They wasted Barber's best year of his college career by failing to make a postseason tournament.
Instead of remaining in Raleigh for his senior season, Barber opted to capitalize on his momentum and fame by declaring for the 2016 NBA Draft.
The Wolfpack will surely miss Barber's services, but head coach Mark Gottfried has another dominant point guard who he can turn to in 2016-17.
Five-star freshman Dennis Smith Jr. is finally healthy following a scary ACL tear in the Adidas Nations summer event last summer. He will be one of the most explosive players in the country, as his speed, quickness, athleticism and burst is second to none.
But Smith isn't the only talented player that North Carolina State has.
They return two experienced big men in Abdul-Malik Abu and BeeJay Anya, while bringing back key contributors on the perimeter in Maverick Rowan and Shaun Kirk.
Five-star forward Omer Yurtseven and former SMU commit Ted Kapita are still waiting to be ruled eligible, however, the overall complexion of their recruiting class is impressive. Smith, Yurtseven and Kapita are the headliners, but four-star guard Markell Johnson and three-star power forward Darius Hicks could also be critical to the Wolfpack's success.
Finally, North Carolina State adds Charlotte transfer Torin Dorn and returns shooting guard Terry Henderson off of injury.
On paper, the Wolfpack obviously have the talent and skill to be a middle of the pack ACC team in 2016-17. But that's why the games aren't played on paper. North Carolina State still has a lot of questions to answer.
3. Can Dennis Smith Jr. carry this team coming off a torn ACL?
Five-star freshman point guard Dennis Smith Jr. was fully cleared for all basketball related activities at the start of September. Reporters also raved about his performance at the Adidas Nations, the event that he tore his ACL at in 2015, earlier in the summer.
Dennis Smith is balling again here at Adidas Nations. Never would even guess he's coming off of a torn up knee.

— Sam Vecenie (@Sam_Vecenie) August 1, 2016
But competing in practice and participating in summer scrimmages are completely different than an ACC match-up at the college level.
There's no doubt that Smith is a potential ACC Player of the Year candidate. However, it may take him a little while to get back into game shape. Remember, Smith hasn't played a true basketball game in a year and relies on his athleticism and speed to make plays. Will he be rusty to start of the season? Will his trade-mark explosiveness drop off as the season goes on or as he loses energy during a particular game?
Personally, I don't see this as a major concern at this point. Smith has had enough time to recover, the early reports are positive and North Carolina State has a very light non-conference schedule.
Smith will be able to break himself in against teams like Georgia Southern, St. Francis (Brooklyn) Montana and Boston University. Their only difficult game will come on the road at Illinois, and the expectation is that Smith should find his groove by the beginning of league play. I would be surprised if he doesn't make major waves nationally and take the conference by storm.
2. Does NC State have enough spacing up front?
North Carolina State has some experienced, solid options to start in the front court. Abdul-Malik Abu and BeeJay Anya both declared for the NBA Draft before returning to school for their junior and senior seasons respectively.
While the toughness, rebounding skills and size of Abu and Anya is a nuisance to deal with, both players offer very little spacing on offense. Abu and Anya have shot a combined five three pointers in their careers, and both players are incapable of hitting mid-range jumpers.
This will likely clog the lane for Dennis Smith Jr. and the other talented North Carolina State guards as they try to attack the rim. It's not easy to defend a player of Smith's caliber, but with two big men roaming the painted area, it won't make it any easier for the point guard to find open lanes without the defense collapsing on him.
That's where Omer Yurtseven comes into play. When he is ruled eligible (we'll get to that shortly), he will give the Wolfpack the floor spacing, mobility, pick-and-roll skills and all-around talent that Mark Gottfried desperately needs. Yurtseven has the size (7'0″) and the skills (he's played at a high level in Europe for years) to form a dangerous one-two combo with Smith.
Yurtseven is not consistent from long range, but the defense is forced to respect him from both the high post and beyond the three point line. That alone will ease some burden off the guards and also will take pressure off of Abu and Anya.
North Carolina State has decent front court depth beyond those three, as they added Ted Kapita (still waiting for eligibility) and Darius Hicks, in addition to returning Shaun Kirk (who stands at 6'8″ and can play the three or four).
The Wolfpack would've had even more veteran leadership on the floor if Lennard Freeman wasn't still recovering from a leg injury. Freeman also has no range and fails to protect the rim, but he rebounds consistently, has excellent touch and always seems to be in the right position defensively.
North Carolina State has all the pieces (shooting and quickness) in their backcourt. It's the front court that Gottfried should be concerned about.
1. Omer Yurtseven, Ted Kapita to be cleared?
Turkish freshman big man Omer Yurtseven and freshman forward Ted Kapita are both waiting for clearance from the NCAA.
Yurtseven is the more important player of the two, but due to potential foul trouble, ineffective play and injuries, Kapita will be needed for depth purposes.
Yurtseven is a seven-footer from Turkey who is a possible lottery selection in the 2017 NBA Draft. He has the perfect game for modern basketball, as he can run the floor, block shots, step away from the basket and even dribble the ball on occasion. Yurtseven is a solid rebounder and will be a potent option in pick-and-pop situations on offense.
The good news for North Carolina State is that apparently things are headed down the proper track.
Rob Dauster, of NBC's College Basketball Talk, tweeted that Yurtseven getting cleared is a matter of "when," not "if." That could result in a positive development, but as we saw first-hand in 2015-16, Kansas' Cheick Diallo and St. John's Kassoum Yakwe didn't receive official clearance until the middle of the Maui Invitational. The NCAA tends to be very thorough when it comes to situations like these.
Because of the easy slate of games that the Wolfpack have to deal with in non-conference, they can afford to wait it out. It would seem highly unlikely that the NCAA would leave North Carolina State guessing in December, so Yurtseven should be good to go by the time ACC play rolls around.
But if he misses significant time early in the year, will Yurtseven be able to adjust to the increased speed of the college game compared to European basketball? Will he show off his full bag of tricks in year one?
He has been able to practice with the team, so grasping Mark Gottfried's system won't be an easy. It's the difference between European basketball and American basketball that could trip him up.
Meanwhile, Kapita is a four-star recruit who is big, strong and physical. He loves to battle with opposing bigs in the painted area, attacks the glass and has upside as an offensive prospect. He has to learn how to play the game beyond using his physical tools (6'9″, 220 pounds). That means developing a mid-range jumper, more of a feel for the game in the post and new counter moves.
North Carolina State has the pieces to make the NCAA Tournament and be a major threat in the ACC. If Yurtseven and Kapita are eligible, their chances of making an appearance in March Madness drastically increase.
This article originally appeared on