No.7 Kansas stuns No.1 Duke in State Farm Champions Classic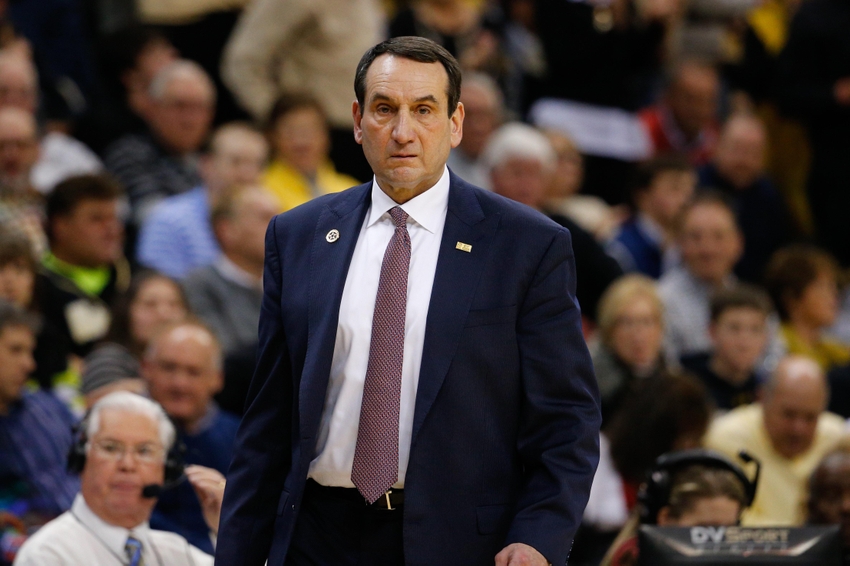 Ordinarily, Duke basketball has personified the precedence of being an eminent program in college basketball year in and year out.
After last night's stunning two-point win for No.7 Kansas, the No.1 Blue Devils asserted a feeling of being tempestuous.
Let's be concisely correct.
The tempestuous emotions and agitation occurred in New York City at Madison Square Garden, when Jayhawks guard Frank Mason III rised up for the game winning jumper.
1.8 seconds left, Mason III with the crossover dribble, pulls up for a short 15 footer.
"SWISH".
77-75 is the final, Kansas wins by two. Duke's first crucial lost of the season.
All attention is now focused on head coach Mike Krzyzewski. Krzyzewski looked very solemn after the matchup. More or less, he's probably aggravated with three of his top recruits sidelined with injuries.
Harry Giles, Jayson Tatum, and Marques Bolden are still out with injuries, and the return time for the nation's top recruits in the 2016 class, still hasn't been determined.
It all started in the first half, when Duke had a three-point lead with 15:56 left, as All-American Grayson Allen pump faked his defender, with a nice drive and dish in the paint to Chase Jeter for a one-handed dunk. Duke maintained the lead for the first 10 minutes, with the first half winding down to 4:50. With 4:50 left in the half, Luke Kennard grabbed a loose rebound, dribbled in transition finding Matt Jones in the corner for the open trey, sending the Blue Devils to the locker room with a 26-24 lead.
During the second half the Jayhawks guard play came to light, most notably Frank Mason III. Mason III kept Kansas within two for the first seven minutes of play. Josh Jackson's in and out move, for a short jumper put Kansas up by four with 11:52 left. With 14.2 seconds left, Blue Devil guard Kennard found Frank Jackson open for three which tied the game 75-75.
Now, Frank Mason III.
1.8 seconds ticks slowly, and here comes Mason III with the crossover, inside step, as he stops and pops for two.
GAME. Jayhawks shock the nation. 77-75.
Luke Kennard led the Blue Devils with 22 points, shooting 4-of-6 from the field. Grayson Allen and Amile Jefferson both had 12 points, while Matt Jones and Frank Jackson contributed 11. Frank Mason III led Kansas with 21 points, on 8-of-13 field goal shooting. Josh Jackson had 15 points, while Devonte Graham chipped in 13 points.
Team shooting percentages were pretty balanced. Duke shot 48.9 % from the field, 42.1 % from three, and 70.0% from the charity stripe. Kansas shot incredibly well from the field, with a 50.8 percentage followed by shooting 11.8 % from three-point territory, and 47.4 % from the line.
Kansas pulled off a shocking finish in New York City, as the No.1 team in the country experienced it's first upset. Ladies and gentlemen, it's only one loss and I'm sure the Blue Devils will evaluate the circumstances for their next contest.
So what's next for the Blue Devils?
Duke will be traveling to Uncasville, Connecticut where they will face Penn State, Cincinnati, and Rhode Island in the Basketball Hall of Fame Tip-Off. This will be round two of the series, as the Blue Devils defeated Marist and Grand Canyon in the opening round.
Hopefully, it'll be a better outcome for Blue Devil Nation.
Regardless of the outcome, I still shout "GO BLUE DEVILS".
This article originally appeared on