No. 16 Arizona Basketball bounces back in an emphatic win against Texas Southern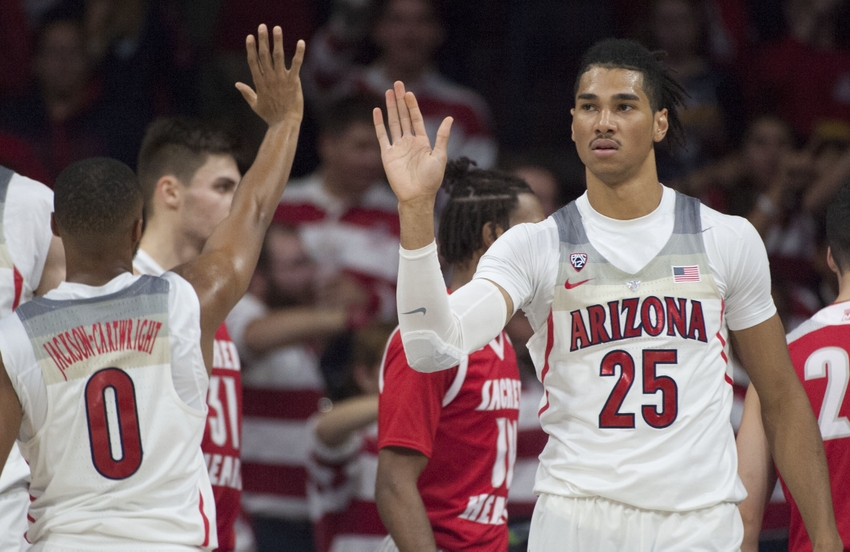 The Arizona Basketball team refocused and got back on track after coming off their first loss of the season against Butler in Las Vegas
After picking themselves off the mat in Las Vegas, the No. 16 Arizona Basketball team may have played their best basketball of the season pouncing on Texas Southern University 85-63.
A new-found energy could be felt from opening tip as they all played as a cohesive unite for the first time all season. The freshmen phenom PF Lauri Markkanen put together an all around game hitting five for six from three-point range ending with 19 points, six rebounds, five assists, two blocks, and ZERO turnovers. Miller was happy with the second half and the reduction of turnovers. Arizona as a team went 8 for 14 from 3-point range overall.
Kadeem Allen hit some season highs in this game making six out of ten from the field, two-for-two from the charity stripe, grabbing six rebounds, making seven assists and to top it off, he stole the ball once. That one steal turned into an assist to Kobi Simmons for a dunk which made the Pac-12 highlight tweet.
The other freshmen, Rawle Alkins and Kobi Simmons, have forced themselves into the fray with their defensive prowl and offensive scoring abilities. Simmons can handle the ball and pass dimes as he did in the first half to Alkins for a two-handed dunk. Alkins finally took Coach Sean Millers advice to drive to the basket for efficient shot selection.
But sometimes wins come with a price. Eight minutes into the first half starting PG Park Jackson-Cartwright left the game with a high ankle sprain. Luckily the x-rays turned out negative but as a precautionary measure PJC, "Will be out a significant amount of time" said Coach Sean Miller postgame.
Another staggering blow to the Arizona bench as we are still anticipating the possible return of Allonzo Trier back on the court. In PJC's absence we had the pleasure to see walk on Tyler Trillo come into the game briefly at the end of both halves. Eventually all the walk-ons had the opportunity to run 58-seconds off the clock to end the game.
It is great to see these players get some game action early in the season as a precautionary measure in case another injury occurs. Hopefully things will work out and those measures will turn out to be a blessing.
But as Kobi Simmons stated in a PAC-12 post game interview, "The team is the key." They all have to get each other going by playing hard on defense and get stops. In the post game press conference, Rawle Alkins confirmed the team is cohesive and willing to do what they need to do, including playing three different positions as Lauri had to play at the three, four and five positions.
Simmons admitted that they are a much better team than they were in Las Vegas and proved that in a bounce back win tonight.  Now more than ever Arizona has to stick to this formula as they head out to Los Angeles for nationally televised matchup against the No. 8 Bulldogs of Gonzaga at Staples Center Saturday afternoon.
Every Wildcats fan in Los Angeles should try too be at STAPLES so we can make STAPLES Center Wildcats Country for our Cats! BEARDOWN!!!
This article originally appeared on