No. 10 Wildcats hold off Cal State Bakersfield in McKale season opener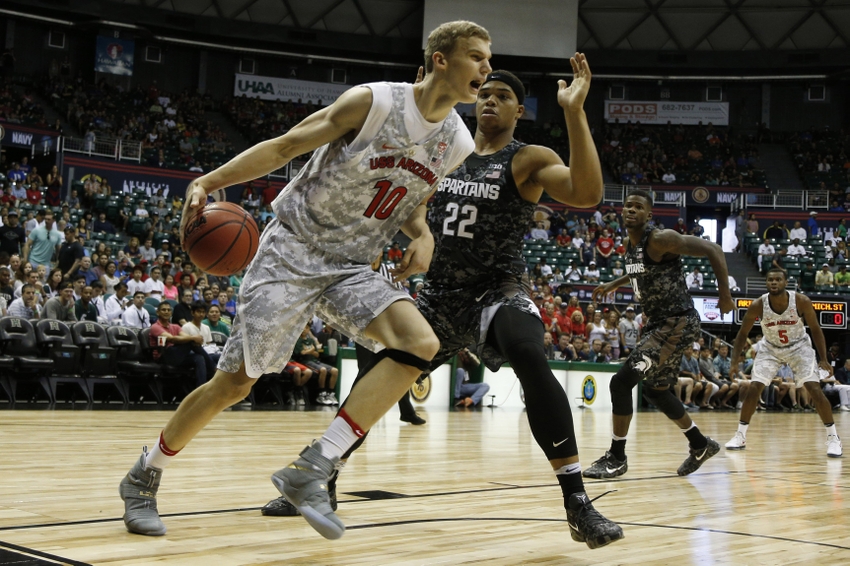 No. 10 Wildcats are put to the test by Cal State Bakersfield in 2017 McKale Home Opener
Arizona comes off another close win against the Roadrunners of Cal State Bakersfield with a physical 78-66 victory in the 2017 season opener at McKale Center.
During the first few minutes, the Wildcats came out flat against the Roadrunners but after three Rawle Alkins three-pointers their offense ignited during the first half. Players needed to step up with the recent injury to PG Kadeem Allen (sprained knee with some swelling) and the continued absence of SG Alonzo Trier.
Both big men, C Dusan Ristic and PF Lauri Markkanen, held down the fort with their low post presence well Coach Sean Miller switch and swapped lineups throughout the entirety of the game.  Mostly to keep Rawle Alkins, Kobi Simmons and Park Jackson-Cartwright and Keanu Pinder out of foul trouble.
Bakersfield Roadrunners in the second half came back with authority as they come back with five three-pointers and locking the Wildcats down offensively for a 6-minute span that helped Bakersfield to claw their way back to within four points with a little over nine minutes left in the game.
Freshmen PF Lauri Markkanen had a night to remember. Markkanen tore the Roadrunner defense apart in the paint area driving to the basket, drawing fouls and even stepping back to hit a three to put together a 26-point performance. ZonaZealots suggested this and Miller was on the same page:
And boy did Lauri Drive! The announcers during the Pac-12 telecast commented on how Lauri is a professional shooter by the sound of the ball going through the basketball when he shoots a free throw.  It is honestly amazing that this kid is only a freshmen with a full season ahead.
As the season gets underway No. 10 Arizona Wildcats (2-0), look ahead to a matchup on Friday against the Sacred Heart Pioneers. This game will be one of three games ahead against lesser conference opponents.  It will be a great time for Coach Sean Miller to build better team chemistry, practice mid range and three-point shooting but most importantly defense.
Yes, this season will not be like any other in seasons past as we have a young core still figuring how to play with each other. These first two games showed that the Wildcats have fought and do not give up when times get tough. Hopefully, Arizona will not need to overcome any leads or offensive droughts during these next few home games.
BEAR DOWN!!!
This article originally appeared on