5 NCAA tournament stars who will drive NBA teams mad
It's one of the most wonderful times of the year: March Madness.
You have your bracket(s) ready. Your boss understands what you'll be doing today. And your alma mater is (hopefully) ready for a deep tournament run.
What about the players who will actually take the floor and decide the games, though? Are you up to speed with them?
Don't worry; no one could be expected to know every player in this year's field. What's really important is being able to hold your own in bar debates with your friends as we march toward the Final Four and a new national champion.
Now, we won't tell you what to think; that's up to you. You might be convinced Buddy Hield is the next NBA MVP or that Brandon Ingram is the most overrated potential No. 1 pick since Anthony Bennett. That's fine.
But we've got you covered with the five players you'll be arguing about from now until at least the NBA draft.: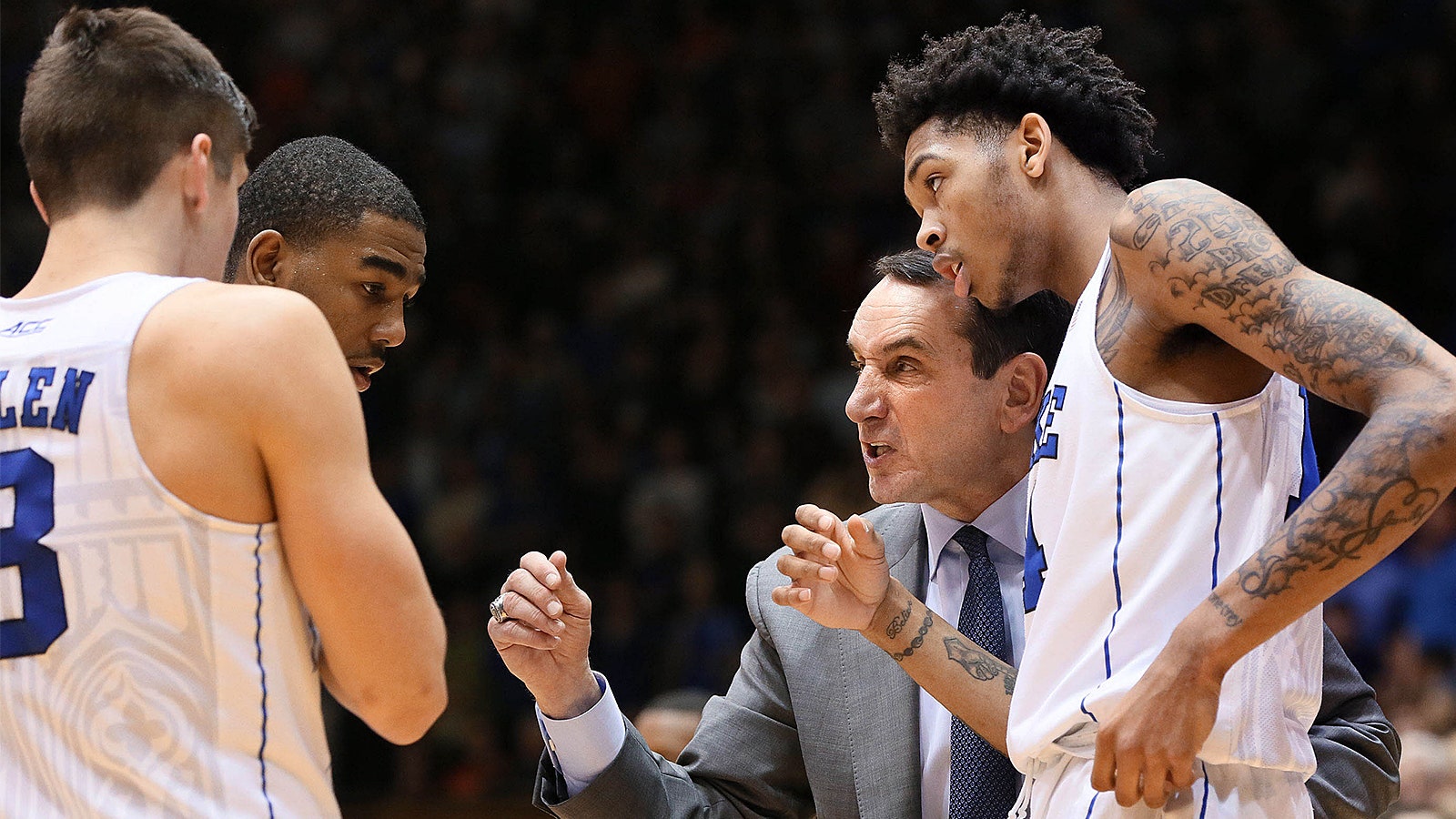 1. Should Brandon Ingram be the No. 1 overall pick?
Everything Ingram does in this tournament will be compared to Ben Simmons — and, to a lesser extent, Dragan Bender. The kicker, of course, is that neither of Ingram's competitors are playing on college basketball's biggest stage. Simmons' LSU team missed the tournament, and Bender's busy dominating in Europe.
That leaves Ingram with the spotlight shining directly on him as we rip his NBA prospects to shreds. Which position will he play at the next level? It almost has to be as a stretch power forward. Can he put on enough weight to hold his own against bigger players? Is his jumper wet enough to truly stretch the floor?
Ingram is going to be a spectacular NBA player, and teams will be very happy if he slips past No. 1. He can't definitively answer any of these questions over the next few weeks, though. All he can really do is damage his perception as the top pick.
ICYMI: Jonathan Givony (@DraftExpress) on why Ben Simmons is no longer the No. 1 prospect. #TheHerd https://t.co/XMqhwZlaXs

— Herd w/Colin Cowherd (@TheHerd) March 16, 2016
2. Can Tyler Ulis be the next Isaiah Thomas?
It's almost unfair to Ulis to compare him to Thomas simply because of their heights. It's also inevitable. The list of players under 6-feet tall who have succeeded at the next level is incredibly small — no pun intended.
But Ulis stands out as one who could make that leap. His decision-making is unparalleled in the college game; even when he doesn't have the ball, Ulis is fantastic about making sure his team is in the right position at all times. He's a fantastic passer in the pick-and-roll, and he knows how to keep his big men happy with touches. More importantly, he gets them the ball in space and allows them to do work. He's not just looking to pass as a last-second option.
And he's got range for days:
. @tulis3 drains the half-court shot like it's no big deal. pic.twitter.com/FmS8BXPFU5

— CoachCal.com (@CoachCalDotCom) January 21, 2016
If he keeps working on his 3-point shooting, why can't Ulis be a starting point guard in the NBA?
3. Will Grayson Allen have an NBA career? Like, at all?
DraftExpress currently has Allen going to the San Antonio Spurs at the end of the first round, and maybe the Spurs could make something of Allen. He's a solid 3-point shooter, for sure, and that's one of the most valuable skills for a perimeter player at the next level.
But he can't guard anyone, unless he's trying to trip them:
Grayson Allen appeared to trip an opponent for the 2nd time this month. https://t.co/sbRHSJ9zj9

— SportsCenter (@SportsCenter) February 26, 2016
And Allen could be limited on offense, too. The Blue Devils tried using him as a point guard to start the season, and the experiment went pretty poorly, with turnovers being the major issue.
If Allen sticks in the NBA, it's almost certainly as a bench player. Which would still be better than Jimmer Fredette. So there's that.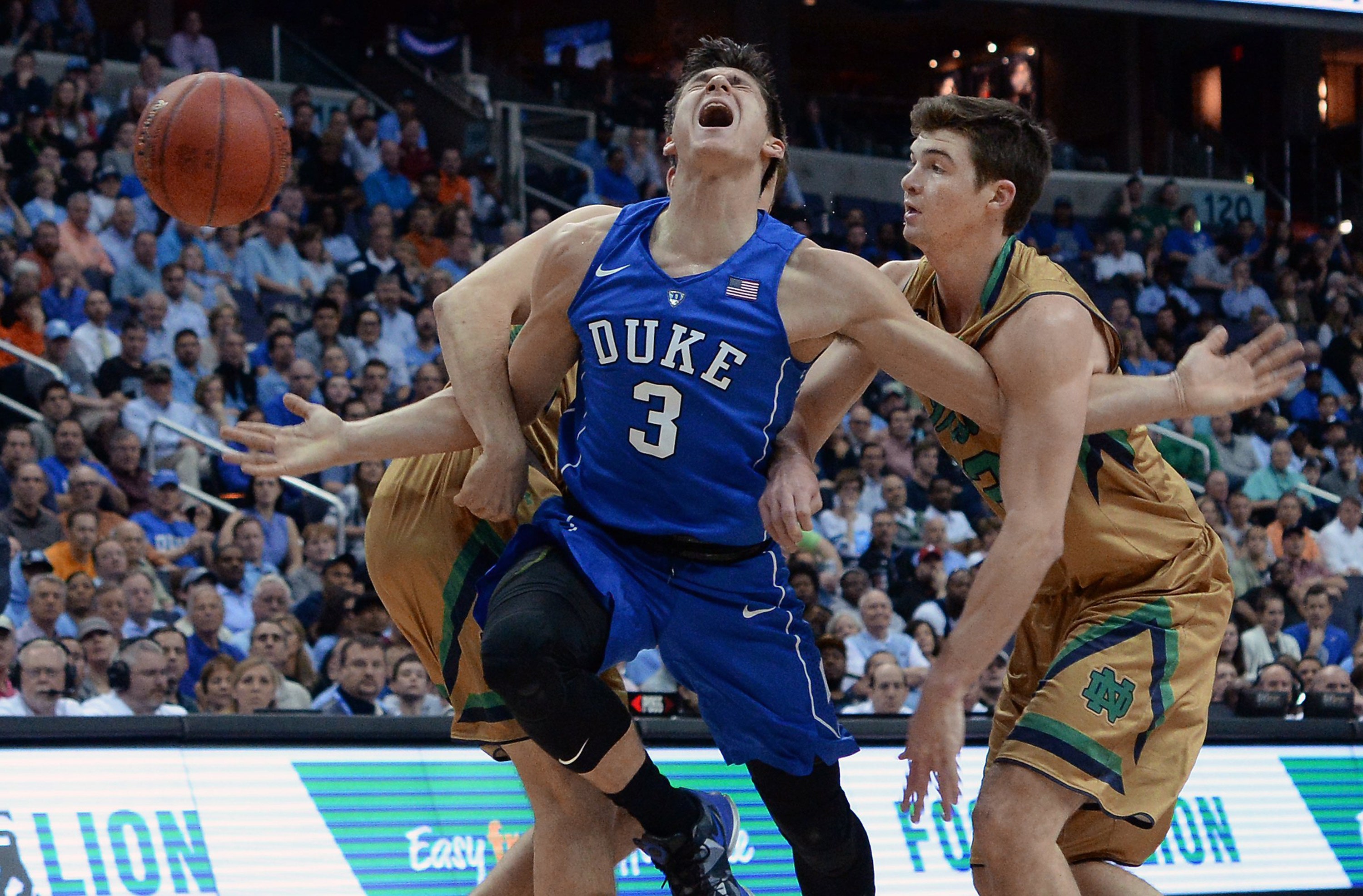 4. Who's the best big man in the tourney?
For those who checked out during the NCAA regular season, Jakob Poeltl is by no means a household name. Yet if Utah can put together a solid tournament run, Poeltl's going to start popping up in even the most casual draft conversations. He's a top-5 prospect who won't slip past 7 or 8.
Kentucky's Skal Labissiere, however, has thrust himself back into the picture. He started the year as a potential top-3 pick before an awful season saw his stock slip. Then this happened in a dominant game by Labissiere against LSU:
That's the kind of highlight that sticks in the mind of fans and scouts alike. A few big tournament games from the Wildcat big man and you won't be able to stop talking about him.
5. Is Buddy Hield too old?
Hield crushes the competition — at the college level. And that's what you'd expect from an uber-skilled 22-year-old who can get to the basket seemingly at will:
How, Buddy Hield? Just how? https://t.co/csQMqQqe4f

— ESPN College BBall (@ESPNCBB) March 11, 2016
Where's his ceiling, though? Can he really be expected to improve once he joins the NBA? Or is this as good as he's going to get?
Not that there'd be anything wrong with the latter of those two options, of course. This version of Hield would be a decent rotation player in the NBA. But there's a reason you don't see very many four-year NCAA players become professional stars these days.
If you're really that good, you've probably already declared for the draft, right?