NCAA protocol bans Butler mascot Butler Blue III from entering arena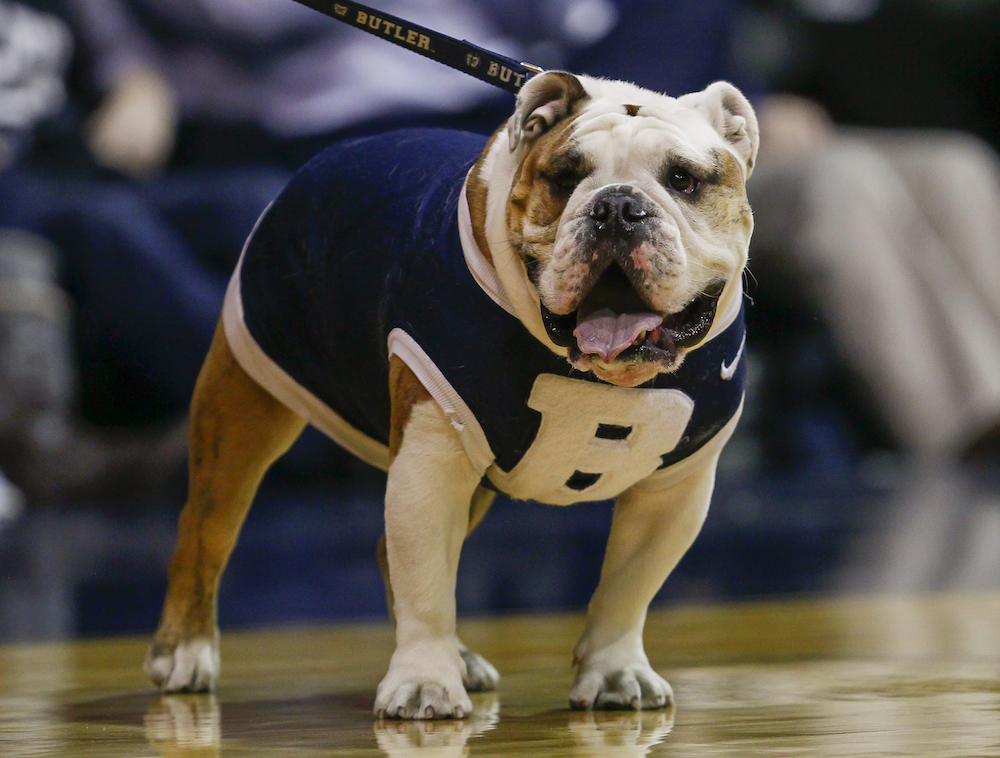 Butler Blue III is a treasure.
He's a living, breathing English Bulldog, and his presence at Butler sporting events cannot be overstated. He is, inarguably, a celebrity.
And for what appear to be rather dubious reasons, it looks like Blue will once again be spending at least the early rounds of the NCAA tournament watching games on teleivion.
Butler's men's basketball team notched a 71-61 win over the Texas Tech Red Raiders in the Round of 64 on Thursday. As NJS Sports' Cory Smith notes, Blue III was not allowed in PNC Arena for the game.
The arena confirmed the ban on Twitter to confused fans. The stadium's staff wants Blue in the house, but isn't allowed to, citing "NCAA protocol."
@LDeGeorge @NCAA We would love to have him courtside! Unfortunately, we are under NCAA Tournament protocol.

— PNC Arena (@PNCArena) March 17, 2016
The end result of this ban: Blue walking around the outside of the arena, waiting for the game to end, like the saddest, furriest Charlie Brown in the world.
Oh, I'm in Raleigh, and I'll be here a bit longer too. Just not allowed into the game. #MarchMadness #GoDawgs https://t.co/3fh8BrjIk8

— Butler Blue III (@ButlerBlue3) March 17, 2016
Be sure to follow my @Snapchat today. Posting all sorts of #MarchMadness experiences from Raleigh. #GoDawgs pic.twitter.com/UtK9CrAUjD

— Butler Blue III (@ButlerBlue3) March 17, 2016
Sufficed to say, Blue's Twitter account wasn't psyched to be barred from the stadium.
It's a shame this has to be the story. Tell me @ButlerBlue2 didn't add something to Final Fours in '10 & '11. https://t.co/SVzbRCG66D

— Butler Blue III (@ButlerBlue3) March 17, 2016
This isn't the first time Blue has been asked to stay outside.
In 2011, NCAA spokesman David Worlock explained the organization's thought process for barring live animals from the early rounds of the tournament. It's apparently too crowded, with too much rollover, for any animals to squeeze in.
"In preliminary rounds, given the limited space, tight turnaround at venues with multiple sessions, etc., the rule is no live animals may enter the building," Worlock wrote to reporters.
Bulter's mascot just vomited on the court. Hahaha! pic.twitter.com/vy4WCe9poR

— Matt Norlander (@MattNorlander) March 13, 2015
How did we get here?
How did we, Americans, get to the point where third-generation dog mascots—institutions of the sport—are not allowed to step paw in the building where games are played?
Sure, Blue might've barfed a bit on the floor that one time. But that's like Michael Jordan signing your dashboard-you only benefit from his #brand.
No work and no games makes Blue a sad Bulldog.
Dan is on Twitter. Let Blue cook.