NCAA Basketball: Where do the UCLA Bruins stand in our latest top 25?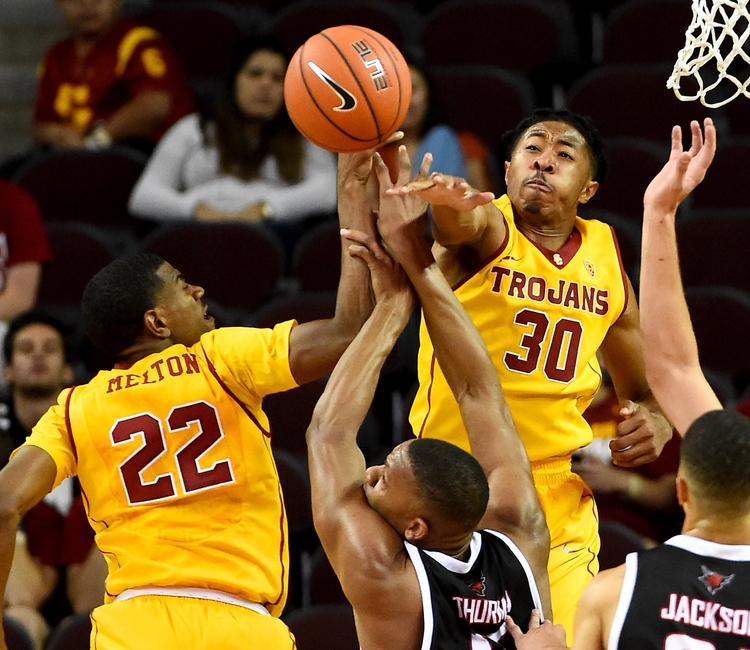 The top 25 teams continue to fluctuate through the early part of the NCAA basketball season.
Some definite changes have happened since our last top 25 last week. Upsets remain a staple of college basketball, but a few schools are surging early. College hoops never fails to disappoint.
Early season tournaments have finished and we are now just a few weeks away from conference play. So far, the question about the second best league in the game is a heated one. The Big 12 sports the best collective winning percentage of all conferences, but the Big East is ahead in strength of schedule. This is a debate that will likely never end even though the ACC remains the best league in America.
I personally hope the chaos continues during conference play so more mid-major teams have a shot at at-large births. Squads from the Mountain West and Summit League have already taken down big programs and scored boosts for the small conferences. Only time will tell if the emotional lifts will continue through the winter.
On the cusp
Maryland Terrapins – Despite having just one starter back from last season, Maryland is still a strong team. They have close victories over Kansas State, Oklahoma State and at Georgetown propping up their early schedule.
Texas A&M Aggies – Texas A&M is a strange team right now. They haven't played as many games early and have losses to USC and UCLA. However, they still look like an SEC wildcard. Watch their mid-December tilt against Arizona to get a better idea of their ceiling.
Miami Hurricanes – Jim Larranaga's team had dropped two straight before getting victories over Rutgers and Wofford. The U doesn't have a true non-conference test remaining before opening ACC play against NC State.
USC Trojans – USC is one of the most surprising undefeated teams left. They have scored solid wins over Texas A&M, SMU and BYU. Keep an eye on the young Trojans when they open Pac-12 play at Oregon State in late December. Also watch to see if forward Bennie Boatwright's knee injury causes struggles.
Florida State Seminoles – Florida State has some solid wins, but I need to see another quality win or two before I put them in the top 25. An exciting battle with rival Florida comes on December 11th.
25. Iowa State Cyclones
Previous Ranking: 20
Record: 5-2
Iowa State almost never loses at home. That made their OT upset against Cincinnati all the more surprising. As bad as they looked against the Bearcats, the Cyclones still have plenty of talent to challenge for a top three finish in the Big 12.
Monte Morris has been the show in Ames this season. The senior All-American guard is putting up 15.9 points, 4.7 rebounds and 5.9 assists through seven games. He is getting some help, but this team needs to shoot better than 32 percent from deep, which would be their lowest mark since 31 percent in 2007-2008.
24. Cincinnati Bearcats
Previous Ranking: Not Rated
Record: 7-1
The Bearcats storm back into our rankings thanks to a huge road win over Iowa State in Ames. Mick Cronin's crew had a narrow loss against Rhode Island at Mohegan Sun, which kept them just outside the top 25 last week. Their next big test comes on the road, as they will try to take down Butler.
One of biggest keys to Cincinnati's success has been NC State transfer Kyle Washington. The junior forward is putting up 16.3 points, 9.4 rebounds and 1.7 blocks per contest. His combination of solid offense and rim protection has been central to the Bearcats' early success.
23. Arizona Wildcats
Previously Ranked: 9
Record: 6-2
The Wildcats are starting to reel a bit going into December; point guard Parker Jackson-Cartwright is out due to an ankle injury and the team has dropped two of three at home to Butler and Gonzaga. Zona sorely needs a victory over UC Irvine and Missouri to right the ship.
Expect an even larger part of the offense to funnel through freshman Lauri Markkanen, with Kobi Simmons and Rawle Alkins getting more touches as well. Jackson-Cartwright was the leading distributor at 5.3 assists per game, but either Simmons or senior Kadeem Allen will have to step up.
22. Virginia Tech Hokies
Previous Ranking: Not Rated
Record: 6-1
The Hokies enter the national conversation on the strength of a huge comeback victory over Michigan in the ACC/Big Ten Challenge. The team isn't overpoweringly good, but they are doing plenty of little things to fight for wins.
Their last non-conference challenge is hosting Ole Miss next Sunday in Blacksburg.
Four Virginia Tech players are averaging double figures through the first seven games. Senior swingman Zach LeDay has been the catalyst, as he is putting up 16.6 points, 7.4 rebounds, 1.6 assists, 1.0 steals and 1.0 blocks per game. The only thing he isn't doing well is hitting threes (just 11 percent this year). This team is a strong middle-tier ACC challenger.
21. Florida Gators
Previous Ranking: Not Rated
Record: 7-1
Florida is one of the first SEC teams to really come out and show the country their conference deserves more early respect. The Gators have solid victories over Seton Hall and Miami to tout. Their only loss was to a top 10 Gonzaga squad in Orlando. They also have an incredible opportunity on Tuesday as they play Duke at Madison Square Garden.
KeVaughn Allen leads Florida in scoring at 12.4 points per game, along 2.5 rebounds and 1.6 steals. His energy has been central to the team's 8th rated adjusted offense.
Allen is receiving scoring help from forward Devin Robinson and College of Charleston transfer Canyon Barry. They will need to collectively shoot better than 44 percent from the field though. Regardless, Florida might have the tenacity to challenge for a top-two SEC finish.
20. South Carolina Gamecocks
Previous Ranking: Not Rated
Record: 8-0
Wins over Michigan and Syracuse have vaulted the Gamecocks into the conversation to be the SEC's second-best team. They have a critical stretch against Seton Hall, Clemson and Memphis that could really demonstrate this team's staying power.
Sindarius Thornwell was keying the SC attack, but the team will have to push forward through a suspension. Without him the Gamecocks need P.J. Dozier, Duane Notice, Maik Kotsar and Chris Silva to shoulder the scoring load for the rest of their non-conference run. Keep a particular eye on Notice, who blew up for 27 points over Florida International.
19. Purdue Boilermakers
Previous Ranking: 18
Record: 6-2
Purdue is a strong Big Ten contender this season. The Boilermakers have losses to Louisville and Villanova that are keeping them out of the upper ranks, but they are still the kind of throw-back squad that is perfect for Big Ten play.
The twin towers of Caleb Swanigan and Isaac Haas are dominating early on. They are combining for over 30 points and 15 rebounds through the team's first eight contests. The guard trio of Carsen Edwards, Vince Edwards and Dakota Mathias has also done some work, hitting outside shots and playing solid defense.
An interesting battle against high-powered Notre Dame comes December 17th. I like what this team is doing so far.
18. Oregon Ducks
Previously Ranked: 13
Record: 7-2
I still love Oregon's potential to crack the Final Four, but they have lost their only games to good opponents this season (at Baylor and hosting Georgetown). Their best win to date is a 7-point victory over a crippled Connecticut team.
Some redemption could come against SEC upstart Alabama.
Tyler Dorsey, a now-healthy Dillon Brooks and Chris Boucher are all scoring just over 13.5 points per game. Those three are a big part of why I love the Ducks' potential.
They are also getting scoring help from a healthy Dylan Ennis and inside bruiser Jordan Bell. This team will find it's stride soon.
17. Butler Bulldogs
Previously Ranked: 23
Record: 8-0
Butler has looked increasingly dominant during their climb into the top 25. They boast wins over Arizona and at Utah. They'll have battles on their hands in the next two weeks when they host in-state Cincinnati and Indiana.
Kelan Martin is still the star in Indianapolis, as he is averaging 18.1 points and 4.3 boards per game. Forwards Andrew Chrabascz and Tyler Wideman are both pulling down 5.6 boards a game, along with combining for nearly 19 points. Tyler Lewis is the final player to mention here, as he averages 7.9 points and 5.3 assists per game, while shooting 43 percent from deep. The Bulldogs will be uber competitive in the Big East.
16. West Virginia Mountaineers
Previously Ranked: 19
Record: 6-1
The Mountaineers have stormed back from their loss to Temple. First, they cold-cocked Manhattan by 47 points before scoring a huge upset in Charlottesville over Virginia. This team is back and focused on claiming the Big 12 crown for themselves.
Forwards Nathan Adrian and Esa Ahmed are the Mountaineers' double digit scorers, but depth is West Virginia's best asset. 13 players have played in at least five games and averaged no fewer than 9.5 minutes in those games. The constant waves of bodies are what makes Press Virginia so threatening, and this year looks to be no different.
15. Virginia Cavaliers
Previously Ranked: 7
Record: 7-1
The Cavaliers edge out the WVU squad that defeated them thanks to a superior strength of schedule. Virginia had also beaten opponents by an average of 27 points prior to their loss. Their final test before ACC play comes right before Christmas at California.
London Perrantes still does everything for UVA. He is putting up 10.0 points, 3.5 rebounds, 4.4 assists and 1.0 steals per game in under 30 minutes an evening. Isaiah Wilkins, Jarred Reuter and Jack Salt are doing their part up front, but this team is clearly lacking some inside punch without dismissed forward Austin Nichols. Only time will tell if the lack of a more dominant inside option keeps this team from reaching their potential.
14. Saint Mary's Gaels
Previously Ranked: 14
Record: 6-0
The Gaels hold constant in this week's rankings after playing UAB and at Stanford since the last list. They have interesting battles against Texas-Arlington, UC Irvine and Western Kentucky looming before WCC play.
Jock Landale is still crushing the stat sheet early on. He is contributing 19.7 points per game on 76 percent shooting to go along with 9.0 rebounds, 2.0 assists and 1.3 blocks.
Calvin Hermanson is averaging 14.7 points on 50 percent shooting and Emmett Naar is recording 10.3 points on 51 percent from the field. Naar is also dishing out eight assists an evening. Saint Mary's is 3rd in national field goal percentage. The Gaels have shown that they can battle Gonzaga at the top of the WCC.
13. Xavier Musketeers
Previously Ranked: 12
Record: 7-1
The Musketeers stumbled a bit in a 15-point loss at Baylor, but are still a potentially dominant Big East team. They get chances to rebound at Colorado and when they host Utah in the next week though.
Trevon Bluiett headlines this team, as he is recording 18.4 points, 6.3 rebounds and 2.5 assists per game. J.P. Macura has cooled of a tad in his last two games, but is still adding 15.5 points per night, along with Edmond Sumner's 15.1 points. Those three are also the three best distributors and also contribute on the boards. Xavier looks like a great squad that just came up short against an early season buzz saw in the Bears.
12. Wisconsin Badgers
Previously Ranked: 11
Record: 7-2
Since our last rankings, Wisconsin took a beating at the hands of North Carolina. This week, they are back on track with victories over Syracuse and Oklahoma. The Badgers' final test before opening Big Ten play is at Big East wild card Marquette on Saturday, December 10.
The three-headed monster of Bronson Koenig, Ethan Happ and Nigel Hayes anchor Wisconsin. They are all averaging at least 13.1 points a night. Hayes is second in rebounding at 5.7 and leads the team in assists with 3.8. Happ is pulling down 9.8 boards for a near double-double per game. All signs point to a battle with Indiana through the year for B1G dominance.
11. Louisville Cardinals
Previously Ranked: 10
Record: 7-1
Much like Xavier, the Cardinals have just a lone loss to Baylor on their schedule. They edged out the Musketeers by the slimmest of margins on strength of schedule thanks to victories over Purdue and Wichita State. A must-watch contest with Kentucky comes just prior to Christmas for bragging rights in Bluegrass territory.
Louisville doesn't have any dominant offensive player; Donovan Mitchell leads the roster with just 11.9 points and Quentin Snider averages 10.5.
What drives this team is defense. They sport the top spot in adjusted defense on KenPom and have three players swatting over one shot a game. Rick Pitino's crew is capable of making the ACC a four team race with UNC, Duke and Virginia.
10. UCLA Bruins
Previously Ranked: 16
Record: 9-0
Raise your hand if you thought UCLA was going to topple Kentucky in historic Rupp Arena.
That was a marquee win for a program that had mostly feasted on weak in-state competition to this point. I can't wait to see if Steve Alford's team has really figured it out when they host Michigan and Ohio State in the next couple weeks.
The Bruins are an absolute juggernaut on offense with six players averaging double-figures. Their offense ranks 2nd nationally and they have the 5th best adjusted offensive efficiency. This team isn't great on defense with three freshmen in the main rotation, but they have all the firepower in the world to try and conquer the Pac-12.
9. Creighton Bluejays
Previously Ranked: 17
Record: 8-0
Creighton has rolled to an undefeated start. Their signature win came early against Wisconsin, but they have held serve over upset-minded teams like Buffalo and Akron in recent games. The Bluejays travel just under an hour down on I-80 East to Lincoln to take on in-state Nebraska on Wednesday.
Marcus Foster looks like he was born to play for Greg McDermott through the first month of the season. The former Kansas State Wildcat is blowing up this year, averaging 19.4 points, 2.4 rebounds and 2.1 assists per game.
He is definitely benefiting from true point guard Maurice Watson Jr., who is no slouch as he averages 12.0 points and nine assists a game. Another revelation has been redshirt freshman forward Justin Patton and his 12.8 points on 79 percent shooting and 6.5 rebounds. Don't sleep on this team in March.
8. Indiana Hoosiers
Previously Ranked: 6
Record: 7-1
Indiana has reeled off four straight wins since their stunning defeat in Fort Wayne. They have managed to knock off North Carolina in Bloomington during that stretch. Their next battle comes on December 17th against mid-major power Butler.
Four players are contributing over 10 points per game with James Blackmon Jr. leading the way at 17.7 per contest. He is also grabbing 7.2 rebounds and 2.3 assists a night.
Thomas Bryant and swingman OG Anunoby are making serious pushes for NBA consideration with their contributions on both of the court. The Hoosiers will have stiff competition from Wisconsin throughout the year, but they can win the Big Ten for a second straight season if things continue on their current path.
7. Baylor Bears
Previous Ranking: 21
Record: 7-0
No team has more quality wins than Baylor right now. Not Duke, not North Carolina, not Kentucky. The Bears have four wins over teams in KenPom's top 40 and are undefeated with the 23rd ranked schedule.
Johnathan Motley is making a case for NBA lottery consideration. The junior forward has been excellent so far, recording 16.3 points and 8.1 rebounds per game.
Manu Lecomte looks settled after transferring from Miami and sitting out all of last year. He is scoring 13.9 points, is dishing out 5.3 assists a night and is hitting 39 percent of his three point attempts. Even Jo Lual-Acuil Jr. has also looked comfortable in Waco. Early signs point to Baylor challenging West Virginia for 2nd in the Big 12.
6. Gonzaga Bulldogs
Previously Ranked: 8
Record: 8-0
Gonzaga has defeated all challengers so far. The Bulldogs sport wins over Florida, Iowa State and Arizona to this point. They take on Washington this week in their toughest remaining opponent prior to WCC play.
The team has tremendous balance with five players averaging in double figures. Josh Perkins leads the Bulldogs with 13.1 points, but Nigel Williams-Goss is next at 12.5 points, along with 5.3 boards and 4.6 assists per game. The inside trio of Przemek Karnowski, Zach Collins and Johnathan Williams might be the best in the nation. Gonzaga might finally have the talent to make their first Final Four run.
5. Kentucky Wildcats
Previously Ranked: 1
Record: 7-1
The stunning defeat against UCLA definitely casts some shade on the youth-laden powerhouse that is Kentucky. Valparaiso is the next team up to receive the wrath of John Calipari. But beyond that, mid-December showdowns versus UNC and Louisville are must-see games.
Despite the loss, the Wildcats are still a dominant team on both ends of the floor. They boast top 10 ratings in both offensive and defensive efficiency. The team is led by freshman Malik Monk's 19.9 points on 48 percent shooting. Fellow first year players De'Aaron Fox and Edrice Adebayo are also looking great so far. Don't let the upset fool you, this is still a team capable of cutting down the nets in Phoenix.
4. North Carolina Tar Heels
Previously Ranked: 3
Record: 8-1
The loss to Indiana was a bit surprising, but UNC came back and slaughtered Radford to get back on a winning track. The Tar Heels will take on Kentucky December 17th before trying to avenge last season's upset at the hands of Northern Iowa.
Justin Jackson and Joel Berry II are virtually tied for the team lead in scoring at 16.1 and 16.0 points respectively. Berry gets the slight edge in production due to his team-leading 4.8 assists per game. Kennedy Meeks has also turned into a force down low with 13.3 points and 10.4 rebounds per contest. North Carolina has all the pieces to win their third title in 12 years.
3. Kansas Jayhawks
Previously Ranked: 5
Record: 7-1
Kansas has gone 7-0 since dropping their season opener to Indiana. Stanford was just the latest opponent to get rolled by the Jayhawks. There isn't really a test remaining before Big 12 play, but a matchup with former Big 12 member Nebraska holds some nostalgic value for the old conference mates.
Frank Mason III continues to push for National POY honors, as he is averaging 19.6 points, 4.5 boards and 5.4 assists per game. He is doing all the things KU needs to stay atop the national and Big 12 conversations. Freshman Josh Jackson is still as good as advertised as well with 14.0 points and 5.4 rebounds. However, this team needs more consistent inside scoring from the combination of Carlton Bragg Jr., Landen Lucas and Udoka Azubuike.
2. Duke Blue Devils
Previously Ranked: 4
Record: 8-1
Duke has won six straight since dropping a close one to Kansas in November. Wins over Rhode Island and Michigan State have come during that time period, but the next scheduled game is against Florida at Madison Square Garden.
Luke Kennard has played inspired basketball for a team that has two potentially lottery picks with just one game under their belt and a third yet to play. The sophomore is torching the twine with 19.4 points on 50 percent shooting (37 percent from three). He is also contributing 6.8 rebounds and 3.2 assists per game.
The big boost this season has also come from a healthy Amile Jefferson, who anchors the  team's otherwise-thin front court with 14.7 points, 9.8 boards and 2.0 blocks an evening. This team's ceiling is frighteningly high if all their talent gets healthy and gels.
1. Villanova Wildcats
Previous Ranking: 2
Record: 8-0
The defending champs reclaim the top spot in our top 25 after playing solid ball through the first month of the season. Outside of a nail biter against Purdue, Jay Wright and company have throttled opponents by an average of 19 points. Their next big games are against Notre Dame Saturday and Temple the following Tuesday.
Josh Hart and Kris Jenkins have not disappointed as the leading returning Wildcats. The two are combining for just over 31 points, 10 boards and five assists per game. Jalen Brunson and Mikal Bridges are doing their part to score and defend the ball as well. They'll have their hands full defending the Big East crown, but UV looks like a serious possibility to be the first repeat champs since Florida in 2006 and 2007.
This article originally appeared on