NCAA Basketball: Underrated takeaways from Tuesday's Champions Classic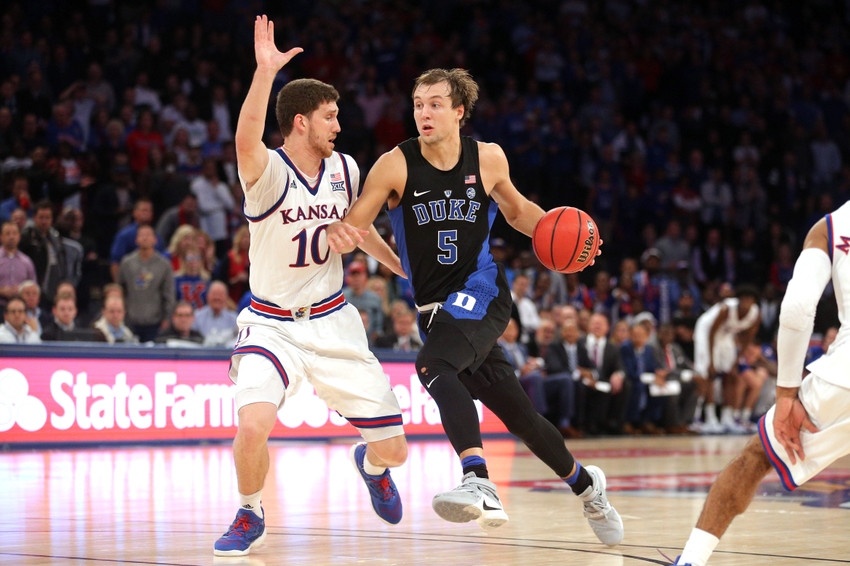 Busting Brackets provides four more takeaways from NCAA basketball's Champions Classic.
Friday night, the opening night of the 2016-17 college basketball season, provided us with two excellent Armed Forces Classic games. Between Kadeem Allen's coast-to-coast game winner and Indiana's remarkable overtime victory, college hoops was back in style.
On Tuesday night, the great early season play continued. We were reminded why this sport is so special, as arguably the four best programs in the nation took centerstage at Madison Square Garden for the annual Champions Classic.
And the event clearly lived up to the hype.
While Kentucky blew out Michigan State in the first game of the evening, the Wildcats' defense and Malik Monk's knock down three point shooting made for a good spectacle. The second game was filled with fouls (48 of them to be exact), but it was a photo finish thanks to Duke's storming comeback and Frank Mason III's heroics. 
The Wildcats look like best team in the country despite their youth. The Blue Devils will be the overwhelming favorite to win it all once Marques Bolden, Harry Giles and Jayson Tatum return. Kansas has the best backcourt in the country with Mason, Devonte' Graham and Josh Jackson. And Michigan State has Tom Izzo to ultimately help cure the Spartans' problems.
However, there are other takeaways that are being overlooked on this Wednesday afternoon. These takeaways may not be the reason a team won or lost last night, but if they hold true in the near future, they could have a profound impact on their respective programs moving forward. So, without further ado, here are the four underrated takeaways from each team that participated in Tuesday night's event.
4. Sparty battled on the glass
It was well known coming into this season that Michigan State was going to have a major disadvantage on the glass in most of the games they were set to play. The reasoning: UNLV transfer Ben Carter and senior big Gavin Schilling were both dealt significant knee injuries during the preseason practices.
The Spartans were set to rely on former walk-on Kenny Goins and freshman big Nick Ward. Beyond those two, Tom Izzo doesn't have any true reliable big man, forcing Miles Bridges to play the majority of his minutes at the four position.
Against two seven-footers on Friday night, Michigan State competed successfully on the glass. They tied in the rebounding battle (34 apiece) and weren't overpowered on the offensive glass.
But could they follow up their performance against a more physical Kentucky Wildcats team that consists of Isaac Humphries and Edrice 'Bam' Adebayo?
The answer turned out to be yes. As Adebayo battled foul trouble, the Spartans didn't have any issues on the glass. In fact, they out-rebounded Kentucky by four thanks to 26 combined rebounds from Bridges, Goins and Ward.
The majority of the second half was garbage time, so Ward was able to pad his stats late. But this was still an overlooked aspect of Michigan State's night.
"What we are is, we're short," Izzo said regarding his team's limitations. "What we are is, we should be getting beat on the boards. What we are is, we should be getting killed in the post and that didn't happen (tonight)."
The more important concerns, at least at this point in the season, remain on the offensive end where the Spartans cannot successfully create shots and lack the proper spacing of an elite college team. The lack of size and bodies on the interior could eventually catch up to Michigan State down the road, especially if Schilling and/or Carter don't return, but for now the Spartans have more immediate issues.
3. Kansas' role players shine bright
Both teams in the Kansas-Duke match-up battled foul trouble throughout the evening. For the Blue Devils, this was especially concerning given their lack of depth. However, the Jayhawks' bench bodies are mostly inexperienced players who haven't contributed on a stage as big as the Champions Classic, so Bill Self should've been just as concerned.
Fortunately for KU, freshman Udoka Azubuike and sophomore guard Lagerald Vick both preformed superbly, giving Self quality minutes off the pine.
Due to Landen Lucas' early fouls, Azubuike was forced into the mix. The five-star first year player scored six points on 3-of-6 shooting and grabbed 12 rebounds in 15 minutes. Azubuike brought power, strength and toughness to the interior, something that Kansas desperately needed with Lucas struggling to stay on the floor.
"He's raw as there is," Self said postgame. "He's actually got good touch, he shoots the ball with little jump hooks around the basket, and he really got a chance to show that tonight.
"As he gets more and more comfortable, I certainly see his minutes going way up. He's going to be as important as anybody on our team with how good we can be."
Then there was Lagerald Vick, who also contributed heavily in the victory. The sophomore scored nine points on 4-of-9 shooting, grabbed five rebounds and defended Grayson Allen on occasion when Josh Jackson was out of the ball game.
Vick is a very inconsistent perimeter shooter and needs to more bulk to his frame, but he is long, athletic and quick, making him a potential spark plug for future games. His defensive versatility does not rise to the level of Frank Mason III, Devonte' Graham or Jackson, but it is good enough to give the Jayhawks 20 minutes or more a night.
If Azubuike and Vick continue their impressive efforts, this Kansas team will be even deeper and more successful than expected. It will be especially important in physical foul fest's as we saw on Tuesday evening.
2. Luke Kennard has taken the next step
For most of Duke's game versus Kansas, Grayson Allen struggled mightily. He shot 4-of-15 from the field and only scored 12 points. He suffered an injury late in the 1st half, but wasn't himself even before crashing to the floor while holding his left knee.
That meant in order for Duke to remain in the game and compete with one of the top teams in the country, they needed other players to step forward.
Kansas Basketball: Frank Mason III's clutch play carries Jayhawks over Blue Devils
Luke Kennard was that guy on Tuesday. The sophomore shooting guard scored a team-high 22 points on 7-of-10 shooting and 3-of-5 from long range. On top of the scoring numbers, Kennard dished out five assists, grabbed five rebounds and made 6-of-6 free throws.
What's most impressive about Kennard though, is how well he has rounded out his overall game. The former four-star recruit came to Duke with the reputation as a sharp shooter, but he has developed his ability to take defenders off the dribble and set up his teammates.
Last year, without a true point guard, Duke let Kennard handle the ball and initiate the offense during different stretches of particular games. Without Amile Jefferson, the Blue Devils also played Kennard at power forward for short stints. While this wasn't the best way to utilize their young guard, their personnel dictated his role. In turn, it has helped Kennard become a more well-rounded player who Mike Krzyzewski trusts.
Tuesday night's showdown was just another opportunity for Kennard to play a hefty role in a big game scenario. Again, this will make him better in the long run and set him up to be one of the more potent fifth or sixth options on any team in the country.
1. Isaiah Briscoe attacks…attacks…and attacks
Malik Monk was the best player on Kentucky's offense, but if anyone was second in line, it was Isaiah Briscoe.
The leader of Kentucky's roster and one of the best defenders in the country put forth a complete effort on Tuesday evening.
While he locked down Miles Bridges and other perimeter players on the defensive end, we are here to talk about Briscoe's offense. There was a lot of hype this off-season regarding the sophomore's improved jump shot. His form looks better during warm-ups and shoot-arounds, but it truly hasn't changed in in-game situations (0-of-3 from long range against Michigan State).
Instead, what Briscoe did really well was attack the basket and make plays in transition. When the guard gets a full head of steam, he is awfully difficult to stop because of his size, strength and toughness. He can finish with either hand and has no fear when faced with contact or length inside the paint.
Briscoe dropped 21 points on 8-of-18 shooting in Kentucky's blowout win against Michigan State. He complimented Monk nicely and only turned the ball over a single time.
Whether it's Monk, Briscoe or De'Aaron Fox, Kentucky has a talented trio in the backcourt. They play off each other and all understand team principles despite having high school reputations that said otherwise.
This article originally appeared on